Reflections and Advice:
1.) What do you think makes your school unique relative to other boarding schools?
Small class size with support services and the golf course
2.) What was the best thing that happened to you in boarding school?
Offering all opportunities for improvement led to ranking 6th out of 51 in my graduation class. First year's challenging winter term coming from Houston resulted in an excellent conditioning experience and broadened outlook. Further reinforced outlook not to criticize while working with others for solutions is a winning proposition for all. Said teamwork laid the foundation for better adapting to rapidly changing times.
3.) What might you have done differently during your boarding school experience?
Would have attended a summer boarding school program suited to my needs. Prospective students should first determine if attendance is for the right reasons and in their best interests. Trying out a boarding summer school program can be a good indicator. Winchendon's golf course quickly caught my attention while recognizing the need for attendance despite overly strict rules. Find out what programs prospective schools offer and if located in the right region/location.
4.) What did you like most about your school?
Overall support services while learning about people from around the country and managing challenges. Enjoyed dressing in coat and tie daily though towards the end it got tiring. Helped develop good dress standards.
5.) Do you have any final words of wisdom for visiting or incoming students to your school?
Check out all facilities and sit in on classes if possible. Attend sports events, dine at all facilities, and ask students with common interests about their insight. Said approach helped me as a parent when assisting my youngest son in his boarding school decision that has paid dividends galore.
Academics:
1.) Describe the academics at your school - what did you like most about it?
Placed with the right teachers and students. Constant reinforcement. Faculty and staff open to suggestions.
Athletics:
1.) Describe the athletics at your school - what did you like most about it?
Opportunities to play sports and on teams suited to one's abilities unavailable in high schools. Traveling to other schools always fun.
Art, Music, and Theatre:
1.) Describe the arts program at your school - what did you like most about it?
Good plays during the winter term. Student publications regarded well. The school was in an infant stage.
Extracurricular Opportunities:
1.) Describe the extracurriculars offered at your school - what did you like most about it?
The school newspaper and yearbook were very good. They became a strong foundation for future years.
Dorm Life:
1.) Describe the dorm life in your school - what did you like most about it?
As a former golf resort, it was ideal for an all male school at the time. Bedrooms for one or two students with adjoining bathrooms made for one of the most comfortable facilities possible.
Dining:
1.) Describe the dining arrangements at your school.
All students dining at the same time seated at rotating tables every two weeks promoted excellent interaction. Sports teams from other schools praised the caliber of food.
Social and Town Life:
1.) Describe the school's town and surrounding area.
Very small rural town with great scenery that included the Berkshire mountains. It was an education within itself.
2.) Describe the social life at your school - what did you like most about it?
Socially level playing field resulting in higher than normal cordial interactions. Playing golf during the spring term further promoted friendships.
At the Winchendon School, small class sizes with no more than 8 or so students per class allow students valuable one on one time with teachers and more opportunities for participation during class. No students. . .
Small class size with support services and the golf course. . .
Mastering the Boarding School Selection Process: A 5-Step Guide
Discover the ultimate 5-step guide to choosing the perfect boarding school for your child. Explore essential factors, such as academics, campus facilities, extracurricular activities, and more. Make an informed decision to provide your child with an enriching and transformative educational experience. Read now!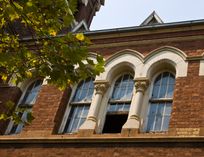 5 Founders and Their Boarding Schools
What prompts somebody to start a boarding school? The motives range from idealism to munificence right on through to capitalism. The common thread seems to be ample capital and a vision of what education can do.