Reflections and Advice:
1.) What do you think makes your school unique relative to other boarding schools?
Wolfeboro: The Summer Boarding school is one the most influential Summer schools. I had a wonderful summer, learning and experiencing new things, particularly the small class rooms where teachers have plenty of time to sit with students one on one and work with the students to help. Also the study halls during night is a great opportunity for the students to improve students' studying habit.
2.) What was the best thing that happened to you in boarding school?
I learned so much that I can't express how thankful I am to Wolfeboro and its amazing community! It helped me be prepared not only for high school, but also for being prepared for College. In fact, I wrote my college essay while being at Wolfeboro and it felt amazing to get it done.Also, I had so many academic achievements and I got so many academic awards including the special award (Headmaster's Award)!
3.) What might you have done differently during your boarding school experience?
Well, I really wish I could go again cause I loved it! So I'll suggest that if you are someone who wants to go to Wolfeboro, trust me you will have an amazing experience that will let you enjoy the moment and will prepare you for further success and happiness in the future.
4.) What did you like most about your school?
I loved everything especially the wonderful administration and COMMUNITY of Wolfeboro Summer School.
5.) Do you have any final words of wisdom for visiting or incoming students to your school?
Take the advantage of this great opportunity, get to know as many people as possible, make as many friends as possible, enjoy your time and do great work! You will love it!
Academics:
1.) Describe the academics at your school - what did you like most about it?
I loved small size classrooms because it gave me the opportunity to work with the teachers and improve my learning and studying skills. My writing class was an amazing opportunity where I learned to write well written essays and paper and actually I ended up writing my College Essay while being at Wolfeboro so I am very thankful for all the great effort that teachers at Wolfeboro puts together to help students, the way it helped me!
Athletics:
1.) Describe the athletics at your school - what did you like most about it?
Sports at Wolfebor Summer school is so much fun however it is competitive. In fact, everyone wants to play one to two sports because there is such a great school spirit and it is so much fun to be part of it. One doesn't have to be always playing in the field or court, one can join by supporting teammates, playing, and also helping. There are so many ways and so many opportunities to get involved so anyone at any point can do 1 to 2 things, which is great!
Art, Music, and Theatre:
1.) Describe the arts program at your school - what did you like most about it?
Art and Theater were my favorite things to do early afternoons because I truly enjoyed spending time with my friends in the art room and practicing Ceramics. Also I enjoyed watching my friends who were part of the theatre, they were doing an amazing job. In fact, Wolfeboro is a great stage for students who are interested in Theatre.
Extracurricular Opportunities:
1.) Describe the extracurriculars offered at your school - what did you like most about it?
I loved and enjoyed playing sports, and going for Hiking. in fact, I am such a outdoor person and I could never ask for a better place than Wolfeboro. It is an amazing school to be part of.
Dorm Life:
1.) Describe the dorm life in your school - what did you like most about it?
I love the tents. In fact, it was my first time to live in a tent with comfy beds and beautiful setups. Both, my roommate Jasmine and I had a lovely time: We talked and chat for hours and also our friends would come and we all would set and chat.
Dining:
1.) Describe the dining arrangements at your school.
Wow! Dining hall was a great place and experience to have. My favorite part about Wolfeboro dining hall is when Mr.Cooper, Head of Wolfeboro school walks in with a huge Birthday Cake for the student/Students whose birthdays are in that day. Also the food is pretty good!
Social and Town Life:
1.) Describe the school's town and surrounding area.
Wolfeboro is close by big states and I had a wonderful to travel with other students on weekend to go and watch a movie or to go to an amazing park or water parks. It was so much fun!
2.) Describe the social life at your school - what did you like most about it?
Social life at Wolfeboro summer school 100% guaranteed to be fun and I enjoyed my time so much!
Mastering the Boarding School Selection Process: A 5-Step Guide
Discover the ultimate 5-step guide to choosing the perfect boarding school for your child. Explore essential factors, such as academics, campus facilities, extracurricular activities, and more. Make an informed decision to provide your child with an enriching and transformative educational experience. Read now!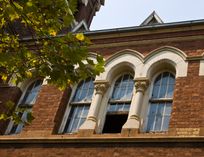 5 Founders and Their Boarding Schools
What prompts somebody to start a boarding school? The motives range from idealism to munificence right on through to capitalism. The common thread seems to be ample capital and a vision of what education can do.