Riverside Military Academy - Review #4
About the Author:

College Enrolled
Bethel College(now Bethel University
Home Town, State (Country)
Charleston, , WV
Years Attended Boarding School
3
Activities During Boarding School
I placed JV football and ran track while at Riverside. . I was in the band and served as field director my senior year.
Review

Description

Belmont university

Riverside Military Academy was one of the best experiences of my life. It taught me the values of hard work and camaraderie. Along with giving me the opportunity to travel across three nation and. . .

Georgia Institute of Technology

Ricerside is an all-male Military Academy so there is mandatory participation in the JROTC program 24/7. So the structure and disciplinary aspects of the school certainly help graduates stand out, especially if they have any. . .

Appalachian State University

The ROTC program helped shape the framework of how Riverside operates, and as a "Military Academy" it of course had to have that component. This really helped with the direction the education took as well. . .

Bethel College(now Bethel University

Riverside is arguably the finest military boarding school in America. RMA has modern,and overall superior facilities,with ever expanding opportunities to utilize them. The faculty is carefully screened in order to have great academics. All of. . .

Worcester Polytechnic Institute

Cadets at RMA were responsible for many aspects of day-to-day life including discipline, dorm conduct, military drills and inspections all focused on leadership development. . .

Show more reviews

(0

reviews)
April 20, 2018
Actually, there is no secret to getting your child into boarding school. Just a lot of hard work and a heavy commitment of time.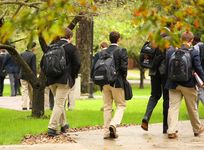 March 22, 2018
Some cynics think single-sex education is old-fashioned. The Kiski School shows how educating boys in a single-sex school is successful.
March 08, 2018
The wide range of fine academic, athletic, and other facilities found in boarding schools underscores the determination of schools to provide the very best for their students.