Reflections and Advice:
1.) What do you think makes your school unique relative to other boarding schools?
Cadets at RMA were responsible for many aspects of day-to-day life including discipline, dorm conduct, military drills and inspections all focused on leadership development
2.) What was the best thing that happened to you in boarding school?
I was taught discipline, personal and societal. I learned to strive to excel and to be proud of accomplishments. I learned to be personally responsible for my conduct and speech and to value the positive character traits such as honesty, bearing, modesty, good manners, personal care and maintenance, and respect for wisdom and authority that were taught to me at RMA.
3.) What might you have done differently during your boarding school experience?
Nothing different. Four years at RMA was the most formative and positive experience I encountered until I entered college at 18. Without the foundation I obtained at RMA I doubt I would have managed my life in an orderly and successful manner. RMA was for me a life changing and enabling experience.
4.) What did you like most about your school?
The self confidence in my self that I could excel and the realization that working for and achieving success was far more rewarding than just going along with the crowd.
5.) Do you have any final words of wisdom for visiting or incoming students to your school?
Put your self in accordance with the regulations and apply yourself to the fullest extent possible in the daily events of the school: academics, athletics, culture, and good fellowship with your peers.
Academics:
1.) Describe the academics at your school - what did you like most about it?
Easy access to faculty Many were retired military officers. academic time was structured with all other school activities. small classes exciting curriculum, always looked forward to classes weekly assessment of performance. Army Junior ROTC Military Science and Training subjects were taught by active duty Army officers a senior NCO's. These men were carefully selected and extremely well respected.
Athletics:
1.) Describe the athletics at your school - what did you like most about it?
role of athletics was important and all cadets participated in some form of athletics. Tremendous school spirit and team support. Fist class coaches all of whom had had accomplished careers in the sports they coached. First class trainers too!
Art, Music, and Theatre:
1.) Describe the arts program at your school - what did you like most about it?
Chapel session (non-denominational) each morning included music. Musical education and theatre programs available as were theatre and music events in nearby college and community.
Extracurricular Opportunities:
1.) Describe the extracurriculars offered at your school - what did you like most about it?
In a boarding school (all students lived on campus) there were many special interest groups and ongoing activities. There are clubs for sailing, aviation, language, chess etc. Also church youth groups in local community.
Dorm Life:
1.) Describe the dorm life in your school - what did you like most about it?
AS a military school the dorms were deemed barracks and although austere they were comfortable and attractive. Two cadets to a room with two room suite arrangement to share bathroom. Senior cadets were responsible for dorm affairs...room inspections, discipline, training, etc.
Dining:
1.) Describe the dining arrangements at your school.
The dining hall was very attractive and well appointed. Meals were excellent. Small snack bar was available; however, students were encouraged strongly to rely on meals for food and perishable food was not stored in the barracks. Selection of food was generous and varied.
Social and Town Life:
1.) Describe the school's town and surrounding area.
Town of Gainesville, GA was county seat located near Lake Lanier and in the foothills of the Blue Ridge Mountains. Just a quiet southern small college town. Churches, movies, occasional fairs, etc.
2.) Describe the social life at your school - what did you like most about it?
This is an all men school. Social activities involved a local womens' school, town events, and local religious youth groups.
Weekend
1:00 AM
Saturday morning was one or two classes followed by inspection-uniform, appearance rifle clean etc
1:00 AM
Afternoon was free and varsity sports
Riverside Military Academy was one of the best experiences of my life. It taught me the values of hard work and camaraderie. Along with giving me the opportunity to travel across three nation and. . .
Ricerside is an all-male Military Academy so there is mandatory participation in the JROTC program 24/7. So the structure and disciplinary aspects of the school certainly help graduates stand out, especially if they have any. . .
The ROTC program helped shape the framework of how Riverside operates, and as a "Military Academy" it of course had to have that component. This really helped with the direction the education took as well. . .
Show more reviews (

2 reviews

)
Mastering the Boarding School Selection Process: A 5-Step Guide
Discover the ultimate 5-step guide to choosing the perfect boarding school for your child. Explore essential factors, such as academics, campus facilities, extracurricular activities, and more. Make an informed decision to provide your child with an enriching and transformative educational experience. Read now!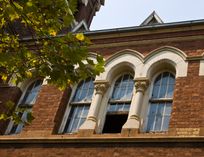 5 Founders and Their Boarding Schools
What prompts somebody to start a boarding school? The motives range from idealism to munificence right on through to capitalism. The common thread seems to be ample capital and a vision of what education can do.