Reflections and Advice:
1.) What do you think makes your school unique relative to other boarding schools?
The Cambridge School of Weston is a liberal arts institution filled with some of the most incredible teachers in the world. The atmosphere is incredible. There is a special place for every student, teacher, and faculty member. It encompasses a unique education system called the module system (7 terms, each term 5 weeks long) where students are offered courses similar to the style offered by colleges and universities. It is a school where teachers not only teach you how to become a better student, but how to become a better person and be prepared for life beyond the bubble of CSW.
2.) What was the best thing that happened to you in boarding school?
The best thing about boarding school was being in an environment where success was inevitable. The teachers and faculty gave me the support I needed to mature as a student, as a person. Living away from home gave me the independence to think for myself, to present myself without being told, to discipline myself to do my work and succeed.
3.) What might you have done differently during your boarding school experience?
If I were to have done anything differently I would have mapped out the classes that I wanted to take for all four years. having mind-full academic planning can come in handy in the long run. You wouldn't want to be a senior and regret not having done enough. Getting involved as much as possible is the way to go. It beneficial to the community and it is enriching to the soul.
4.) What did you like most about your school?
My school put my mind on the right track, giving me the baseline tools for college and setting the foundation for the rest of my life. I am grateful for the teachers who raised me and molded my mind. That is my absolute favorite part about my school. It is the educators that were more than just teachers to me.
5.) Do you have any final words of wisdom for visiting or incoming students to your school?
Go Warren House!!! I encourage to check out Cat Rock see if you can find the abandon truck car. Also, don't be afraid to take on frisbee and toss with anybody you see playing on the quad.
Academics:
1.) Describe the academics at your school - what did you like most about it?
What I love about the education at CSW is that the classroom sizes are small and discussion based. The average class size was about 8-14 students and it allowed for the teachers to create a personalized class experience. Those connections that I built with my teachers are connections I still carry today. They had expectations for you in the classroom but outside of the classroom as well. Every teacher has a specialty class where they teach about a subject that they are specialized in. Those classes are the most amazing classes the school has to offer. There are over 100 different courses offer for students to choose from through the 4 years.The workload is intense, we cover 1 years worth of material in just 5 weeks. The most rewarding aspect of the education offered is that it praises individual growth and looking at the big picture versus focusing on textbook readings and dates.
Athletics:
1.) Describe the athletics at your school - what did you like most about it?
The Cambridge School just opened a brand new fitness and wellness facility in 2016 where students now have a full-size basketball court and gym, running track, yoga and dance rooms, and multi-purpose space. The new facility has opened a variety of new classes like boxing, samba, and work-out classes.Students are required to fulfill and athletic credit, which can be achieved by participation in non-sports related classes or activities. The sports at CSW are all inclusive for everyone to try out. One of our most popular sports is Ultimate Frisbee that is one of the most inclusive and competitive sports. CSW has been consistently in the playoffs and won the conference in 2014 and 2015. The coaches are always at the school spending one-on-one time with dedicated players.
Art, Music, and Theatre:
1.) Describe the arts program at your school - what did you like most about it?
The Cambridge School is notoriously known for being an art school. Our major arts programs are phenomenal. Students are required to take 3 out of the 4 major arts: Dance, Music, Theatre, Visual Arts. All of our facilities are modern and are well-equipped with the best instruments and shops. It seems like every student, even student who have never considered themselves to be artistic, fall in love with the art atmosphere at CSW and are drawn to it. The teachers are excited to work with all student despite the level of experience or passion they bring. At the end of every module, we have an End of Mod Art Show where all the students who participated in any major art class are required to showcase their work for the entire school to see.
Extracurricular Opportunities:
1.) Describe the extracurriculars offered at your school - what did you like most about it?
The Cambridge School offers a number of clubs and organizations. The majority were founded by students. The largest organizations are Diversity Committee, Social Justice group, Academic Board, Judicial Board, and Curriculum Committee. Students run for an elect position on those boards. We have 13 different affinity and alliance groups ranging from sex and gender topics to race and religion. The students at CSW are very involved with social topics and these clubs help the students voice their opinions and create discussions. It is that drive to be active in the social commentary of our time that makes the school so incredible. There are also weird and quirky clubs that students invent. One infamous club that rose in my time was the Scoot Squad which was a group of 5 boys that would ride their scooters all over campus to get to class. Clubs like this were common practice, students create clubs based on common interest and the school acknowledges all of them. Some more examples of clubs offered at CSW are oceanography club, poetic justice, movies club, sketch comedy club, Feminist Coalition, Body image club, Junior State of America, just to name a few.
Dorm Life:
1.) Describe the dorm life in your school - what did you like most about it?
The boarding community will become your home in an instant. I lived in the newest dorm Warren house where I laughed, cried, worried about homework, pulled all nights with my best friends. All the dorms have doubles and singles and about the same size as your average college dorm room. Bathrooms are communal. We had dorm meetings every Sunday night where we would get a chance to reflect on the week and talk about upcoming events. The dorm parents are also faculty members and they become your second parents. On weekends we will go out into Boston or plan a movie night and order pizza or Chinese food. CSW has the luxury of being near a town so we were able to get food at late hours in the night. room selections happen at the end of the year and the ranking is determined by year and amount of time in the boarding community as well as the amount of time in the dorm. To transfer to another dorm you must be a rising upperclassman. My favorite thing about boarding life was the nights were a bunch of the borders would get together and organize a man hunt or freeze tag in the fields. We would all then come back to one of the dorms and just be in each other presence.
Dining:
1.) Describe the dining arrangements at your school.
The dining food was average like most schools. If you don't like the main meal they are plenty of other choices available. There is no assigned seating in the dining hall, you are free to sit and mingle as you please. There is a salad bar, fruit bar, bread station, and ramen and rice bar. For breakfast, they have a cereal station and fresh fruit, coffee, and tea. We would have themed meals throughout the year ranging from South American to Asian and Carribean food. Our school is also close with the dining hall staff so we would also make special requests for certain food items. The boarding students were especially close with the dining hall staff and they participate in school event with us.Breakfast hours are 7:30-9:00, Lunch varied on the day but it would be one hour 12:15- 1:15pm , dinner hours are 5:30 -7:30.
Social and Town Life:
1.) Describe the school's town and surrounding area.
The town next door to the school was Waltham, MA. It has local food spots, a Hannaford's, and a shopping plaza. Moody street is the main strip which runs through the town. There is a movie theatre, great local stores, and it is right by the train station. The scenery is beautiful. It's the perfect place to plan a trip with the boarders on the weekends.
2.) Describe the social life at your school - what did you like most about it?
CSW is a small school compared to other boarding schools. We have about 335 students. With such a small community, you are likely to get to know everyone. Everyone knows everyone at CSW. I love the closeness of the community. It isn't cliquey and the students have a profound respect for one another. The typical high school phobias about not fitting in, not making any friends, and being bullied are not present. I love that I am able to connect with all the members of my community. I love that the people you wouldn't expect to mix are friends.
Daily Schedule:
Weekday
7:30 AM
Wake up, get ready for school
8:30 AM
Go to A-Block (first class)
11:00 AM
Go to B-Block (second class)
1:15 PM
C-Block (third class)
2:30 PM
15 minute break to change for sport or go to school store
2:45 PM
D-Block (extracurricular block, sports, dance,art)
Weekend
10:00 AM
Wake up, go to brunch
I started very soon after the module system started at CSW. The module academic system coupled with an integrated studies design or approach to curricula are two aspects that truly make CSW unique.In addition. . .
The Cambridge School of Weston is a liberal arts institution filled with some of the most incredible teachers in the world. The atmosphere is incredible. There is a special place for every student, teacher, and. . .
The academic program at CSW was surely the most obvious attribute that made it unlike any other school. The "module program" , along with broad requirements, allowed a really personalized and self-directed education. At no. . .
Show more reviews (

12 reviews

)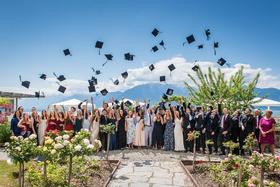 Nurturing Futures: A Journey through Boarding at Haut-Lac School in Switzerland
Nestled in the hills overlooking Lake Geneva in the French-speaking part of Switzerland lies an educational gem that embodies a unique blend of academic excellence, cultural richness and a profound sense of community. Founded over 30 years ago, Haut-Lac International Bilingual Day and Boarding School is now home to both 600 day students and a maximum of 30 boarders from around the world.
What To Wear at Your Job Interview
Navigating job interviews can be stressful, but knowing what to wear shouldn't be. Our comprehensive guide covers the essential dress code tips for men and women interviewing at boarding schools. Make your first impression count with style and professionalism.
Navigating the Modern Maze: Emerging Challenges for Boarding Schools
Explore the pressing challenges facing boarding schools, from marketing difficulties and rising insurance costs to facility maintenance and recruitment of competent trustees and teachers. This article delves into these complex issues and proposes innovative strategies to overcome them.