Reflections and Advice:
1.) What do you think makes your school unique relative to other boarding schools?
It was extremely rigorous scholastically. The slightest infraction of drinking or drugs meant immediate expulsion. The best thing about it was that the structure greatly reduce peer pressures. It was as close to a true meritocracy as I have ever seen.
2.) What was the best thing that happened to you in boarding school?
I developed real *earned* self-esteem. I was pushed in every way into things I never considered doing and realized I could do most anything if I worked hard and sought direction. Before MMA I thought mediocrity was a normal state. After MMA I believe I could succeed at whatever I tried.
3.) What might you have done differently during your boarding school experience?
I would have jumped in to try the hard stuff as soon as I got there instead of only observing for my 1st year.
4.) What did you like most about your school?
The meritocracy and the skills I learned.
5.) Do you have any final words of wisdom for visiting or incoming students to your school?
If you are tired of the twits that rule public schools and want to be in a place that will cause you to quickly move past them physically, mentally, and emotionally, then you go to someplace that will push you, test you, and cause you to see what you can really do.
Academics:
1.) Describe the academics at your school - what did you like most about it?
The most important thing I learned was to get and stay focused on my school work. The school was extremely diligent about making you do well in school. They requited study time most every evening in which one can't do anything other than study. I mean nothing. It seemed tough at first but pretty soon the mind learns to get quiet and focus and it started to make a big difference. The best thing for me was that there were not other choices. There was no way to weasel out of studying, and if you did poorly the free time you had was lost to more study halls. You had time to get all your work done IF you used the time to do the work. The HUGE upside was that college was a breeze.
Athletics:
1.) Describe the athletics at your school - what did you like most about it?
The great thing about the athletics was the diversity. We had sports most public schools did not. Also being a small school we had a hard time beating other bigger school. This is quite character building. Learning to stand against tough odds and persevere. I was very small for my age and began to grow after I arrived at MMA. The small number of students meant I could play most any sport I desired. And it was good that it was VERY difficult to get out of doing a sport. Many who came there had never been forced to try anything by their parents.
Art, Music, and Theatre:
1.) Describe the arts program at your school - what did you like most about it?
At the time I was there our band instructor was Maj Paul Cherches. He had played in the Tommy Dorsey band and was competent on every single instrument. He made our band the best HS marching band in the state and very probably the entire US.
Extracurricular Opportunities:
1.) Describe the extracurriculars offered at your school - what did you like most about it?
I really have no idea about anything extra-curricular as MMA had us hopping from before light till after dark. I know you could get a pilots license but I am sure they have expanded their opportunities since I attended.
Dorm Life:
1.) Describe the dorm life in your school - what did you like most about it?
Again, it was the best example of a meritocracy I have ever seen. The companies competed so each one became unified in their effort to be the best. The cadets were closely and constantly monitored and "kept honest'. which is very necessary for teen boys. The competitions helped everyone who tried to get better at everything they did. The strict rules of cleanliness and order served my from then till now. 2 guys to a room max was what we had then and everything was in it's place all of the time.
Dining:
1.) Describe the dining arrangements at your school.
Dining was in the Mess Hall and it was done with clockwork efficiency. You were marched in to music and the food was brought out with great speed and on time. You sat with your squad mates .
Social and Town Life:
1.) Describe the school's town and surrounding area.
Very small town (Mexico MO.). Didn't spend much time in it. May have changed a lot.
2.) Describe the social life at your school - what did you like most about it?
We were kept way too busy to socialize much. But we became teams on many levels, Band was a team, you Barracks floor was a team. Your squad was a team. Your room was a team. etc etc. All of this caused us to have to learn to work together in every size group as well as on our own.
Goal orientation, and the self-discipline and cooperation necessary to achieve those goals may be unique to MMA, and other military schools like it. . .
What makes Missouri Military Academy unique is the brotherhood it forges with your mates, it also puts you in situations that in a "normal" privileged life you would never be, and that makes you mature. . .
Missouri Military focuses on the entire person as it teaches young men to take responsibility for their actions and to take pride in the skills they develop. I would not be the man I. . .
Show more reviews (

4 reviews

)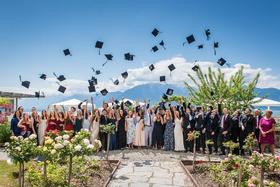 Nurturing Futures: A Journey through Boarding at Haut-Lac School in Switzerland
Nestled in the hills overlooking Lake Geneva in the French-speaking part of Switzerland lies an educational gem that embodies a unique blend of academic excellence, cultural richness and a profound sense of community. Founded over 30 years ago, Haut-Lac International Bilingual Day and Boarding School is now home to both 600 day students and a maximum of 30 boarders from around the world.
What To Wear at Your Job Interview
Navigating job interviews can be stressful, but knowing what to wear shouldn't be. Our comprehensive guide covers the essential dress code tips for men and women interviewing at boarding schools. Make your first impression count with style and professionalism.
Navigating the Modern Maze: Emerging Challenges for Boarding Schools
Explore the pressing challenges facing boarding schools, from marketing difficulties and rising insurance costs to facility maintenance and recruitment of competent trustees and teachers. This article delves into these complex issues and proposes innovative strategies to overcome them.