Reflections and Advice:
1.) What do you think makes your school unique relative to other boarding schools?
Wonderful school. Small classes. Great teachers and administrators. Culture, history, art, science, sports and languages are everywhere. It is a school that raises great men and women that can and do make a difference. A beautiful 400 acre campus. The oldest co-ed boarding school in the USA.
2.) What was the best thing that happened to you in boarding school?
I can say the best of things about Kents Hill. The people would be the top listing of best things that happened. Those friendships are a treasure. The life that has unfolded over the past 50 years started with my time on the hill. The entire experience was the recipe for success.
3.) What might you have done differently during your boarding school experience?
Blossom and grow in every direction.
4.) What did you like most about your school?
The entire experience.
5.) Do you have any final words of wisdom for visiting or incoming students to your school?
Dorms in my day were determined by class. Everything about Kents Hill is wonderful. Make all it part of your experience.
Academics:
1.) Describe the academics at your school - what did you like most about it?
Small classes and great support in learning every subject. In our chosen language we were able to expand the learning of the classroom by sitting at a table for all meals where we would speak the language we were learning. That would enhance our learning.
Athletics:
1.) Describe the athletics at your school - what did you like most about it?
Athletics was a big part of our Kents Hill experience. Every season we had mandatory athletics. Learning to work as a team has been so important in life. Being healthy and staying healthy has been a part of everyone's life for the past 50 years.
Art, Music, and Theatre:
1.) Describe the arts program at your school - what did you like most about it?
Working with clay, oils and canvas was great. A way to express. The theatre was a learning adventure in performing in front of others. As a man that has earned his living as a TV news anchor I would say that many of the skills came from that little stage in Ricker Hall 50 years ago.
Extracurricular Opportunities:
1.) Describe the extracurriculars offered at your school - what did you like most about it?
You were never told "no" in your quest to grow. Going out in the community to give a helping hand to interning in the Governor's Office were an important part of life. It began my journey.
Dorm Life:
1.) Describe the dorm life in your school - what did you like most about it?
Wonderful. Some of my best friends to this day. We learned a great deal of self and personal ability.
Dining:
1.) Describe the dining arrangements at your school.
Great food. Great dining commons.
Social and Town Life:
1.) Describe the school's town and surrounding area.
Kents Hill is in the country. Near Maine's capital city of Augusta. Great experience of small town and the attributes of a capital city experience.
2.) Describe the social life at your school - what did you like most about it?
I am sure it is different now. In my time we had many ski events on the weekend. Skied everyday at school. Lots of dances, ice cream socials and interesting guest speakers that would address the entire school.
Mastering the Boarding School Selection Process: A 5-Step Guide
Discover the ultimate 5-step guide to choosing the perfect boarding school for your child. Explore essential factors, such as academics, campus facilities, extracurricular activities, and more. Make an informed decision to provide your child with an enriching and transformative educational experience. Read now!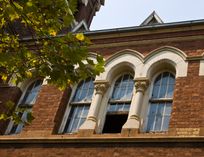 5 Founders and Their Boarding Schools
What prompts somebody to start a boarding school? The motives range from idealism to munificence right on through to capitalism. The common thread seems to be ample capital and a vision of what education can do.