Reflections and Advice:
1.) What do you think makes your school unique relative to other boarding schools?
This school is unique because it revolves around skiing. I really enjoyed going to this school because there is such a different school curriculum than any other school.
2.) What was the best thing that happened to you in boarding school?
The best thing that happened to me in this school was instead of taking Spanish classes, we actually went to Mexico for our class. This trip lasted 5 weeks and we did many different things here, ranging form visiting museums, to going to high end restaurants in the Mexico area. Every year the trips change from either going to Mexico, or going to France to learn french.
3.) What might you have done differently during your boarding school experience?
I would have not done anything different when i first arrived at this school, because I personally loved everything about CTA.
4.) What did you like most about your school?
I really liked how everyone at this school was very friendly and nice. At the old high school I used to go to, everyone was very mean and ignorant to everyone else around them. I really also enjoyed how good the cooks food was while I attended CTA. She always had the best food to put out on the table, it was always cooked perfect.
5.) Do you have any final words of wisdom for visiting or incoming students to your school?
For all of the new and incoming students, don't treat any others with disrespect, or you willl have a bad year here at CTA. Everyone here is so friendly, but they will NOT accept people who don't respect others.
Academics:
1.) Describe the academics at your school - what did you like most about it?
I like the academics at this school because there are so many different classes you can take. This school is special because instead of having 6-7 classes for the whole year, you have new classes almost each month. Instead of semesters, there is something here called blocs. Each block is about a month long, and you have three classes per bloc. These classes range from science,(food systems, plant identification, mountain identification, etc.) English, (Literature and research writing) History, (World history, government, American social issues)and many other great classes.
Athletics:
1.) Describe the athletics at your school - what did you like most about it?
Every day after school there is a program called personals, where you would go out to a certain place and do an outdoor activity. For instance, there is a personal called Rec center, where we would go to the rec center and play basketball, work out, play racket ball, etc. There are many other personals like fly fishing, ski conditioning, rock climbing, etc. There are also many activities on the weekends, like ultimate Frisbee, trips down to a local lake, rock climbing, and many other interesting hobbies that the students choose.
Art, Music, and Theatre:
1.) Describe the arts program at your school - what did you like most about it?
There are many different art classes you can take at this school, such as ceramics, basics of art, studio art, and many others. These classes teach you how how correctly create art sculptures with clay, paint, and drawing. Music is a very popular subject in this school, as many students together formed a band that they record, and post their newest music online. One of the teachers is a professional guitar player, as he has many gigs and performances around town. He teaches the students how to correctly play the guitar, the drums, and he also shows them how to make all of the music sound great together.
Extracurricular Opportunities:
1.) Describe the extracurriculars offered at your school - what did you like most about it?
There are many extracurricular activities after school that you can attend. There is computer science, where one of the math teachers shows you how to code, and make you own website. He also teaches you many different programming languages that can be useful to you. There are also many different activities on the weekends that range from a trip to town, to going to the humane society and visiting all the dogs and cats in the shelter.
Dorm Life:
1.) Describe the dorm life in your school - what did you like most about it?
Dorm live here is very simple. CTA has Cabins that you live in, with your roommate(s). About every hour, one of the teachers that is on duty, will come in and check in on the students, to make sure that they are safe and that nothing is wrong. Every night there is a security guard that comes around and checks in on you every so often to also make sure everything is fine. The students are allowed to have food in their cabins, just in case they get hungry at night
Dining:
1.) Describe the dining arrangements at your school.
In the lodge, there is a kitchen that the students can eat at. In the kitchen, all of the students eat family style. Also, Every week there are new students, that have something called food duty. If you are assigned to this duty, you have to set up all of the tables, set up the drinks (Once again, family style) and then clean up afterward. It is not hard considering that only 30 people attend CTA. The cook makes delicious food for all of the students and teachers.
Social and Town Life:
1.) Describe the school's town and surrounding area.
CTA is in a very rural area. It is surrounded by mountains, and it is about 20 miles away from downtown Durango. At night, because you are practically in the middle of nowhere, the stars are very beautiful and you can see just about every star in the sky (Escpecially when its not cloudy out).
2.) Describe the social life at your school - what did you like most about it?
Everyone who attends CTA is very friendly and everyone gets along here. There is a system there where you have points, and you earn new points every week, depending on how you behave. Every student starts out with 100 points. This system is very good because it teaches the students that if they want any privileges at all, they need to do work to get their points back up.
Daily Schedule:
Weekday
Weekend
Colorado Timberline Academy is very non-traditional because of the size of the school. You have to be comfortable with living in very close quarters with a limited amount of people for the duration of your. . .
I fell through the cracks at my excellent, but large and competitive, public school in Westchester. At Colorado Timberline Academy, with its unique block system, tiny classes (3 to 6), and intimate atmosphere (we called. . .
This school is unique because it revolves around skiing. I really enjoyed going to this school because there is such a different school curriculum than any other school.. . .
Show more reviews (

1 review

)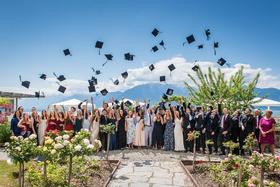 Nurturing Futures: A Journey through Boarding at Haut-Lac School in Switzerland
Nestled in the hills overlooking Lake Geneva in the French-speaking part of Switzerland lies an educational gem that embodies a unique blend of academic excellence, cultural richness and a profound sense of community. Founded over 30 years ago, Haut-Lac International Bilingual Day and Boarding School is now home to both 600 day students and a maximum of 30 boarders from around the world.
What To Wear at Your Job Interview
Navigating job interviews can be stressful, but knowing what to wear shouldn't be. Our comprehensive guide covers the essential dress code tips for men and women interviewing at boarding schools. Make your first impression count with style and professionalism.
Navigating the Modern Maze: Emerging Challenges for Boarding Schools
Explore the pressing challenges facing boarding schools, from marketing difficulties and rising insurance costs to facility maintenance and recruitment of competent trustees and teachers. This article delves into these complex issues and proposes innovative strategies to overcome them.