Reflections and Advice:
1.) What do you think makes your school unique relative to other boarding schools?
Colorado Timberline Academy is very non-traditional because of the size of the school. You have to be comfortable with living in very close quarters with a limited amount of people for the duration of your high school experience. That being said, you become incredibly close with your peers and teachers in a very short period of time. Every activity, meal, class, and weekend is spent with essentially the same 40 or so people so you have to be willing to get along with a small mix of very different people from all over.
2.) What was the best thing that happened to you in boarding school?
I built really good habits that I took with me to college. I think CTA can prepare you to be successful in the real world if you know which lessons to take. I was never an early riser and would often miss class as a result but with a slightly stricter schedule at CTA, I would wake up on time every morning feeling well-rested and would race down to breakfast. I left for college with the same schedule and did incredibly well academically and never missed my 8am class. CTA allows you to build really healthy habits like working out on a daily basis, cleaning your living space daily and waking up on a consistent schedule which truly makes you feel healthier and happier.
3.) What might you have done differently during your boarding school experience?
I would have attended boarding school earlier! I was miserable at public school and consistently truant/ missing class. CTA is a supportive community and no matter how awful of a student you are, you are given every possible opportunity day after day to start over and be successful.
4.) What did you like most about your school?
There are so many things that I liked about CTA, I find it difficult to choose just one thing. I think what I appreciate the most all the opportunities I was given to be successful. Your teachers and classmates are your biggest cheerleaders and I built a lot of confidence and courage at boarding school. Trips are designed to test you and make your feel more confident in yourself when they end. I'm so proud when I talk about where I graduated from and what I accomplished while I went there. I think being proud of your high school means a lot.
5.) Do you have any final words of wisdom for visiting or incoming students to your school?
Don't let your fears or possible resistance inhibit you from having an amazing time at CTA. Your teachers and Dan truly want you to have fun and enjoy your time at boarding school. Don't let a negative attitude ruin this experience for you. Even if attending boarding school wasn't your first choice, try to make the best of it and I will assure you you will have an amazing time. As long as you want to be successful and try not to break too many rules, there's a chance you won't want to leave.
Academics:
1.) Describe the academics at your school - what did you like most about it?
My favorite part of my education at CTA was how involved my professors were in my learning. I'd say that there is an average 5:1 student to teacher ratio so your education is incredibly individualized. Students were encouraged to pursue their interests while learning fundamentals in ways that enhanced the overall learning experience. For physics class, we shot off rockets. In literature, we read by the river. Because there are so few students in your class, the opportunities for new ways of learning were pretty much endless.
Athletics:
1.) Describe the athletics at your school - what did you like most about it?
The athletics "program" was mostly personal pursuits and I do think that it is perhaps the best part of CTA. You don't have too much time to get into trouble because you are constantly busy with personals or activities. Ski Bloc is almost unanimously a CTA student's favorite time of the year. You are in school for half the day and skiing/snowboarding up at Purgatory for the rest. I would usually be so tired by the end of the day that I would go to bed immediately after dinner and often before "lights out".
Art, Music, and Theatre:
1.) Describe the arts program at your school - what did you like most about it?
I didn't participate much in the arts but my roommate took ceramics and really loved it. She ended up going to Japan with her art teacher for one of the trips and came back with lots of interesting Japanese art. We had a small band practice in Cabin 5 for a while I think and there's a piano in the dining room that is old and out of tune but I think we learned some songs on it around Christmas time.
Extracurricular Opportunities:
1.) Describe the extracurriculars offered at your school - what did you like most about it?
Volunteering is mandatory if you break rules at the school. I didn't break too many rules so I didn't do much volunteering but we had a cool opportunity to work with the Durango-Silverton Railroad during Christmas time but unfortunately some kids ruined that for us before I was able to participate. There's always weekend activities going on and you are encouraged to think of activities that you might want to do so whoever is working on the weekend can arrange for it.
Dorm Life:
1.) Describe the dorm life in your school - what did you like most about it?
Cabin life is really an experience unique to CTA. You live in either smallish dormitories or small log cabins out in the forest of Durango, Colorado. Your teachers live in larger cabins among your cabins and they are all spread out in a sort of U-shape. Some kids had issues with their roommates in the cabins but if you don't want a roommate you can always live in the dormitories where you get your own room. Most of us wanted to live in the cabins because that's where all the action is and you had more privacy not having to live with a dorm parent. There's also cabins 16&17 and 12&13 which are the newer duplexes. I lived in "Senior Cabin" (12/13) for part of the year and that was really nice because you get a room to yourself. Although, I have been told that the boy's dormitory and cabin 5 are haunted and that's why no one is allowed to live in Cabin 5 hahaha.
Dining:
1.) Describe the dining arrangements at your school.
Dining is "family style" so you sit at large tables and share big baskets of bread or platters of whatever food is served. Some students complained about the food but I thought that it was really good. They change it up every day and only repeat meals every month or two. You're going to be on meal duty every few weeks or so where you help set up for the meal and help serve or help clean up after everyone has eaten. I don't think anyone minded meal duty too much, it makes you feel like part of the community and you get out of class a little early. You also have the option of washing dishes after meals to make a little money but it can be hard to get on the list because a lot of people want to do it since it's the only way you can make money at school.
Social and Town Life:
1.) Describe the school's town and surrounding area.
Durango is amazing! You are so lucky to get to go to school in the most incredible location. It is sunny nearly year round and there are so many activities to do outdoors. After graduating I decided to attend the college in Durango because I couldn't bear to leave Durango. Durango is small and doesn't have that much to offer for shopping and closes down around 9pm but if you like the outdoors, you'll absolutely love Durango.
2.) Describe the social life at your school - what did you like most about it?
You are in close proximity to everyone at school. You have to live, learn, eat and take trips with the same few people. Don't try to make enemies and if you don't like someone you're just going to have to resolve it. You really can't escape your classmates so try to be amicable. I'm still incredibly close to some of the people that I went to school with, you'll meet really different and interesting people so try to make the best of that.
Colorado Timberline Academy is very non-traditional because of the size of the school. You have to be comfortable with living in very close quarters with a limited amount of people for the duration of your. . .
I fell through the cracks at my excellent, but large and competitive, public school in Westchester. At Colorado Timberline Academy, with its unique block system, tiny classes (3 to 6), and intimate atmosphere (we called. . .
This school is unique because it revolves around skiing. I really enjoyed going to this school because there is such a different school curriculum than any other school.. . .
Show more reviews (

1 review

)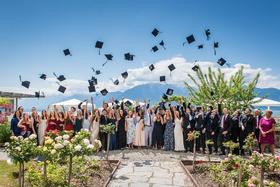 Nurturing Futures: A Journey through Boarding at Haut-Lac School in Switzerland
Nestled in the hills overlooking Lake Geneva in the French-speaking part of Switzerland lies an educational gem that embodies a unique blend of academic excellence, cultural richness and a profound sense of community. Founded over 30 years ago, Haut-Lac International Bilingual Day and Boarding School is now home to both 600 day students and a maximum of 30 boarders from around the world.
What To Wear at Your Job Interview
Navigating job interviews can be stressful, but knowing what to wear shouldn't be. Our comprehensive guide covers the essential dress code tips for men and women interviewing at boarding schools. Make your first impression count with style and professionalism.
Navigating the Modern Maze: Emerging Challenges for Boarding Schools
Explore the pressing challenges facing boarding schools, from marketing difficulties and rising insurance costs to facility maintenance and recruitment of competent trustees and teachers. This article delves into these complex issues and proposes innovative strategies to overcome them.