Reflections and Advice:
1.) What do you think makes your school unique relative to other boarding schools?
Idyllwild is an arts school and so focuses on the creative arts and offers an unique education in providing a balance between academic and artistic subjects. Students choose a major and attend classes in that major in the afternoon.
2.) What was the best thing that happened to you in boarding school?
I think this school really did shape me in many ways, including what I consider important in life and what sort of things I apply myself to. Even though I did not go into the arts in the end, this was a completely worthwhile experience and I am extremely grateful for it.
3.) What might you have done differently during your boarding school experience?
I would have probably tried to be more open to the experience and willing to trust people. There is a real family life at this school and it should really be taken advantage of
4.) What did you like most about your school?
I liked the education, the teachers and friends and the beautiful location in the mountains.
5.) Do you have any final words of wisdom for visiting or incoming students to your school?
Enjoy this opportunity. There is nowhere else like this school that allows you to combine academics and arts in this way. Enjoy the people and the place!
Academics:
1.) Describe the academics at your school - what did you like most about it?
The teachers embraced the dual mission of the school to provide a high-level education in the arts and academics and often used examples from the arts for academic classes. They also really involved the students and were not afraid of opening the floor to discussion on various topics.
Athletics:
1.) Describe the athletics at your school - what did you like most about it?
There was not really such a program while I was there. I went hiking a few times, which was great.
Art, Music, and Theatre:
1.) Describe the arts program at your school - what did you like most about it?
This is where Idyllwild really shines. Everything about how this school teaches the arts is amazing. The facilities are fantastic and the teachers both extremely committed and supportive. The program I was in, theatre, had a family-like feel to it and was a wonderfully safe place to learn and explore this art.
Extracurricular Opportunities:
1.) Describe the extracurriculars offered at your school - what did you like most about it?
Idyllwild is very focussed and there were not many extracurricular activities in this sense. I did volunteer in local elementary school classrooms and this was a great opportunity and well-organised. I also was a prefect, which was a nice aspect of the boarding school life.
Dorm Life:
1.) Describe the dorm life in your school - what did you like most about it?
I was mainly a day student, but I did live in the dorm a bit. I liked the community feel and the location of the dorms in the forest.
Dining:
1.) Describe the dining arrangements at your school.
There is a new dining hall now, but I mainly liked the salad bar, juice machine and the ice cream machine. It also had a nice area to sit outside.
Social and Town Life:
1.) Describe the school's town and surrounding area.
The town was small and safe and easy to get to, either by bus, walking or cycling. There were some good restaurants when I was there and some small gift shops that I remember as being nice as a teenager.
2.) Describe the social life at your school - what did you like most about it?
I liked being able to get to know people fairly well and be closer to many people, not just close friends, than you would be able to in a non-boarding school situation.
Idyllwild Arts has an incredibly unique community of faculty and students. Since the campus and the town of Idyllwild is so isolated, those who live there become very close to each other.. . .
Living in the incredible town of Idyllwild is a really incredible setting for any aspiring artists around the high school age. It was inspiring to be living in nature while also being close enough to. . .
IAA was a unique institution because it fostered a learning environment centered around the arts. The small faculty-to-student ratio allowed students to connect with professors and be supported in all aspects of their learning. Keeping. . .
Show more reviews (

17 reviews

)
Mastering the Boarding School Selection Process: A 5-Step Guide
Discover the ultimate 5-step guide to choosing the perfect boarding school for your child. Explore essential factors, such as academics, campus facilities, extracurricular activities, and more. Make an informed decision to provide your child with an enriching and transformative educational experience. Read now!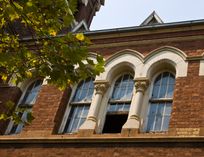 5 Founders and Their Boarding Schools
What prompts somebody to start a boarding school? The motives range from idealism to munificence right on through to capitalism. The common thread seems to be ample capital and a vision of what education can do.