Reflections and Advice:
1.) What do you think makes your school unique relative to other boarding schools?
Unique is a term that is often used to describe Putney. As it is located on a gorgeous working dairy farm with sustainable gardens, all students learn agricultural skills on top of advanced academics, sports, and a vast array of arts. This instills a greater work ethic and sense of community.Teens who see the world more creatively, will be able to expand their horizons, learning various techniques, in various artistic genres, from welding to weaving, drama to dance, and everywhere in between. Putney really allows one to accumulate extensive skills, and inspires students to expand their minds.
2.) What was the best thing that happened to you in boarding school?
I think that I am a much more multi-faceted person, because of Putney. Such mandatory elements as Friday night sing, Sunday night meeting (usually political), and work jobs, took me outside of my urban spoiled rich kid self, and gave me a better understanding of others.
3.) What might you have done differently during your boarding school experience?
Oh, so many things I would have been less shy. Being a popular city kid, I did not socialize well at first. I had strong sense of style that did not fit in with the overall hippie vibe of the school. Furthermore, I would have applied myself more to my passions, instead of focusing on boys, and other distractions, but teens will be teens, and my guidance counselor was really absent, and never looked in on me, so that was a problem, although I've heard that they've become more strict about that.I think my advice would pertain to coating oneself in confidence, sticking to one's goals and convictions, and forming a strong bond with ones guidance counselor.
4.) What did you like most about your school?
I loved the creative spectrum at Putney most of all. I found all of the classes inspiring, as well as my fellow students
5.) Do you have any final words of wisdom for visiting or incoming students to your school?
Putney isn't right for everyone. One must be a strong, creative individual, with good socialization skills, or at least the desire to create some. A positive outlook, and voracious appetite for learning will get you far at this exceptional school.
Academics:
1.) Describe the academics at your school - what did you like most about it?
I came from a background of public, private, and magnet schools, so really experienced the gamut. As a former honors student, I entered Putney expecting my classes to be easy. On the contrary, the academics were above and beyond, and with such small classrooms, one can never get lost in the fray. And, since most of the teachers live on campus, they are easily accessible should you have be stumped on something.One of the most unique academic aspects of Putney, is the fact that we have project week, instead of exams. This means that each student works with a faculty member in one academic, and one creative project, at the end of each semester. It would be the equivalent of a mini thesis, in whatever subject you can conjure that fits, categorically, into one of the academics or creative classes taken that semester.
Athletics:
1.) Describe the athletics at your school - what did you like most about it?
I love that there are classic sports on offer, like soccer, softball, lacrosse, and field hockey, but there are alternative sports, as well like yoga, Thai chi, ultimate frisbee, horseback riding, cross-country skiing, etc... Variety is the spice of life, after all, and teens can get easily distracted. It's also great fun to travel to the other nearby preschools for competitions; it's like a mini vacation.
Art, Music, and Theatre:
1.) Describe the arts program at your school - what did you like most about it?
I cannot say enough about it. There is so much variety. Putney has it's own theater, art gallery, and dance space, and music wing. The teachers in every genre are knowledgeable and passionate about what they do, and avid about passing that level of enthusiasm on to their students.Although I had studied it prior, and went to a performing arts school I my primary years, studying drama at Putney really elevated me to the next level. I'm so thankful for that experience.
Extracurricular Opportunities:
1.) Describe the extracurriculars offered at your school - what did you like most about it?
There isn't time at Putney for student organizations, so they do not exist.I did some volunteer work through the school and really enjoyed it. There is nothing better for teenagers, than to take themselves to of themselves. I highly recommend partaking in any volunteer work the school offers.
Dorm Life:
1.) Describe the dorm life in your school - what did you like most about it?
I loved my dorms. The greatest thing is that dorms are not segregated by classes, so this is a mingling of all ages. We all socialized in the evenings, and had some of the best times of our lives. I don't think I've ever laughed as hard since.The only drawback was no late night food access when I was there, but we resolved that by hiring a cab to pick up up food and deliver it. I'm guessing that we actually started Uber. I've heard that that has since been amended.
Dining:
1.) Describe the dining arrangements at your school.
In the dining room you sit wherever you want. The food is pretty good, with an emphasis on health, and there was always a vegetarian option. The food is served by your peers as part of student jobs.
Social and Town Life:
1.) Describe the school's town and surrounding area.
Putney is a really great artistic town. The general store stocks up on everything you need, and if you can't find it there you can always take the Putney School bus to Brattleboro on Saturdays. Brattleboro is bigger, and also very artsy. There are some great restaurants coffee shops, an organic coop, and fabulous boutiques, including am army surplus store (combat boots are great in the snow), and a wonderful vintage mall.
2.) Describe the social life at your school - what did you like most about it?
Well, this is a controversial one. Teens are teens, no matter where you are. There are cliques, although the school tries to discourage that; there was some bullying, though are strict punishments for such; and it is much easier at boarding school to get into trouble with the opposite sex. What's important is to stay grounded, form strong bonds with your peers (especially an upperclassmen of the same sex), and remember that you have all the time in the world to become an adult. For now, just enjoy being a child, and getting to live with your best friends.
Daily Schedule:
Weekday
10:00 AM
milk lunch - milk & cookie energy boost
6:00 AM
evening activities
Weekend
3:00 AM
Free the rest of the day to do whatever you want. I would usually take the Putney School bus into Brattleboro for shopping and lunch.
4:00 AM
Back on campus, I'd finish up my homework.
My school had a phenomenal work program, where students were expected to complete jobs around the school 6 days a week. These jobs included working on the farm, preparing meals, cleaning up after meals, cleaning. . .
Putney is a vibrant community where teachers and students are actual friends. It's conducive to personal growth and a place where I and other students found our passions. Everyone is excited and working on something. . .
Putney is a coeducational boarding and day school in Vermont. It values and practices progressive education, and has a diverse and rigorous curriculum. It boasts a strong academic program, along with a work job program. . .
Show more reviews (

11 reviews

)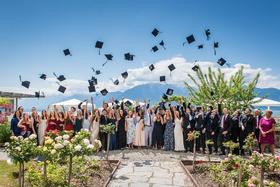 Nurturing Futures: A Journey through Boarding at Haut-Lac School in Switzerland
Nestled in the hills overlooking Lake Geneva in the French-speaking part of Switzerland lies an educational gem that embodies a unique blend of academic excellence, cultural richness and a profound sense of community. Founded over 30 years ago, Haut-Lac International Bilingual Day and Boarding School is now home to both 600 day students and a maximum of 30 boarders from around the world.
What To Wear at Your Job Interview
Navigating job interviews can be stressful, but knowing what to wear shouldn't be. Our comprehensive guide covers the essential dress code tips for men and women interviewing at boarding schools. Make your first impression count with style and professionalism.
Navigating the Modern Maze: Emerging Challenges for Boarding Schools
Explore the pressing challenges facing boarding schools, from marketing difficulties and rising insurance costs to facility maintenance and recruitment of competent trustees and teachers. This article delves into these complex issues and proposes innovative strategies to overcome them.