Reflections and Advice:
1.) What do you think makes your school unique relative to other boarding schools?
While Exeter is not the only boarding school to embrace the socratic method, the use of the Harkness table in every classroom and the level of dialogue it requires is a hallmark of an Exeter education. At the Harkness table, I learned how to articulate my thoughts and back them up with evidence as well as listen to others and engage in thoughtful discussions. We may have only been teenagers, but we were expected to think critically and learn from each other. The communication skills I developed at Exeter continue to have a powerful positive impact on my career and my life.
2.) What was the best thing that happened to you in boarding school?
During my Exeter experience, I became much more confident in myself and my abilities. I found an outlet for my passion for learning and gained the communication skills necessary to make learning a big part of my career. I credit Exeter with a large portion of the person I am today, particularly my strong moral compass and focus on Non Sibi (not for myself - the school motto), as well as my leadership and business skills.
3.) What might you have done differently during your boarding school experience?
Make the most of a boarding school experience by taking advantage of as many opportunities as possible. You don't need to have your life figured out by graduation - you will continue to grow and develop through college or whatever you choose to do after high school.
4.) What did you like most about your school?
Exeter's commitment to creating an community with a focus of a love on learning, and the communication and leadership lessons I learned from many Harkness tables.
5.) Do you have any final words of wisdom for visiting or incoming students to your school?
The Phillips Exeter library is an architectural masterpiece and is my favorite place on campus.
Academics:
1.) Describe the academics at your school - what did you like most about it?
Many of the classes I took at Exeter had a profound impact on my worldview and my life, and were often more impactful than my college classes. The small class sizes and Harkness method encourage thorough preparation and active participation. The significant focus on theory and critical thinking helped me become a better decision maker. The teachers were well-versed in their field and very accessible. The diversity of classes is incredible, particularly at a high school. The workload is very intense and the environment can at times feel competitive as many students apply to similar colleges. Yet I also learned how to manage a workload and stress, which made my transition to college much easier.
Athletics:
1.) Describe the athletics at your school - what did you like most about it?
I thoroughly enjoyed participating in sports at Exeter. The facilities are terrific and the school spirit is strong. Practices and games fit well into the schedule, though academics still took precedence. Note that the sports attendance culture is not quite as strong, except for the big Exeter/Andover weekend.
Art, Music, and Theatre:
1.) Describe the arts program at your school - what did you like most about it?
I was not active in this programming, though I enjoyed watching my friends in musicals. Exeter recently finished construction on a lovely new theater and dance building.
Extracurricular Opportunities:
1.) Describe the extracurriculars offered at your school - what did you like most about it?
So many clubs, perhaps as many as were available in college. Supportive of new clubs and accessible funding. Developed leadership experience with a few of the clubs.
Dorm Life:
1.) Describe the dorm life in your school - what did you like most about it?
I enjoyed the small size of the dorms and the accessibility of the faculty who lived in the dorms. The rooms were furnished and clean. Dorm bonding was encouraged and I have fun memories of dorm trips to nearby cities and to the movies. Some of my strongest friendships are still with my dorm-mates.
Dining:
1.) Describe the dining arrangements at your school.
Two dining halls made it convenient to visit and rarely long lines. The food is good with plenty of options and inclusion of dietary needs. Snacks are available in between meal hours. The soft serve ice cream machine is a lot of fun.
Social and Town Life:
1.) Describe the school's town and surrounding area.
Small, New England town. Very walk-able - we would often walk to the ice cream shop or coffee shops for a break from campus. Not a ton to do nearby so transportation is often needed for activities like clothing shopping or the movies.
2.) Describe the social life at your school - what did you like most about it?
Like most high schools, friend groups are often around particular interests or similarities like sports teams or academic interests. I found it easy to be a part of many friend groups and enjoyed meeting people from a wide variety of backgrounds.
Daily Schedule:
Weekday
Weekend
Phillips Exeter is distinct for its use of the Harkness Method and its unique athletic opportunities afforded by a robust alumni network and excellent teachers from various high-level academic positions within their fields. Harkness, a. . .
The use of the Harkness table. The discussion based, or flipped, classroom is what truly separates Exeter from all other private schools. . .
The Harkness table is used in all classrooms, facilitating discussion and exploration of subjects that allow students to take the reins on their own education. With classes averaging 12 students or fewer, every student is. . .
Show more reviews (

27 reviews

)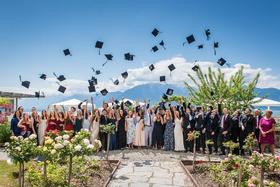 Nurturing Futures: A Journey through Boarding at Haut-Lac School in Switzerland
Nestled in the hills overlooking Lake Geneva in the French-speaking part of Switzerland lies an educational gem that embodies a unique blend of academic excellence, cultural richness and a profound sense of community. Founded over 30 years ago, Haut-Lac International Bilingual Day and Boarding School is now home to both 600 day students and a maximum of 30 boarders from around the world.
What To Wear at Your Job Interview
Navigating job interviews can be stressful, but knowing what to wear shouldn't be. Our comprehensive guide covers the essential dress code tips for men and women interviewing at boarding schools. Make your first impression count with style and professionalism.
Navigating the Modern Maze: Emerging Challenges for Boarding Schools
Explore the pressing challenges facing boarding schools, from marketing difficulties and rising insurance costs to facility maintenance and recruitment of competent trustees and teachers. This article delves into these complex issues and proposes innovative strategies to overcome them.