Reflections and Advice:
1.) What do you think makes your school unique relative to other boarding schools?
We focused a lot on leadership. It was a military school for the boys and an english prefect system for the girls. We had leadership classes and in addition to our academics and sports, we were balanced. This helped us better lead ourselves first, and then others. We also had a strong desire to help the world because of our leadership program.
2.) What was the best thing that happened to you in boarding school?
I feel as if I gained more independence at boarding school. You learn to live on your own, solve your own problems, and be your own person. That is a strong foundation for going into college.
3.) What might you have done differently during your boarding school experience?
I didn't go to Culver until sophomore year so I regret not going Freshman year! I would've loved to be a new freshman rather than a new sophomore.
4.) What did you like most about your school?
I love how much other people (specifically alumni) love our school. Everyone has so much pride and is proud that they go/went to Culver. It made me proud to go as well. I loved the people that became my best friends and soulmates. I truly did love the balance between sports, academics, and the leadership system.
5.) Do you have any final words of wisdom for visiting or incoming students to your school?
Don't let the leadership and military system intimidate you. And go to the Rootbeer stand when it's open and get their shakes!!
Academics:
1.) Describe the academics at your school - what did you like most about it?
I really liked the small class size and availability of the teachers. Our teachers lived on or near campus and were available always through email and mostly in person to help us with our work. We had thoughtful and meaningful discussions because of how small our classes were. We had no more than 12-15 students per class which made for a great group.We had block scheduling so we were unable to take more than 1-2 AP courses which some other schools flaunted that their students could take more over the years.
Athletics:
1.) Describe the athletics at your school - what did you like most about it?
We definitely had a strong focus on athletics but I liked how we were still an Indiana school with Indiana values. What I mean by that is that we focused more on personal development than winning. Don't get me wrong we were still competitive but our coaches truly cared about our well-being.The upperclassman had a large vocal role in all of the decisions made for the team.
Art, Music, and Theatre:
1.) Describe the arts program at your school - what did you like most about it?
n/a I can't comment because I didn't partake in many arts program. I do know we have an entire building dedicated to the arts.
Extracurricular Opportunities:
1.) Describe the extracurriculars offered at your school - what did you like most about it?
I loved how every extracurricular was student run and student led. It made it feel like it was the product of the students so we got excited about other activities besides school. We could support each other's events because we know how hard they worked on them.
Dorm Life:
1.) Describe the dorm life in your school - what did you like most about it?
I liked the small, intimate dorm sizes. It was nice to have freshman through seniors in the dorm to have mentors. The dorms were far from campus and difficult in the Indiana winters.
Dining:
1.) Describe the dining arrangements at your school.
I loved the choices of the food but didn't like how we had to wear a uniform to meals on the weekend.
Social and Town Life:
1.) Describe the school's town and surrounding area.
Our town was small and dead in the winter. There wasn't much to do and not many restaurants.
2.) Describe the social life at your school - what did you like most about it?
Our school was co-ed so it was fun to be able to be with the boys most of the time. We had plenty of free time to hang around which was nice.
There is a vast international student acceptance which allows you to learn other cultures. Is also a very good school because it teaches you the importance of manners and routines (this is because is a. . .
One unique aspect of Culver is the requirement of a senior service project for graduation. Personally, I made the most out of this opportunity and took a trip to Morocco to give aid to the. . .
Culver's leadership development programs make it unique among boarding schools. Students are required to enroll in leadership development classes and participate in the leadership system. For boys this takes the form of the military system. . .
Show more reviews (

18 reviews

)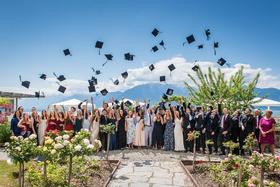 Nurturing Futures: A Journey through Boarding at Haut-Lac School in Switzerland
Nestled in the hills overlooking Lake Geneva in the French-speaking part of Switzerland lies an educational gem that embodies a unique blend of academic excellence, cultural richness and a profound sense of community. Founded over 30 years ago, Haut-Lac International Bilingual Day and Boarding School is now home to both 600 day students and a maximum of 30 boarders from around the world.
What To Wear at Your Job Interview
Navigating job interviews can be stressful, but knowing what to wear shouldn't be. Our comprehensive guide covers the essential dress code tips for men and women interviewing at boarding schools. Make your first impression count with style and professionalism.
Navigating the Modern Maze: Emerging Challenges for Boarding Schools
Explore the pressing challenges facing boarding schools, from marketing difficulties and rising insurance costs to facility maintenance and recruitment of competent trustees and teachers. This article delves into these complex issues and proposes innovative strategies to overcome them.