Reflections and Advice:
1.) What do you think makes your school unique relative to other boarding schools?
Deerfield was unique in its obsessive adherence to conservative values. All aspects of the school, from dress code, to sit-down-dinner, to the rigid schedule that students had to follow, all seemed to be apart of Deerfield's sense of history and conservative values. The School's motto: "Be worthy of your heritage" seemed to follow students everywhere.
2.) What was the best thing that happened to you in boarding school?
As a a young creative, I found Deerfield did an excellent job of cultivating my talents and giving me the room and resources to grow as a person. As a senior I was accepted into the Honors english class that visited Cambridge England, and I found being immersed in this academic environment incredible inspiring. Ultimately, Deerfield provided me many of the opportunities to grow and develop as a student and as a person.
3.) What might you have done differently during your boarding school experience?
I went to Deerfield as a new junior. Many students begin Deerfield as new Sophomores. For any student tentative about committing to Boarding school for 4 years, I would suggest considering these options.
4.) What did you like most about your school?
Overall, I loved that Deerfield allowed me the opportunity to be surrounded by brilliant capable people for two years of my life. It gave me access to all the resources I needed to grow and learn and become a better version of myself.
5.) Do you have any final words of wisdom for visiting or incoming students to your school?
I would recommend really taking the time to expand your social circle. Many Deerfield students come from diverse and exciting backgrounds. Don't limit yourself to a narrow group of friends!
Academics:
1.) Describe the academics at your school - what did you like most about it?
The Academics at Deerfield were rigorous and of the highest quality. The workload was always demanding and geared toward preparing students for succeeding at top U.S. colleges. As a humanities-focused student, I found the classes to be top-notch. Senior year english students had, during my time, the option of applying an english seminar that visited Cambridge University for two weeks during spring break. Reading modernists texts alongside some of the brightest minds in the world was an incredible privilege and was ultimately emblematic of the type of experiences Deerfield seeks to foster for its students. In my AP photography class, students had access to a variety of camera equipment that exposed them to the many possibilities of photographic expression within the medium. While there is always the chance you might find yourself with a ineffectual teacher, the wide majority of classes you will take at Deerfield will be of the best quality.
Athletics:
1.) Describe the athletics at your school - what did you like most about it?
Deerfield Athletics takes itself very seriously and expects itself to be taken very seriously. Since I have graduated, a lot of money has flooded into the schools coffers, specifically for a state of the art athletic facility. As students are mandated to do an after school activity, many students participate in athletic life. Many teams send students to play at the highest levels of collegiate sports. Many Deerfield teams are highly ranked within the league, much in part to Deerfield's competitive post-grad program.
Art, Music, and Theatre:
1.) Describe the arts program at your school - what did you like most about it?
Deerfield has a robust arts program, with lots of resources for students aspiring to artistic expression. The theatre program has a deep wealth of resources, as well as many of the other programs at the school. As a photography student at Deerfield, I was always impressed with the wide access to photography materials and learning opportunities. Deerfield has AP classes in many artistic disciplines and an impressive gallery space for students to show and see work.
Extracurricular Opportunities:
1.) Describe the extracurriculars offered at your school - what did you like most about it?
Though Deerfield has a tendency to schedule all aspects of a students day, there is some time available for extracurricular activity. As a student interested in filmmaking, I was able to substitute an after school activity for the time to pursue the creation of a short film. There are plenty of clubs for students to pursue in their limited free time.
Dorm Life:
1.) Describe the dorm life in your school - what did you like most about it?
Dorm life at Deerfield was an important part of the academic experience. Dorms are older, but charming in their own way. All students live on a hall with a hall resident with frequently scheduled community events and late night "feeds" where hall residents cook or prepare snacks for students. Dorm selection can sometimes feel arbitrary and transferring during the school year usually must be predicated on some serious concerns.
Dining:
1.) Describe the dining arrangements at your school.
Deerfield is notorious for its formal sit down dinners. Many lunches and nights during the week, students are required to attend sit down meals at rotating assigned tables with faculty and other students of all ages. Students vary in their opinion on sit down meals, but I always liked them, as it provides you an opportunity to engage with a diverse array of the student body and faculty. Weekend and Friday nights are more buffet style, allowing students to eat in a more casual environment with their friends. The food is always great and rarely do students complain about its quality.
Social and Town Life:
1.) Describe the school's town and surrounding area.
Deerfield is a small town with little around it. The scenic beauty is tremendous. If you want to get off campus on a weekend night, you can take a cab into Greenfield, the town over, where there are restaurants and a movie theatre. The school will host occasional weekend trips to Greenfield and Northampton for the students.
2.) Describe the social life at your school - what did you like most about it?
Social life was hierarchical and striated. Students tend to segregate based on class and socio-economic status. Though the school makes a concerted effort to bring students from different walks of life together, there is only so much they can do.
Daily Schedule:
Weekday
1:00 AM
Breakfast and morning study
2:00 PM
Afternoon athletics
Weekend
2:00 PM
Watch a movie with friends
2:00 PM
Dinner with friends
3:00 PM
Visit to Greenfield
3:00 PM
Hang out in Dorms with friends
One unique aspect of living in the Pioneer Valley is all the outdoor activities that come along with it. Whether it be biking, hiking to the rock, running the small loop, or swimming in the. . .
Deerfield is smaller than many other boarding schools in New England, leading to a very tight-knit community. Each student gets to know people in every grade level very well. The tradition of sit-down meals help. . .
Deerfield has a very student-centered learning environment that encourages students to learn to ask for help and use all the resources available to them. Deerfield also has "feeds," when the hall associate on duty for a. . .
Show more reviews (

11 reviews

)
Mastering the Boarding School Selection Process: A 5-Step Guide
Discover the ultimate 5-step guide to choosing the perfect boarding school for your child. Explore essential factors, such as academics, campus facilities, extracurricular activities, and more. Make an informed decision to provide your child with an enriching and transformative educational experience. Read now!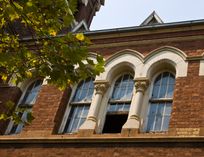 5 Founders and Their Boarding Schools
What prompts somebody to start a boarding school? The motives range from idealism to munificence right on through to capitalism. The common thread seems to be ample capital and a vision of what education can do.