Reflections and Advice:
1.) What do you think makes your school unique relative to other boarding schools?
The Harkness Program is a wonderful experience. Average class size is 13 and the setting of the oval Harkness table ensures all students are front and center.The School makes athletics mandatory, but does not have to be interschool sport. (Cycling club, Fencing, Skiing..etc)Top students from around the world make this a diverse learning experience.I feel this to be one of the top educational systems in the World.One of the largest endowments of any high school in the world.36 years later and I'm still in contact with my friends from there.
2.) What was the best thing that happened to you in boarding school?
Knowing that once I set my mind to it, I can achieve anything.
3.) What might you have done differently during your boarding school experience?
My freshman year I never challenged the sports program. I regret not doing that.
4.) What did you like most about your school?
Exeter has opened a lot of doors for me. The name itself has such recognition.
5.) Do you have any final words of wisdom for visiting or incoming students to your school?
You owe it to yourself to do a school visit. See it firsthand and in person.
Academics:
1.) Describe the academics at your school - what did you like most about it?
My first Math class had 7, including the teacher. (1980-1981 The bicentennial year of the school) We wrote math programs on a Tektronix computer.In English class, we would read a book and then write a paper. First you would pass it to your left to be read and marked by the student that you passed it to. Next day you received it back and make any changes that you saw as favorable. Next class pass to the right and same regimen. It was incredible to see what and how other students thought and how they placed that on paper.I saw Dan Brown daily as he attended and was a couple years ahead of me.
Athletics:
1.) Describe the athletics at your school - what did you like most about it?
Incredible athletics program. Phillips Exeter has its own boathouse for crew.Our Varsity teams played college JV. (Harvard, Brown, Colgate, Yale..etc)2 indoor hockey rinks 2 indoor swimming pools
Art, Music, and Theatre:
1.) Describe the arts program at your school - what did you like most about it?
I was not involved the theatre or art. Though I am aware that the music program is very good.
Extracurricular Opportunities:
1.) Describe the extracurriculars offered at your school - what did you like most about it?
Being a boarding school, there are facilities outside the dormitory for students to congregate and enjoy activities.Students also have many programs to get involved in.
Dorm Life:
1.) Describe the dorm life in your school - what did you like most about it?
I was a "day student", who lived within 15 miles from the school. I commuted daily with 2 other students.Occasionally I stayed on campus with friends. It became like a large family.
Dining:
1.) Describe the dining arrangements at your school.
3 dining facilities to choose from depending on what part of the campus you were located. Very good food with an incredible staff.
Social and Town Life:
1.) Describe the school's town and surrounding area.
Exeter is a small yet diverse town. Lot of small restaurants and shops. The beach is within 20 minutes drive. Boston is about a 45 minute drive. New York is a 4 hour drive.
2.) Describe the social life at your school - what did you like most about it?
Meeting like minded, inspiring and intelligent students from diverse places around the world. Building friendships for life.
Phillips Exeter is distinct for its use of the Harkness Method and its unique athletic opportunities afforded by a robust alumni network and excellent teachers from various high-level academic positions within their fields. Harkness, a. . .
The Harkness method is one of Exeter's unique and best aspects. Teachers have very little involvement in class — homework is either reading or problem based, and nearly every class, from Math to English. . .
Exeter is the founding place of the Harkness method, in which students gather around a round table to discuss their homework and class material as a group. The idea of this method is that. . .
Show more reviews (

27 reviews

)
Mastering the Boarding School Selection Process: A 5-Step Guide
Discover the ultimate 5-step guide to choosing the perfect boarding school for your child. Explore essential factors, such as academics, campus facilities, extracurricular activities, and more. Make an informed decision to provide your child with an enriching and transformative educational experience. Read now!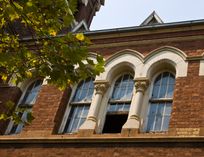 5 Founders and Their Boarding Schools
What prompts somebody to start a boarding school? The motives range from idealism to munificence right on through to capitalism. The common thread seems to be ample capital and a vision of what education can do.