Reflections and Advice:
1.) What do you think makes your school unique relative to other boarding schools?
The military traditions sets the school apart from other more traditional boarding school experiences. Very structured but always surrounded by other cadets in your company that doesn't make it feel like "all work and no play".
2.) What was the best thing that happened to you in boarding school?
The academy definitely helped me mature and fine tune my leadership skills and prepared me for a military career, but also to be successful no matter what I pursued. The discipline and work ethic it taught me were the second most valuable thing I gained from SJNMA, after the bonds I made while on campus.
3.) What might you have done differently during your boarding school experience?
I started attending St john's halfway through high school but if I knew what I would have got out of the academy, I would have started my freshman year. It's worth trading a traditional high school experience for the things I learned outside of a standard high school curriculum. For any kids attending st john's, make sure to embrace the highs and push through the lows. A military academy is not an easy journey but it's worth it in the end.
4.) What did you like most about your school?
The bonds I made with the people I was closest to (fellow cadets and teachers) still carry on to this day. Met my mentor at the academy as well
5.) Do you have any final words of wisdom for visiting or incoming students to your school?
DeKoven is the most convenient barracks in terms of proximity to facilities on campus, however you can't choose which barracks you live in as that is dependent on which company you are assigned to. Learn to follow direction or get comfortable doing pushups.
Academics:
1.) Describe the academics at your school - what did you like most about it?
Was able to complete courses for college credit through local UW school which was a plus. Teachers really care about their students and are always willing to give additional help for the students that want to put in the work. Emphasis on students that want to put in the work, as a large handful of students don't seem to put in much academic effort. Those that didn't put in effort seemed to be pushed along and allowed chance after chance if assignments weren't being completed on time. I didn't feel as prepared for college due to a not very rigorous course load that didn't force me to learn effective study habits. Experiences definitely vary by the individual. Mandatory two hour a night study period from around 7-9.
Athletics:
1.) Describe the athletics at your school - what did you like most about it?
Athletics are mandatory for all cadets, as they need to participate in either and interscholastic or intramural sport each season (Fall, Winter, Spring). One of the shortcomings of the athletic program is due to the fluctuation of which students are on the team a given year. A team can do well one year and then have a large percentage of the previous team transfer or not return to the school and leave the team with gaps for the coming school year. Unable to form the same team and program mentality as other schools that play together for at least the four years of high school (if not more with feeder programs) and grow together. Weight lifting facility is relatively small and limited accessibility unless you take a strength and conditioning class during the school year.
Art, Music, and Theatre:
1.) Describe the arts program at your school - what did you like most about it?
Mandatory participation in an arts program for graduation (art, choir, band or bagpipes). One of the few schools that offer bagpipes in the country and taught by a very knowledgeable instructor.
Extracurricular Opportunities:
1.) Describe the extracurriculars offered at your school - what did you like most about it?
Mandatory volunteer hours in order to be promoted in the corps of cadets. Also mandatory JROTC classes in order to graduate, which teach valuable leadership skills and are beneficial to anyone considering enlisting in the military (increased rank upon entering if you complete at least two years of JROTC)
Dorm Life:
1.) Describe the dorm life in your school - what did you like most about it?
Meals are provided 3 times a day through the mess hall, as well as access to a recreational center that offers snacks and more fun options (pizza, burgers, etc.) on the weekends, during the school day and some school nights. Rooms are relatively small and arranged in a specific military manner. When not in school, you're placed within a company and conduct everything with them outside of school hours.
Dining:
1.) Describe the dining arrangements at your school.
Food is provided through Sodexo and eaten three times a day during the week and twice a day on the weekends (with an optional continental breakfast on weekends). Breakfast is usually eggs and meat or pancakes and eggs. A salad bar is usually set up during lunch and dinner with salad, soups, etc., in addition to the main entry.
Social and Town Life:
1.) Describe the school's town and surrounding area.
Downtown Delafield is small but offers a few places to grab a bite to eat or pick up snacks to bring back to campus, everything is within walking distance. Cadets are allowed on town passes on weekends depending on the schedule, rank, and behavior.
2.) Describe the social life at your school - what did you like most about it?
During the week, everything is structured with little time set aside to socialize. There are some small breaks throughout the day while waiting for class, activities, study time, that allow for socializing. Majority of social life take place on weekends, where cadets are allowed to sign up for activities like movies, laser tag, trampoline park, annual six flags trip, etc. Some weekends are considered "closed" due to a big event (parades, inspection weekends, etc.)
Daily Schedule:
Weekday
7:00 AM
Breakfast formation
Weekend
SJNMA offers a unique and safe environment. The faculty care about the cadets more than anything else. It's safe location physically located in the suburbs along with on campus security provide a great place. . .
I liked that we had structure. It taught me how to be on time and responsible. I also really liked that it was all guys. It made it easier to learn. Our teachers bent over. . .
The military traditions sets the school apart from other more traditional boarding school experiences. Very structured but always surrounded by other cadets in your company that doesn't make it feel like "all work and no. . .
Show more reviews (

1 review

)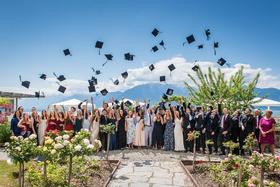 Nurturing Futures: A Journey through Boarding at Haut-Lac School in Switzerland
Nestled in the hills overlooking Lake Geneva in the French-speaking part of Switzerland lies an educational gem that embodies a unique blend of academic excellence, cultural richness and a profound sense of community. Founded over 30 years ago, Haut-Lac International Bilingual Day and Boarding School is now home to both 600 day students and a maximum of 30 boarders from around the world.
What To Wear at Your Job Interview
Navigating job interviews can be stressful, but knowing what to wear shouldn't be. Our comprehensive guide covers the essential dress code tips for men and women interviewing at boarding schools. Make your first impression count with style and professionalism.
Navigating the Modern Maze: Emerging Challenges for Boarding Schools
Explore the pressing challenges facing boarding schools, from marketing difficulties and rising insurance costs to facility maintenance and recruitment of competent trustees and teachers. This article delves into these complex issues and proposes innovative strategies to overcome them.