Reflections and Advice:
1.) What do you think makes your school unique relative to other boarding schools?
The community that is centered around the circle is welcoming, and the nice fall and spring days leave the students socializing on the circle during free blocks throughout the day and in their free time after classes and sports. Additionally, there are resources to do anything and this is reflected in the many new buildings such as the new theater and music building as well as the future plans for the expansion of the school facilities.
2.) What was the best thing that happened to you in boarding school?
Boarding school helps you to become more responsible and be able to manage your time. Middlesex does a great job with this and helps you to grow in your level of maturity through teaching you how to be independent and succeed in what you set out to do, and you will succeed as long as you put in the effort.
3.) What might you have done differently during your boarding school experience?
it sounds cliche, but do not worry about what other people think about you or how many friends you're making, because you will make tons of friends and you will make the right friends if you just do what you want to do rather than focusing on trying to do what is "right."
4.) What did you like most about your school?
Middlesex is a great place where you can grow and learn, and it prepares you in ways that other schools do not. The English program at Middlesex is thorough and it teaches you how to write clearly and effectively, while there is also freedom in your schedule to push yourself and figure out the things you love and want to do. Middlesex is definitely a place where you can do whatever you want and you can fill up your schedule with those things.
5.) Do you have any final words of wisdom for visiting or incoming students to your school?
The Terry Room and the steps of Eliot Hall are the two best places on campus and these are places where I would just find myself sitting and doing home work in my free time because I simply enjoyed these spaces and their beauty.
Academics:
1.) Describe the academics at your school - what did you like most about it?
The academics at Middlesex are what you make of them. There are classes for all levels and each level will push you to learn and work hard, and a student has the ability to focus in on whatever they want through choosing between elective classes that can give you experience or help you figure out what you want to study in college. A full spectrum of classes are offered from any math to the highest APs, and it is up to the student as to what they want to take. All classes are small and teachers are willing to help at any moments notice.
Athletics:
1.) Describe the athletics at your school - what did you like most about it?
Middlesex Athletics is not necessarily the best athletic program but there are steps being made to improve it. There are some great coaches that set up the players for success and there is a team for any level of experience. Freshman and sophomore year, three seasons of sports are required, and junior year only two seasons are required where as only one season is required in senior year. In the seasons that juniors and seniors do not play sports, they are required to participate in rec fit, which means that they have to exercise for an hour each day and it is up to their discretion as to what they work on. Rec fit is a great way to prepare for a season that you may be interested in so you can be strong and healthy going into the season.
Art, Music, and Theatre:
1.) Describe the arts program at your school - what did you like most about it?
The arts at Middlesex are well supported and there are many opportunities to get involved in them and implement arts classes into you school schedule. Music lessons, jazz ensemble, and chamber ensemble are all classes that can be incorporated into the school day, and there are an abundance of theater classes and art classes as well. There are two major performances each year, a play in the fall and a spring musical, and the rehearsals are at night during study hours, but the director is really good at only requiring the people necessary for rehearsal that night to be there and it is easy to manage your work and do the play. Lastly, the facilities are all brand new with the Rachel Carson Center and the Bass Pavilion, which houses art and drama, being built within two years of each other.
Extracurricular Opportunities:
1.) Describe the extracurriculars offered at your school - what did you like most about it?
Volunteering at Middlesex is not required but you will find it is a large part of the school and you will become involved in it at one time or another. There are always many efforts being made and many ways to get involved. If you have an idea, it is easy to get support for it and take action on your ideas and organize a successful effort.
Dorm Life:
1.) Describe the dorm life in your school - what did you like most about it?
All the dorms at Middlesex are relatively newly remodeled and there is no bad dorm to live in. About 75% of the rooms are singles and the rest are doubles, and you will be required to live in a double for at least one year. At the end of the year you are allowed to submit suggestions as to who you would like to live with on your floor for the next year and the school is really good at arranging everyone so they are living near the people they chose. Fridges can be used in room and each dorm has a laundry room and a kitchen area with a microwave and community fridge. Senior proctors are on each floor and dorms and floors are not separated based on grade.
Dining:
1.) Describe the dining arrangements at your school.
If anyone tells you they love everything the dining hall makes, they are lying. Middlesex has a good dining facility and the good thing about Middlesex is that there is always an option. Each meal there is a hot meal that is made, but if you do not like the hot meal you can go to the salad/sandwich bar and make something for yourself there. In addition to the salad/sandwich bar, there is a stir-fry machine and a panini machine so you can make hot food as well. The dining hall is open all day except for a half hour in between meals and until 7 at night. After study hours, the grille opens and this is a place where students can use their school account to get chicken fingers, quesadillas, and snacks after the dining hall is closed.
Social and Town Life:
1.) Describe the school's town and surrounding area.
Concord center is a short five minute drive away and it has all the necessities you could ask for. It has shops and cafes as well as restaurants. The school store offers everything you could need on campus, but if you want to get off campus and go to a grocery store or a restaurant Concord is a great spot to do that. Additionally, Boston is close by and you can either Uber or take the train in on weekends and enjoy the city as well.
2.) Describe the social life at your school - what did you like most about it?
Social life at Middlesex is great, there is a strong sense of community and there is a large group of diverse people who each person can learn from. Many conversations about any imaginable topic are had in the dining hall over meals, during classes, or in your free time in the dorms or on the circle. People are definitely friendly and willing to learn from each other.
Middlesex is probably the boarding school that is far ahead in terms of student body diversity, and I mean that in a very good way. Between geographical and socioeconomic diversity, you really learn a ton. . .
Great level of focus on developing clear and cohesive writing skills. Write countless essays and spend time working on the technicalities that improve your ability. Great long-standing traditions. We have a beautiful circle that allows. . .
The entire experience was not only unique, it was life changing! It opened my eyes and mind up to world I wasn't familiar with. I was able to meet, connect and bond with students from. . .
Show more reviews (

26 reviews

)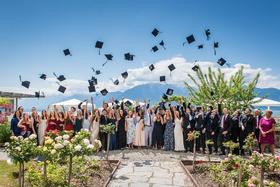 Nurturing Futures: A Journey through Boarding at Haut-Lac School in Switzerland
Nestled in the hills overlooking Lake Geneva in the French-speaking part of Switzerland lies an educational gem that embodies a unique blend of academic excellence, cultural richness and a profound sense of community. Founded over 30 years ago, Haut-Lac International Bilingual Day and Boarding School is now home to both 600 day students and a maximum of 30 boarders from around the world.
What To Wear at Your Job Interview
Navigating job interviews can be stressful, but knowing what to wear shouldn't be. Our comprehensive guide covers the essential dress code tips for men and women interviewing at boarding schools. Make your first impression count with style and professionalism.
Navigating the Modern Maze: Emerging Challenges for Boarding Schools
Explore the pressing challenges facing boarding schools, from marketing difficulties and rising insurance costs to facility maintenance and recruitment of competent trustees and teachers. This article delves into these complex issues and proposes innovative strategies to overcome them.