Reflections and Advice:
1.) What do you think makes your school unique relative to other boarding schools?
George School is fundamentally a Quaker boarding school. When I attended, only around 13% of the student population identified as Quaker. As such, it is completely not required to be a Quaker to attend. However, we have a religion class requirement (which also includes some broader humanities/ethics/social justice courses) and a weekly required meeting for worship. Our Quaker values are not only expressed in our requisites, but it manifests itself in the very culture of GS itself. A focus on compassion, equality, and simplicity --among other values-- mean our students care about their community, have lots of empathy, and teacher-student equality is normal. The enriched spiritual center and mindfulness students also pick up through their time is also a defining feature of GS alumni.
2.) What was the best thing that happened to you in boarding school?
I genuinely feel that my experience at GS has made me a more well-rounded and intellectually engaged person. As a student, I participated in a service trip that changed my life. Not only did it give me hands-on volunteering experience, but it improved my empathy, broadened my perspective of the world, and improved my spiritual life.
3.) What might you have done differently during your boarding school experience?
My advice for any GS newcomer is to be brave and ask questions whenever necessary. It took me a while to adjust to the boarding lifestyle, but it was a home that I naturally, over time, grew into. Don't be worried about living in a dorm.
4.) What did you like most about your school?
I especially loved the fact that we have weekly assemblies. Our assemblies consistently bring in notable speakers from around the world, covering a wide range of subjects. Some assemblies are informative, thought-provoking, others tell nuanced stories related to political issues, others are fun, silly -- all are engaging. Assemblies also let students perform-- theater, dance, and instrumental groups all perform. Also, certain student groups have assemblies during the year. Administration communicated to the student body via assemblies. More than anything else, it was a way for our school to truly unify and build community. The assemblies were the most memorable part of George School for me.
5.) Do you have any final words of wisdom for visiting or incoming students to your school?
Do not be afraid to grab a coffee with your adviser and talk about life. They are there, not just as your scheduling resource, but as a friend. My adviser was a person who was so supportive, funny, and important to my growth. We remain in contact even as I am now in college. Most of the teachers at GS are people who will change your life.
Academics:
1.) Describe the academics at your school - what did you like most about it?
At George School, individually-oriented education is a key element to our academics. Our teacher to student ratio has remained about 1:7 during my time there, and we refer to teachers by their first name as a gesture for acknowledging equality between the teacher and the student; it is also a Quaker tradition. Beyond this, I have made strong relationships with my teachers and advisor who acted as mentors and friends to me and deeply encouraged my self-growth. Although I disliked math coming in, my math teachers are the most memorable teachers for me and they made me appreciate math a lot more. Most teachers live on-campus and are readily available to assist students one-on-one. Students are nurtured -- but not unchallenged. Our IB program is intense and covers a wide breadth of subjects with a particularly unique multi-disciplinary approach. Everyone inevitably takes at least a couple of IB courses.
Athletics:
1.) Describe the athletics at your school - what did you like most about it?
Our school has an athletics requirement that can be broken down into a team sport requirement and a PE requirement. There is a wide breadth in what you can do within that athletics requirement. For example, we have a gardening PE in the spring and a personal conditioning PE choice. Our team sports go from developmental to JV to varsity levels and include things like softball, swimming, equestrian, wrestling, basketball, golf, and track. I had never done equestrian before, and GS' athletics let me feel comfortable trying it out for the first time. More often than not, athletics at GS get you out of your comfort zone. Athletics were meaningful to me even though I don't consider myself an athletic person. Our philosophy in our sports is striving towards self-growth both intra -- and inter -- personally.
Art, Music, and Theatre:
1.) Describe the arts program at your school - what did you like most about it?
I was heavily involved with music at GS and am therefore most informed about the music program. I also participated in private viola lessons and the Youth Orchestra of Bucks County, which is an advanced youth orchestra just 5 minutes from George School that met every Sunday. This orchestra is accessible to all instrumentalists who audition in. Teachers support your individual growth in the arts. I had the opportunity to participate in a variety of local orchestra competitions -- of which my music teacher supported me immensely from the audition onwards. I mostly appreciated the people I interacted with as a result of my musical experiences.
Extracurricular Opportunities:
1.) Describe the extracurriculars offered at your school - what did you like most about it?
I was involved with Open Doors, which was our school's LGBTQ+ club. This was my favorite extracurricular experience at GS. Each year, this club organizes a school-wide assembly to open important LGBTQ+ issues to educate the wider school community. I was heavily involved with the organization of these assemblies and was able to give speeches in two of them. I felt supported and loved by my peers, and the club was a huge support network that I could rely on as a person in the LGBTQ+ community. Many of our clubs have their own legacies surrounding them and act as little micro-communities within the student body.
Dorm Life:
1.) Describe the dorm life in your school - what did you like most about it?
Our dorms are one of the most enriching parts of GS. I lived in all of the girl's dorms throughout my time at GS. We had weekly meetings that usually involved some activity that all the residents participated in. Usually, you are living with 2 prefects on your hall and one or two "dorm parents." These are faculty members (teachers or administration) who live in the dorms with students, and truly do act as "parents." I have had great memories bonding with people during check-in time. Until you get to your senior year, everyone has an in-room time at night that they must adhere to. Dorm spaces are comparable to, if not better than, most college dorm spaces. Our dorm life gives you experience living within and participating in a little community.
Dining:
1.) Describe the dining arrangements at your school.
During my time at GS, dining improved immensely. Cafeteria hours were lengthened, new food options were added, staff-student communication drastically improved, and food overall improved. Kitchen staff field recommendations from students so that dining is ever-improving and adaptive. George School dining is multifaceted. Meals feature international flavors and are varied day by day. I suggest looking at our daily menus for a preview. In addition to meals, you will see on-order omelet stations, fruit smoothie stations, crepe bars, gourmet organic fusions of classic dishes, guest chefs, waffle makers, fresh-squeezed orange juice presses, sushi bars, the panini press, fruit bars, ice cream stations, pizza days, taco days, noodle bowl days, the ever-present dinner stir fry station, etc ad infinitum. And, every dorm is equipped with a kitchen. Also, all students are required to work shifts washing dishes in the kitchen. We call this requirement Shift. So, as students are putting back their dishes to be cleaned, students often greet/thank their friends at the window.
Social and Town Life:
1.) Describe the school's town and surrounding area.
What I loved most about the area surrounding GS was the number of options for entertainment easily within reach, Across the street from GS (3-minute walk) is a Giant, Rite-Aid, Pizza Hut, and Subway. Further off in Newtown, (15-minute walk) there are many food options, including a Starbucks, Osaka, Sandwich Club, Newton's, and the iconic Zebra-Striped Whale for ice cream. Students will often go in groups, or alone, to either of these locations. Newtown is a cute, semi-populous town with a lot of interesting shops to explore. On weekends, George School often has free transportation to a variety of local events, such as ice skating, mall trips, H-Mart trips, or nearby farmer's markets or biking excursions. The student activities board tries to entwine their activities with the communities around GS, which made my social experiences so much more memorable and fun.
2.) Describe the social life at your school - what did you like most about it?
Because our school is quite small, the student body feels very intimate and every student has a "voice" in the community. I loved the camaraderie that GS students generally have. Students are all intellectually-minded and have a great tendency to debate relentlessly. Students feel very comfortable expressing their own values, stories, and styles. Our students tend to be progressive in their politics and quite open-minded. George School commits a lot of resources to help students of marginalized identities to feel safe and respected.
Daily Schedule:
Weekday
Weekend
10:45 AM
Required Meeting for worship (MFW)
Quaker school surrounded by a ton of beautiful and gigantic old trees that provides you with so many opportunities and resources not only in academics but in after-school activities to develop existing skills, find new. . .
George School's strong Quaker tradition brings tenants of the faith into the educational curriculum and living environment. In terms of education, there's a strong array of courses that challenge all levels of learners and a. . .
My favorite part of George School is the vast service learning opportunities across the globe. There are service learning projects in Nepal, Vietnam, Cuba, and even ones closer to home, like Washington D.C..Another unique aspect. . .
Show more reviews (

6 reviews

)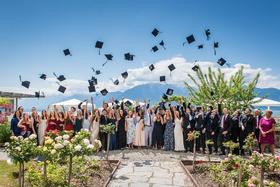 Nurturing Futures: A Journey through Boarding at Haut-Lac School in Switzerland
Nestled in the hills overlooking Lake Geneva in the French-speaking part of Switzerland lies an educational gem that embodies a unique blend of academic excellence, cultural richness and a profound sense of community. Founded over 30 years ago, Haut-Lac International Bilingual Day and Boarding School is now home to both 600 day students and a maximum of 30 boarders from around the world.
What To Wear at Your Job Interview
Navigating job interviews can be stressful, but knowing what to wear shouldn't be. Our comprehensive guide covers the essential dress code tips for men and women interviewing at boarding schools. Make your first impression count with style and professionalism.
Navigating the Modern Maze: Emerging Challenges for Boarding Schools
Explore the pressing challenges facing boarding schools, from marketing difficulties and rising insurance costs to facility maintenance and recruitment of competent trustees and teachers. This article delves into these complex issues and proposes innovative strategies to overcome them.