Reflections and Advice:
1.) What do you think makes your school unique relative to other boarding schools?
George School's strong Quaker tradition brings tenants of the faith into the educational curriculum and living environment. In terms of education, there's a strong array of courses that challenge all levels of learners and a commitment to innovation, whether that's creating a robotics class or offering Chinese language. In the term of the boarding school environment, George School values diversity across all dimensions, including race, economic backgrounds, geography, and ethnicity. This gave me the opportunity to learn from peers in a way that would have been impossible outside of that school.
2.) What was the best thing that happened to you in boarding school?
I made lifelong friends and remain in contact with some of my teachers almost 20 years later.
3.) What might you have done differently during your boarding school experience?
I wish I had gone in my freshman, rather than sophomore year.
4.) What did you like most about your school?
I liked the meeting house
5.) Do you have any final words of wisdom for visiting or incoming students to your school?
The meeting house is incredible and peaceful.
Academics:
1.) Describe the academics at your school - what did you like most about it?
I liked that the academic program was rigorous with AP and IB offerings, and also well-rounded. I took 3 years of ceramics, which gave me a creative outlet. The teachers were also exceptional.
Athletics:
1.) Describe the athletics at your school - what did you like most about it?
Participating in athletics is required at George School, and I found value in both the exercise and participating with a team. I swam, and so the facilities were top of the line.
Art, Music, and Theatre:
1.) Describe the arts program at your school - what did you like most about it?
George School requires an art course each year of enrollment and provides a breath of options from painting and drawing to woodworking to theater and stagecraft. The studios and facilities for these are amazing, and it was deeply rewarding to have a creative outlet that was so different from my other classes.
Extracurricular Opportunities:
1.) Describe the extracurriculars offered at your school - what did you like most about it?
The school provided a wealth of activities for boarders and day-students. There were a variety of student clubs and weekend activities. Harvest weekend and the hayrides were always a hit. In addition, the camaraderie that developed through activities in the dorms was critical.
Dorm Life:
1.) Describe the dorm life in your school - what did you like most about it?
Prefects and dorm parents spent considerable energy to build meaningful communities in the dorms through activities, impromptu dance parties, and other activities. The dorm rooms were spacious, and the school invested in renovations to make. There were kitchens and other amenities.
Dining:
1.) Describe the dining arrangements at your school.
I liked the dining hall choices and the periodic family-style dinners. The food was diverse, and they made an effort to bring in farm-fresh options.
Social and Town Life:
1.) Describe the school's town and surrounding area.
Newtown was a good place be located. There were activities within walking distance.
2.) Describe the social life at your school - what did you like most about it?
The other students were welcoming.
George School is a special place. Whether it be the teaching style or the required service learning project, GS has a way of giving everything a unique twist. For example, I was lucky enough to. . .
Before going to George School, I felt a little wary about going because I saw the school was Quaker, something I'd never heard of or knew anything about. After graduating, I'd say the Quaker ideals. . .
My favorite part of George School is the vast service learning opportunities across the globe. There are service learning projects in Nepal, Vietnam, Cuba, and even ones closer to home, like Washington D.C..Another unique aspect. . .
Show more reviews (

6 reviews

)
Mastering the Boarding School Selection Process: A 5-Step Guide
Discover the ultimate 5-step guide to choosing the perfect boarding school for your child. Explore essential factors, such as academics, campus facilities, extracurricular activities, and more. Make an informed decision to provide your child with an enriching and transformative educational experience. Read now!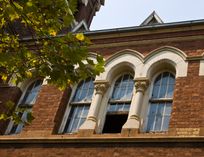 5 Founders and Their Boarding Schools
What prompts somebody to start a boarding school? The motives range from idealism to munificence right on through to capitalism. The common thread seems to be ample capital and a vision of what education can do.