Reflections and Advice:
1.) What do you think makes your school unique relative to other boarding schools?
Quaker school surrounded by a ton of beautiful and gigantic old trees that provides you with so many opportunities and resources not only in academics but in after-school activities to develop existing skills, find new passions, make lifelong friends and meet people across the country and world. It really prepares you for college that college to me felt easier than high school to a certain degree.
2.) What was the best thing that happened to you in boarding school?
There're many aspects where I've grown as a student and person to become independent, flexible, organized and more, but other than these I would say the Quaker culture added something to me that I did not expect. Even though I'm not Quaker and everyone always complained about meeting for Worships (including myself), once during weekdays for 30min and once on Sunday for 45min. But as years pass, you actually start to appreciate it. What a normal Meeting for Worship at GS looks like: people get in and set backpacks near the door, sit where ever (or find your friends and sit with them), whenever someone wanted to share something they would stand and speak, or perform, it ends in silence and at the end of worship one of the dedicated teachers would announce. I just learned to relax during this time, and it's always interesting when people share their thoughts. It's also nice because everyone will be listening with no distraction. Another thing I wasn't expecting to gain from GS is my awareness and support towards the LGBTQIA+ community. In the past I never paid particular attention to it so felt neither positive nor negative towards the topic even though my family were quite conservative and leaned towards the negative side, but because of GS I went from a neutral zone to supporting it. And finally, loving your body. How GS promoted this topic really made a mark in my GS career. Even though I never thought negatively of my body, I always felt like it could be better because some part of it was lacking (or whatever). But at GS, I gained confidence in my body as well. ALSO, I started snowboarding because GS provided this 3 day ski trip to Vermont each year. Absolutely amazing. Snowboarding is as important as volleyball to me now.
3.) What might you have done differently during your boarding school experience?
My boarding school experience was pretty great from the start to end, so I'm not sure what I would have done differently. Maybe my only regret is not doing Lacrosse since freshmen year because I only found out my last year that I heckin loved the sport (other than volleyball). So my advice for the new kids would be to try out everything the school has to offer! Or as many as you'd like. There's so many opportunities provided (that you will definitely know about) so it's really up to you to get yourself involved!
4.) What did you like most about your school?
I loved the trees, the squirrels, the dorm, the campus, the friends, the dorm parents, the sports, the art program, the special weekend activities and just so much more. I absolutely loved the nature aspect of the school since I came from a city in Asia. Being able to just sign out at the dean's office and talking a walk within the trees next to a creek on pebble-made tracks are just amazing experiences to me. I also loved the ski trips.
5.) Do you have any final words of wisdom for visiting or incoming students to your school?
Cherish freshmen year because that's the most academic and college prep free year where you discover all the good bits of the school. Don't be shocked when you realize doing laundry could be such a stressful thing. Betty's place's curly fries and apple crisp + ice cream, good stuff. Newtown's Zebra ice cream shop, Grahmslam (I think), good stuff. Check out the horses. Check out all the buildings tb. Go to events, special vans to places like King of Prussia and Tyler State Park.
Academics:
1.) Describe the academics at your school - what did you like most about it?
The academics at GS is rigorous and have a huge selection of AP or IB classes that you could take. There's an array of class difficulties and your advisor will help you plan out your high school career plan, so there's not much to worry about. Depending on the teacher you can have very different levels of workload, but even if you get intense teachers for all your arrangements, it'll be manageable and you'll feel like that year is an accomplishment.
Athletics:
1.) Describe the athletics at your school - what did you like most about it?
I loved the athletics program at GS. We had 3 terms per school year which means 3 different sports which includes field hockey, volleyball, cross-country, soccer, football, equestrian for the fall, swimming, winter cross-country, basketball, wrestling for the winter, and track & field, lacrosse, golf, baseball, softball for spring (sorry peeps if I missed any). The best thing about a fall sport and being on the varsity team is that there's pre-season where you arrive at school 1 or 2 weeks earlier to train with your teammates. There's a lot of schools we play against, which means there's a good ratio of home and away games.
Art, Music, and Theatre:
1.) Describe the arts program at your school - what did you like most about it?
GS have a lot of art programs and many people I know, including myself, did double art (I even considered triple art). Stagecraft, video, painting & drawing, woodworking, photography, music, ceramics, theater and maybe more. I personally took stagecraft for a year, painting & drawing for 2 years and 1 year of studio (most adv class you could take for painting & drawing) & video. It had such an impact on me that I actually went to college for art & design. The resource provided by GS was amazing and I even went in the studio during my free period or on weekends to paint & draw. During my time at stagecraft it was pretty cool too, because you literally build a stage with your classmates from scratch. From cutting wood to the right size, painting them and drilling them together and just as much more. I would like to say that GS has a mini art school.
Extracurricular Opportunities:
1.) Describe the extracurriculars offered at your school - what did you like most about it?
Extracurricular would be from sports, clubs, leadership positions that you could hold such as SAGE, student committee, mentor, prefect, and more. I loved how there's a position for pretty much anyone. In terms of volunteer opportunities, usually the school organizes it with organization in Philly (usually) and you'd tag along to help.
Dorm Life:
1.) Describe the dorm life in your school - what did you like most about it?
Check-ins were at 10pm, meaning you can't leave your dorm after this hour, but allowed to move between floors. Freshmans have lights out at 10:30pm I think? and sophomores at 11pm? but when you get to junior/senior it turns into an "in room" time. Weekday and weekends are also different, I think, but I don't remember clearly. Freshmen year your roommate is paired for you, but afterwards you're allowed to choose roommates and pick room preferences together at the end of the year. On special occasions you could get a room to yourself. For girls, freshmen dorms have 2 floors with a huge kitchen and living room space on the first floor. Sophomores to seniors live in one big building called Main and is separated into West, East and Central Main. West Main is for sophomores and East and Central is a mix of juniors and seniors. They all have kitchens with a fridge and stove. You're allowed to keep your own mini fridge and microwave in the room, though. Every room gets 2 beds, desks, closets, drawers and bookshelves. Freshmen year both beds are on the floor and soph-senior it's more common to have bunk beds or you coordinate with your roommate to have both beds raised so there's space underneath. Freshmen rooms are the biggest and the rest is pretty small, unless if you live on the top floor you get a little extra space because of the less density of rooms and higher ceilings. Prefect rooms are always big though! The prefect room I had also had an extra table, but it depends, I think.
Dining:
1.) Describe the dining arrangements at your school.
There's 1 dining hall, which is located on Main (1st floor of the girl's dorm). Breakfast starts pretty early, but I'm not sure how early since I always went in 10minutes before class and just grabbed something to-go. For lunch there's 2 lunch arrangements so that there's won't be 500 people in the dining hall at once. Dinner is from 5:30pm-7pm, I think. Rounded tables with chairs all around, there's no assigned seats so people drag chairs from other tables when in need and technically no phones allowed. Food is buffet style for hot food and there's always cereal, milk, fountain drinks and salad. For breakfast you can make waffles, toast, bagels etc. sometimes there's special breakfast where someone will be cooking omelet and those are popular so if you want it you got to get in line fast or else you just won't get it in time before class (especially for someone who like me who doesn't wake up too early). For dinner there's this station where you can cook your own thing, get crowded too so got to go fast there's also always some kind of dessert. Food was okay, changes every day but rotates again next week. Best food is whenever there's a special event like Christmas dining or senior week dining, etc.
Social and Town Life:
1.) Describe the school's town and surrounding area.
There's a plaza and a town (Newtown) within walking distance, which is still a 20minute walk away. It's a fun getaway, though. There's an array of stores, Starbucks, amazing ice cream, multiple restaurants, apparel stores, flower shops and much more. I enjoyed the walk there though, especially when you're with friends. The plaza is right across the street and has a supermarket and pharmacy with a couple decent restaurants. Crossing the road is pretty hectic since the cars don't stop for you and are always going super quickly, so cross carefully. But overall our school is surrounded by nature, trees after trees. Sunsets in GS are amazing. You can sit on South Lawn and see the sky with airplane cloud streaks and mountains of trees in front of you. If you're a 10-12 grade girl and lucky to get the south lawn side of the dorm, the view will be right out your window.
2.) Describe the social life at your school - what did you like most about it?
I like how you get to know pretty much everyone in the school because there's just so many activities and opportunities to bring you to know your peers such as class, clubs, sports, dorm, school culture like hanging out on the red square or Marshall.
Daily Schedule:
Weekday
10:00 PM
Check in and hang with friends or continue doing hw
Weekend
10:00 AM
Brunch with friends
11:00 AM
Hang with friends
Quaker school surrounded by a ton of beautiful and gigantic old trees that provides you with so many opportunities and resources not only in academics but in after-school activities to develop existing skills, find new. . .
George School's strong Quaker tradition brings tenants of the faith into the educational curriculum and living environment. In terms of education, there's a strong array of courses that challenge all levels of learners and a. . .
My favorite part of George School is the vast service learning opportunities across the globe. There are service learning projects in Nepal, Vietnam, Cuba, and even ones closer to home, like Washington D.C..Another unique aspect. . .
Show more reviews (

6 reviews

)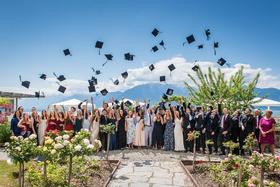 Nurturing Futures: A Journey through Boarding at Haut-Lac School in Switzerland
Nestled in the hills overlooking Lake Geneva in the French-speaking part of Switzerland lies an educational gem that embodies a unique blend of academic excellence, cultural richness and a profound sense of community. Founded over 30 years ago, Haut-Lac International Bilingual Day and Boarding School is now home to both 600 day students and a maximum of 30 boarders from around the world.
What To Wear at Your Job Interview
Navigating job interviews can be stressful, but knowing what to wear shouldn't be. Our comprehensive guide covers the essential dress code tips for men and women interviewing at boarding schools. Make your first impression count with style and professionalism.
Navigating the Modern Maze: Emerging Challenges for Boarding Schools
Explore the pressing challenges facing boarding schools, from marketing difficulties and rising insurance costs to facility maintenance and recruitment of competent trustees and teachers. This article delves into these complex issues and proposes innovative strategies to overcome them.