Reflections and Advice:
1.) What do you think makes your school unique relative to other boarding schools?
We had mandatory volunteer work, but we took a service trip to the Dominican Republic in my last year there as a class. Also the advisors were amazing, cared so much more than any other teachers I've ever had.
2.) What was the best thing that happened to you in boarding school?
Fay school helped me grow immensely as a person. It gives you the discipline you need to grow up with a strong foundation, while also giving you the freedom to express yourself and learn what your interests are.
3.) What might you have done differently during your boarding school experience?
I wouldn't have done anything differently, but I say to kids going to boarding school to keep an open mind and accept the help being given to you because it's a privilege.
4.) What did you like most about your school?
I loved the people the most. The teachers and my friends we're like absolute family at such a young age when I was away from mine. It was such a welcoming and warm place, truly a home away from home.
5.) Do you have any final words of wisdom for visiting or incoming students to your school?
I recommend the village dorms! They are absolute beautiful and luxurious.
Academics:
1.) Describe the academics at your school - what did you like most about it?
I really liked the small class size along with the pace of the classes. If you needed a little faster or slower pacing, the teachers were always accommodating.
Athletics:
1.) Describe the athletics at your school - what did you like most about it?
The coaches were really amazing. They pushed me each step of the way while also giving me the support I needed to move onto high school level varsity athletics. There were mandatory sports 5 days a week.
Art, Music, and Theatre:
1.) Describe the arts program at your school - what did you like most about it?
The theatre department was my absolute favorite part of Fay School. The productions were always exciting and fun, and the vocal teachers were the best I've ever had. I recommend anyone who wants to gain a solid foundation in singing acting and theatre should go to Fay school.
Extracurricular Opportunities:
1.) Describe the extracurriculars offered at your school - what did you like most about it?
There is something for everyone. The extracurricular were really diverse because the students were equally as diverse. I was never bored, there was always something to do that everyone could take an interest In.
Dorm Life:
1.) Describe the dorm life in your school - what did you like most about it?
I had a single for most of my time. However they put the new kids into a very nice beautiful dorm together that helps them blend into the community but also have their own space. Beautiful and comfortable facilities. Most of the rooms are single for girls.
Dining:
1.) Describe the dining arrangements at your school.
We had sit down dinner and lunch every single day. Mornings were mandatory as well but we could sit wherever we liked with friends. Everyone would take turns waiting and heading tables, but it teaches good table manners.
Social and Town Life:
1.) Describe the school's town and surrounding area.
There was a small town just outside of our campus, and it was adorable! Just a little pizza place and store. You had to earn privileges to be able to go to town.
2.) Describe the social life at your school - what did you like most about it?
I really enjoyed meeting all the different types of people. People come from all over the world to attend Fay school, but at such a young age I'd never been exposed to that much culture and that many different types of people. I eventually learned and travelled with these people to their homelands and around surrounding areas.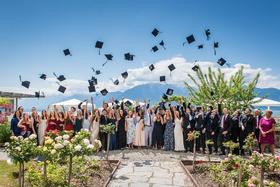 Nurturing Futures: A Journey through Boarding at Haut-Lac School in Switzerland
Nestled in the hills overlooking Lake Geneva in the French-speaking part of Switzerland lies an educational gem that embodies a unique blend of academic excellence, cultural richness and a profound sense of community. Founded over 30 years ago, Haut-Lac International Bilingual Day and Boarding School is now home to both 600 day students and a maximum of 30 boarders from around the world.
What To Wear at Your Job Interview
Navigating job interviews can be stressful, but knowing what to wear shouldn't be. Our comprehensive guide covers the essential dress code tips for men and women interviewing at boarding schools. Make your first impression count with style and professionalism.
Navigating the Modern Maze: Emerging Challenges for Boarding Schools
Explore the pressing challenges facing boarding schools, from marketing difficulties and rising insurance costs to facility maintenance and recruitment of competent trustees and teachers. This article delves into these complex issues and proposes innovative strategies to overcome them.