Reflections and Advice:
1.) What do you think makes your school unique relative to other boarding schools?
Phillips Exeter Academy created a wonderful atmosphere to grow and develop as a human being rather than just as a student. Its use of the Harkness method encourages students to speak up and form nuanced opinions to contribute to daily classroom conversations - from discussions on English poetry and novels, to board presentations for math problem sets, I believe that Exeter helped students develop skills which could translate from classroom to classroom, as well as other spheres of student life. Also, the 'top-down' structure of dormitories, i.e. living with peers from all grades in each dormitory, was another unique aspect about Exeter. Living with students both older and younger than you and returning to those same friends after each summer break, helped to make Exeter feel more like home.
2.) What was the best thing that happened to you in boarding school?
If I had stayed at home and gone to my day school, I do not think I would have developed quite as far as I did. Through my experience at Exeter, I emerged from high school more independent and capable of handling my own problems. I am thankful for those life skills and believe that they are helping me succeed in my undergraduate studies, and believe they will continue to help me succeed in the future.
3.) What might you have done differently during your boarding school experience?
I do not think I would have done anything differently. To give advice, however, I would definitely tell kids to really consider whether they think boarding school is right for them - while many can grow from the boarding school experience, there are many challenges that they must face independently!
4.) What did you like most about your school?
It was nice to form deep connections with peers from so many different backgrounds, all with a shared interest in working hard and succeeding.
5.) Do you have any final words of wisdom for visiting or incoming students to your school?
My final words of wisdom are to keep yourself open to any opportunities that may be knocking on your door. Never be afraid to meet new people; enroll in courses that aren't your strength; join clubs you wouldn't think you're interested in.
Academics:
1.) Describe the academics at your school - what did you like most about it?
The academics were rigorous and challenging - I loved that I was pushed to perform my best in every class, and grew to enjoy my studies in each discipline. The use of the Harkness method in academics was a factor motivating me to learn and prepare as much as I could for each classroom discussion. Also, I loved that there were so many different electives to choose from, rather than your typical courses.
Athletics:
1.) Describe the athletics at your school - what did you like most about it?
The athletics program was built of varsity sports, junior varsity sports, club sports, and fitness classes. Exeter required that students participated in a sport or athletic class each trimester - I enjoyed the opportunities to learn new sports, or just to maintain some level of fitness throughout the school year.
Art, Music, and Theatre:
1.) Describe the arts program at your school - what did you like most about it?
I participated in various private music lessons throughout my time at Exeter, learning piano as well as voice. The teachers I had were all invested in my growth as a musician, and I felt comfortable learning with them each week.
Extracurricular Opportunities:
1.) Describe the extracurriculars offered at your school - what did you like most about it?
Given the size of Exeter's student body, there was a host of extracurriculars to join, from public speaking and STEM clubs, to community service clubs and cultural clubs. I enjoyed being able to participate in and lead different clubs, and while I never took advantage of it, I loved that driven students had the opportunity to create new clubs.
Dorm Life:
1.) Describe the dorm life in your school - what did you like most about it?
I loved that the dorms at Exeter were structured such that students from all years lived in each dorm, and stayed in the same dorm for their entire high school career. In that way, you formed close bonds and support groups with your dorm mates - and if there were differences, you learned to work with them (since you would most likely be seeing them for the next few years). Dormitories provided good spaces for personal growth.
Dining:
1.) Describe the dining arrangements at your school.
The food quality at Exeter was not perfect, but good enough given that two dining halls were working to prepare food for the entire student body, teachers, and their families. It was great that one dining hall was always open during the daytime.
Social and Town Life:
1.) Describe the school's town and surrounding area.
Exeter was a safe town - I wish that it was more metropolitan, but given that the historic downtown surrounding our campus was never too busy, it made for less distractions which could keep students from doing their work. And, of course, it was nice that Boston was just a quick train ride away for the occasional city trip.
2.) Describe the social life at your school - what did you like most about it?
The social life at Exeter was great - in some ways, it was a little cliquey, but there were so many different types of people in the student body. Students typically found friend groups of a certain affinity, whether through shared interest in academics, the arts, sports, etc.. And, of course, there were your friends within your dormitory.
Phillips Exeter is distinct for its use of the Harkness Method and its unique athletic opportunities afforded by a robust alumni network and excellent teachers from various high-level academic positions within their fields. Harkness, a. . .
The Harkness method is one of Exeter's unique and best aspects. Teachers have very little involvement in class — homework is either reading or problem based, and nearly every class, from Math to English. . .
Exeter is the founding place of the Harkness method, in which students gather around a round table to discuss their homework and class material as a group. The idea of this method is that. . .
Show more reviews (

27 reviews

)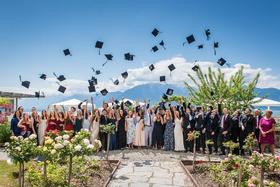 Nurturing Futures: A Journey through Boarding at Haut-Lac School in Switzerland
Nestled in the hills overlooking Lake Geneva in the French-speaking part of Switzerland lies an educational gem that embodies a unique blend of academic excellence, cultural richness and a profound sense of community. Founded over 30 years ago, Haut-Lac International Bilingual Day and Boarding School is now home to both 600 day students and a maximum of 30 boarders from around the world.
What To Wear at Your Job Interview
Navigating job interviews can be stressful, but knowing what to wear shouldn't be. Our comprehensive guide covers the essential dress code tips for men and women interviewing at boarding schools. Make your first impression count with style and professionalism.
Navigating the Modern Maze: Emerging Challenges for Boarding Schools
Explore the pressing challenges facing boarding schools, from marketing difficulties and rising insurance costs to facility maintenance and recruitment of competent trustees and teachers. This article delves into these complex issues and proposes innovative strategies to overcome them.