Reflections and Advice:
1.) What do you think makes your school unique relative to other boarding schools?
Stanstead College is a very close-knit co-ed school, which I really liked because it allowed me to be close to everyone no matter the age or gender. I was able to make many friendships with so many different people around the world. Furthermore, the staff and faculty always gave 110% in every aspect of our school lives and dorm lives, since we are only a few students per year group, the student to teacher ratio was very well-balanced. The campus is big and very beautiful and lets me experience all the seasons that Canada has to offer that I don't get back in Thailand.
2.) What was the best thing that happened to you in boarding school?
I feel that the memories and friendships I made at school will be with me forever, it sounds cliche but it's true. Meeting all sorts of different people made me more educated and well rounded as a person and I feel I owe that all to Stanstead. I became responsible and independent which is very beneficial for me. I am very fortunate to have had the chance to come to this school and I wouldn't have want it any other way.
3.) What might you have done differently during your boarding school experience?
An advice for kids going to boarding school is to not worry too much and be yourself, because every single new student there are feeling exactly what you're feeling and are also going through the same thing! You will meet so many people here and will for sure make friends that will last a lifetime too.
4.) What did you like most about your school?
The thing I liked most about Stanstead College is how close you are with everyone. No one is ever left out, all the staff and faculty care for us and will 100% make time for us no matter what. It felt like one big family.
5.) Do you have any final words of wisdom for visiting or incoming students to your school?
Try to participate in as many sports/extracurricular activities as you can, because those are the memories that you will never forget! And who knows, maybe you'll find that you have a talent for a certain activity/sport!
Academics:
1.) Describe the academics at your school - what did you like most about it?
As mentioned earlier, Stanstead has a great teacher to student ratio. I was never in a class where I could not ask the teacher for help as he/she may be too busy with other students. Every single one of the teacher I had in my five years at Stanstead College personally help shape me to be the student I am today. The classes offered at Stanstead is also very diverse. From grade 7-9 most of the students take the same core classes: math, English, science, geography etc. and once we entered senior school we had more choices in our course selection which I think help us build a strong foundation to what we want to do later in university. Personally, I took the math-science path because I enjoy it more, and some classes were definitely harder than others, but I feel that it paid off and helped me grasp the harder concepts that I face in university. The workload was manageable, and if ever it was too much, we were able to go see our teachers and ask them for extra help out of class's hours.
Athletics:
1.) Describe the athletics at your school - what did you like most about it?
I am a very sporty person so I love participating and trying new sports. From my five years at Stanstead I was involved in six different sports team (soccer, basketball, rugby, swim, golf and squash) and I enjoyed all of them as they were all very different from each other. I was in team and individual sports. Stanstead has many sports to offer throughout the year, out of the six sports team I was on, two of them were completely new to me (rugby and squash), and I enjoyed them so much as it was such a new and fun experience for me. The coaches and facilities at Stanstead was great, for a school with a very small student body, we excelled in our athletics and I am very proud of that.
Art, Music, and Theatre:
1.) Describe the arts program at your school - what did you like most about it?
Coming to Stanstead in grade 7, the only thing I knew about arts, music and theater was arts. However, after five years here I can proudly say that I participated in all THREE programs and they were all very memorable. I was really into drawing at first and I did really well in my Art class, but there was much more to offer here than just drawing. We did all sorts of paintings, pottery, designs and more, Art class was for sure one of my favorite classes. Then I started playing the flute in music class and it was so different and new to me that I continued and I even joined the school's Jazz Band. For the theater part, we have Drama classes for the senior school (which unfortunately I did not take) and an annual school play, and one year my friends and I decided to join the play and it was not what I expected at all. The teachers directing the play and everyone helping was so great and it did not feel like a struggle or a nerve wracking moment. It was so much fun and I am really glad I chose to join the play.
Extracurricular Opportunities:
1.) Describe the extracurriculars offered at your school - what did you like most about it?
At Stanstead College, extracurricular activities were very diverse and numerous. We had so many clubs that for sure you will be able to find at least one, if not two, that you enjoy and fit right in. Also, there were plenty of interesting clubs that you could choose to do if you wanted to try something new. The one thing I really like that we have at Stanstead is one day every year we have a day call "Community Service day", where we go around to local libraries, schools, parks, schools etc. and help them with what they might need. I think it's a great initiative to be able to give back to the town that we also live in and be able to help the community grow even more.
Dorm Life:
1.) Describe the dorm life in your school - what did you like most about it?
The dorm life here was very great. It was my favorite part of boarding school. I made so many friends that I'm sure will last me a lifetime and I got to meet and got close to from people all around the world. The dorm rooms were not extraordinary to start off, but as the year goes by my roommates and I made it like home and each room was personalized and it all felt very homey. The house directors were there like a parent figure for us, and I feel that living in the dorms made me become a lot more responsible and independent which helps me a lot now in university.
Dining:
1.) Describe the dining arrangements at your school.
The food at school was good, we had breakfast, lunch and dinner made fresh for us daily, and snacks throughout the day for us if we got hungry. The food options were very diverse and accommodates many different tastes. Every weekday lunch we would have assigned seating where we meet new people from different grades and we had to eat lunch with them every weekday for a month. I think that was great because it allowed me to meet and made so many unexpected friends and I learned so much from different students and teachers I met with this arrangement. Overall I really enjoyed the food and its quality and Stanstead.
Social and Town Life:
1.) Describe the school's town and surrounding area.
Stanstead is a very small town, which made my parents feel a bit better when I told them I wanted to go to a boarding school aboard. So they didn't have to worry too much about me going out to town because everyone knew everyone here. Since it was such a small town I was able to walk from campus to the groceries store, then back to campus, then to the pizza place with my friends without tiring ourselves out. It was a small but beautiful town too, since we weren't in the city I got to experience all the beautiful seasons which I really enjoyed.
2.) Describe the social life at your school - what did you like most about it?
At Stanstead, everyone knew everyone, which was nice because it was very easy to make friends. Most of the students here are boarding students, so if I wanted to see my friend I could just walk to her room, or meet them at the student center where all students hung out. I made some very close friends who I still keep in touch with even after a few years. I never felt left out at school because we are a very close-knitted community and it made being so far away from my parents a lot easier.
Stanstead College is a very close-knit co-ed school, which I really liked because it allowed me to be close to everyone no matter the age or gender. I was able to make many friendships with. . .
The dedication of teachers and staff is unbelievable at Stanstead. I don't think I've ever been to or heard of a school where teachers are that invested in both classes and extracurricular activities.School spirit. Everyone. . .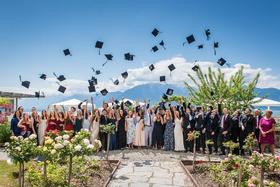 Nurturing Futures: A Journey through Boarding at Haut-Lac School in Switzerland
Nestled in the hills overlooking Lake Geneva in the French-speaking part of Switzerland lies an educational gem that embodies a unique blend of academic excellence, cultural richness and a profound sense of community. Founded over 30 years ago, Haut-Lac International Bilingual Day and Boarding School is now home to both 600 day students and a maximum of 30 boarders from around the world.
Navigating the Modern Maze: Emerging Challenges for Boarding Schools
Explore the pressing challenges facing boarding schools, from marketing difficulties and rising insurance costs to facility maintenance and recruitment of competent trustees and teachers. This article delves into these complex issues and proposes innovative strategies to overcome them.
What To Wear at Your Job Interview
Navigating job interviews can be stressful, but knowing what to wear shouldn't be. Our comprehensive guide covers the essential dress code tips for men and women interviewing at boarding schools. Make your first impression count with style and professionalism.