Reflections and Advice:
1.) What do you think makes your school unique relative to other boarding schools?
Approachable teachers and staff, overwhelming pride in the school from everyone on campus. Close relationship of day students and boarding students. Post graduate students integrated very well into the senior class
2.) What was the best thing that happened to you in boarding school?
Participating in athletics was by far the best choice I made. You meet so many new people this way and create a bond with particular people much easier. Plus, it's a great way to travel and see other boarding schools. Sometimes, "the island" can feel a bit isolated.
3.) What might you have done differently during your boarding school experience?
I would have played 3 sports. As collegiate athlete, that's easy for me to say. However, there are so many options for sports and levels of experience, no matter your grade that you have to seize the opportunity.
4.) What did you like most about your school?
The school was very lenient in terms of mistakes made. If you ever got in trouble, whether warranted or not, the school is willing to work with you and not cast you out. Also, the engaged class rooms made learning genuinely fun for the first time for me personally. Finally, the history and little nuances of the school were always interesting to learn about.
5.) Do you have any final words of wisdom for visiting or incoming students to your school?
I would say check out the tunnels but that would get you kicked out of school. Keep your ear to the ground for all the crazy conspiracy theories people have. Makes for a fun time. In terms of dorm life, they're all the same upperclass wise. It all depends on the dorm head and who's there with you. Chicken tenders and fries always the move from the snack bar (which I unfortunately forget the name of).
Academics:
1.) Describe the academics at your school - what did you like most about it?
An incredibly wide range of classes offered. Such unique courses to expand your horizons and learn what you're truly passionate about. Prepped well for the rigors of college despite the small and personal learning environments that don't usually come in a college setting. Some professors can and bee a bit self serving, but they are few and far between. The majority care greatly about the learning and the academic welfare of each and every student.
Athletics:
1.) Describe the athletics at your school - what did you like most about it?
Large diversity of sports and competed at the highest level of New England preparatory schools. Although mandatory, there were alternatives to playing a sport that engaged students physically, such as dance as well as independent gym time.
Art, Music, and Theatre:
1.) Describe the arts program at your school - what did you like most about it?
It is very competitive, but as a non participant, the performances were an incredible experience to observe.
Extracurricular Opportunities:
1.) Describe the extracurriculars offered at your school - what did you like most about it?
Simply put if you have a passion for something, there is a group on campus that does too. It's very easy to get involved in any activity you are looking for.
Dorm Life:
1.) Describe the dorm life in your school - what did you like most about it?
Obviously dorm life can be very restricting. There are curfews and sign outs, etc. There are staff at the end of the hall on each floor, so your overall experience really banks on their personality. They attempt to get the dorm involved in things and there are occasional dorm meetings. The best experience you'll have in dorm life is the friends you make there. They make or break it.
Dining:
1.) Describe the dining arrangements at your school.
The cafeteria set up is a great, classic dining hall feel. The food is not great whatsoever. It may look good at first, but it's not. You will get used to it. Every Thursday was a family style, which was a formal sit down dinner with the entire school. You would sit with your dorm. Most of these ideas are pretty consistent throughout New England boarding schools.
Social and Town Life:
1.) Describe the school's town and surrounding area.
Town life is pretty not existent. Windsor is a small town. Very close proximity to the school and everything is a short walk if you are looking to go to the grocery store or something. No real shops you would spend much time at. There is a very close train station right in a town which is convenient.
2.) Describe the social life at your school - what did you like most about it?
Despite there being already established cliques and friend groups, students are always open to new friends in new incoming students. With boarding schools, kids come in for one or two years and can make lifelong friends.
Loomis required all students to participate in a sport each trimester, which was a great way to get all students both involved and engaged with the school and the other students. It was a great. . .
Because we have a smaller campus than most prep schools in New England, we benefit from a strong sense of community. Everyone is a familiar face and in turn, Loomis feels more like "home". . .
Mandatory extra-curricular activities in each season, ranging from competitive athletics, theatre, bands, choirs, volunteer work, environmental clubs, etc appealing to a wide variety of interest.Dorms and academic buildings positioned around a main "quad" grass. . .
Show more reviews (

27 reviews

)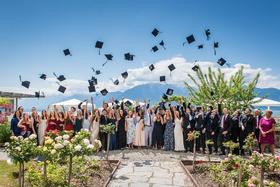 Nurturing Futures: A Journey through Boarding at Haut-Lac School in Switzerland
Nestled in the hills overlooking Lake Geneva in the French-speaking part of Switzerland lies an educational gem that embodies a unique blend of academic excellence, cultural richness and a profound sense of community. Founded over 30 years ago, Haut-Lac International Bilingual Day and Boarding School is now home to both 600 day students and a maximum of 30 boarders from around the world.
What To Wear at Your Job Interview
Navigating job interviews can be stressful, but knowing what to wear shouldn't be. Our comprehensive guide covers the essential dress code tips for men and women interviewing at boarding schools. Make your first impression count with style and professionalism.
Navigating the Modern Maze: Emerging Challenges for Boarding Schools
Explore the pressing challenges facing boarding schools, from marketing difficulties and rising insurance costs to facility maintenance and recruitment of competent trustees and teachers. This article delves into these complex issues and proposes innovative strategies to overcome them.