Reflections and Advice:
1.) What do you think makes your school unique relative to other boarding schools?
Exeter is the founding place of the Harkness method, in which students gather around a round table to discuss their homework and class material as a group. The idea of this method is that students teach each other through discussion and collaboration, without the teacher having to guide students through lectures and materials. This teaching style requires students to be active in class, both in learning and helping their peers learn. The living style at Exeter is also unique, where students remain in the same dorm throughout their time there. You grow with your dorm mates, and as you move up the year and year, you are given more freedom, in terms of a check in time, and better opportunity for a nicer room. When you reach Upper (Junior) and Senior year, students may apply for leadership roles amongst the dorm, either as proctors, who help govern the dorm itself, or representatives, who are elected to sponsor the dorm at different school events and counsels. The fact that you stay within the same dorm year in and year out, is unique as you form bonds from living with the same kids for so many years, growing and changing together.
2.) What was the best thing that happened to you in boarding school?
I was lucky to be placed in a dorm that I was absolutely in love with. It made everything worth it, and the things the dorm gave me helped me get through the experience.
3.) What might you have done differently during your boarding school experience?
Joined more clubs earlier. Really diversified as much as possible. It is so nice to know a little about everything, and it doesn't require a lot of effort. Everything you could need is right there on your campus, where you live. So it always makes sense to take full advantage of it.
4.) What did you like most about your school?
Dorm life. There is nothing like it. I talk to kids who graduated from my dorm before I ever got to the school. Kids I haven't seen since they graduated who I still consider my best friends. The dorm life is absolutely amazing.
5.) Do you have any final words of wisdom for visiting or incoming students to your school?
Don't let the things you don't like ruin your whole experience. Living at school, there will always be something you do not like. Ignore it. Love the time you get there doing the things you love, not hating the things you don't like.
Academics:
1.) Describe the academics at your school - what did you like most about it?
The workload is quite heavy, however, you will never find yourself doing busy work or unnecessary work. The nice thing is knowing that even though it is a lot, everything you are doing is for a specific reason, and you are always very aware of that. The professors are extremely educated within their field, most hold doctorates, and they love what they do. They will never turn you away for extra help, even on weekends, perhaps a perk of your professors living on campus. Although you have to meet many requirements that fill up most of your schedule, there are a million different ways that you can meet these requirements. There are different math courses, history classes, English classes, and many more that have entirely different curriculums, yet they meet the same requirements. This gives you freedom inside the system.
Athletics:
1.) Describe the athletics at your school - what did you like most about it?
You can either participate in sports or a gym class every semester. When you get to junior year, you may opt out one semester a year. Varsity sports are highly competitive, producing numerous college athletes. The gym classes range from club sports to yoga. Sports practices for athletes are daily, and almost all games are on Wednesdays and Saturdays, with the occasional Friday night game. They are high in commitment. Gym classes meet 4 times a week. The facilities are very nice, a brand new weight room, two ice hockey rinks, two basketball courts, a brand new indoor field house, a boathouse on the water on campus, and many more.
Art, Music, and Theatre:
1.) Describe the arts program at your school - what did you like most about it?
Most of the faculty are also professionals in their field and take their field very seriously. While other schools these are the "easy" classes, there are no easy classes in the arts field. There are a multitude of options in this field, such as stagecraft or film-making. There is also a musical student who may try out for each semester.
Extracurricular Opportunities:
1.) Describe the extracurriculars offered at your school - what did you like most about it?
Any thing you want to be involved in, you can be. If it doesn't exist, you can create it. There is no limit to extracurricular activities, there are more clubs than you can name, and if you what a club that isn't a real thing, you can find a group and make it real. There are also a million opportunities to volunteer through the schools ESSO program, and you don't have to worry about transportation or food, the school takes care of it. A club that stands out to me is Fight Club, which is students who have lost a family member, and they meet to talk to people who have experienced similar things, and to support each other.
Dorm Life:
1.) Describe the dorm life in your school - what did you like most about it?
You enter a dorm as a freshman and stay in that dorm for 4 years. As you age, your privileges grow, and you become eligible for nicer rooms, a later check in times, and leadership positions. This system allows students to live with their friends, and to form unique relationships. Most rooms past freshman year are all singles, unless you opt for others. Within each dorm is at least one dorm resident faculty member, and there is also a team of faculty members associated with each dorm. Every night, one faculty member must be present for 7-11 to check students into the dorm for the night. Students form close relationships with these faculty members, not just professionally, but also as role models, mentors, and, as students age, friends. Recently, the school has opened multi-gendered dorms, whereas until these dorms were open, there were binary male or female dorms only.
Dining:
1.) Describe the dining arrangements at your school.
There are two dining halls located at opposite ends of campus that are built into tuition for students, no scan or meal plan necessary. There are vegan and gluten/dairy free options at every meal, and at least one of these dining halls is open during non-meal hours for snacking and sandwiches. There is also a grill where students can spend money to buy meals or snacks, similar to a convenience store like 7/11. This is open almost all day, with a small break in the morning.
Social and Town Life:
1.) Describe the school's town and surrounding area.
School is nestled in downtown Exeter, a small town on a river. The best part of the area is the off campus restaurants are fantastic, whether you want Mexican, Italian, bar food, or seafood, all with walking distance. There are also a few smaller stores in the downtown area. It is also located only an hour from Boston, and 15 minutes from the coast, soon weekends or days off there are opportunities to take day trips to the city or to the beach.
2.) Describe the social life at your school - what did you like most about it?
You are always surrounded by people, for better or worse. So everyone has a social life. The school forces you to get to know new people, even as a senior, due to small class sizes. However, having the same class with one person multiple times can form a pretty close bond. You also interact with these people at clubs, sports, and on weekends. Being around the kids you go to school with, living on the same campus, forces pretty strong social lives.
Daily Schedule:
Weekday
Weekend
8:00 PM
Friends/School Events
Phillips Exeter is distinct for its use of the Harkness Method and its unique athletic opportunities afforded by a robust alumni network and excellent teachers from various high-level academic positions within their fields. Harkness, a. . .
The use of the Harkness table. The discussion based, or flipped, classroom is what truly separates Exeter from all other private schools. . .
The Harkness table is used in all classrooms, facilitating discussion and exploration of subjects that allow students to take the reins on their own education. With classes averaging 12 students or fewer, every student is. . .
Show more reviews (

27 reviews

)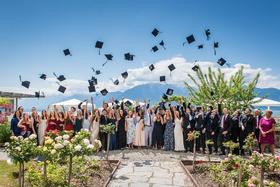 Nurturing Futures: A Journey through Boarding at Haut-Lac School in Switzerland
Nestled in the hills overlooking Lake Geneva in the French-speaking part of Switzerland lies an educational gem that embodies a unique blend of academic excellence, cultural richness and a profound sense of community. Founded over 30 years ago, Haut-Lac International Bilingual Day and Boarding School is now home to both 600 day students and a maximum of 30 boarders from around the world.
What To Wear at Your Job Interview
Navigating job interviews can be stressful, but knowing what to wear shouldn't be. Our comprehensive guide covers the essential dress code tips for men and women interviewing at boarding schools. Make your first impression count with style and professionalism.
Navigating the Modern Maze: Emerging Challenges for Boarding Schools
Explore the pressing challenges facing boarding schools, from marketing difficulties and rising insurance costs to facility maintenance and recruitment of competent trustees and teachers. This article delves into these complex issues and proposes innovative strategies to overcome them.