Reflections and Advice:
1.) What do you think makes your school unique relative to other boarding schools?
The one on one time you can spend with your teachers, they are always there to help you. Before or after school.The sports teams, they make you become part of a family. Coaches and students. We had a vast variety of teams or clubs. Anything for anyone. Great way to feel apart of the community and make great friends.
2.) What was the best thing that happened to you in boarding school?
DEFINITELY getting 22 college credits done before graduating high school.
3.) What might you have done differently during your boarding school experience?
Nothing i can think of!
4.) What did you like most about your school?
The community aspect, the close knit friends! The school spirit for whatever we did!
5.) Do you have any final words of wisdom for visiting or incoming students to your school?
Ive always loved hanging out in the gym, with friends. But any room with any of the faculty is great! Everyone is so amazing and easy to talk to.
Academics:
1.) Describe the academics at your school - what did you like most about it?
Being able to choose your classes. Also being able to have one on one time with the teachers. Especially if you needed extra help they would always be there whenever you needed. The workload was never too much. Also i loved being able to be apart of the abridge program where i could take college courses before college and get credit.
Athletics:
1.) Describe the athletics at your school - what did you like most about it?
I was a 3 sport athlete, which allowed me to help me with my management of homework and my personal life. Plus the coach's are amazing and are just another person you could go to if you needed help in school as well. They became my family!
Art, Music, and Theatre:
1.) Describe the arts program at your school - what did you like most about it?
Never really participated in this, but i did go and watch plays and concerts! Which was always a pleasant experience!
Extracurricular Opportunities:
1.) Describe the extracurriculars offered at your school - what did you like most about it?
There is a wide selection of clubs to choose from and if you dont see one thats right for you, then you could always make your own. As long as you could find a teacher to help you out! Which is always nice! Plus the friends you make, and you also feel like your apart of the community!
Dorm Life:
1.) Describe the dorm life in your school - what did you like most about it?
I never lived in the dorms. But i can say that they are really awesome! Ive been in them and seen how clean and roomy they are!
Dining:
1.) Describe the dining arrangements at your school.
I liked having different hours to eat lunch during the day. The food is always really good and the people that make it are the sweetest!
Social and Town Life:
1.) Describe the school's town and surrounding area.
There is now a ice rink right up the road that makes for some fun for all! Movie theater down town. Plenty of stores around town to shop at.
2.) Describe the social life at your school - what did you like most about it?
I can say that my class was very close, everyone was friends with each other and that made the years spent with them awesome. Plus everyone is so welcoming, and make you feel very comfortable! Its very easy to make friends at FA
Mastering the Boarding School Selection Process: A 5-Step Guide
Discover the ultimate 5-step guide to choosing the perfect boarding school for your child. Explore essential factors, such as academics, campus facilities, extracurricular activities, and more. Make an informed decision to provide your child with an enriching and transformative educational experience. Read now!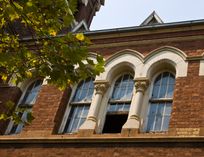 5 Founders and Their Boarding Schools
What prompts somebody to start a boarding school? The motives range from idealism to munificence right on through to capitalism. The common thread seems to be ample capital and a vision of what education can do.