Reflections and Advice:
1.) What do you think makes your school unique relative to other boarding schools?
Loomis Chaffee has many traditions and community-wide events that foster connection between faculty and students which is really important for student life. From activities within dorms, family-style dinners, to the sophomore retreat - It is a really valuable experience to be able to connect with students from all types of backgrounds. The island earned its nickname from the flooding that makes it appear isolated but also represents the tightknit loomis community.Also, teachers take the time to get to know their students, their strengths and their weaknesses. I think offers the best support for students with any level of ability and helps students reach their real capacity before leaving for college. There are so many ways to get involved and mind great mentors during your time here.
2.) What was the best thing that happened to you in boarding school?
There were many amazing opportunities that Loomis Chaffee offers that cannot be offered at other places. I was able to travel to China with a group of students over the summer, and then I spent a school year abroad, which Loomis helped make possible.
3.) What might you have done differently during your boarding school experience?
My biggest reflection is the importance of maintaining positive relationships with teachers and faculty. They are talented and well-educated individuals that have so much to offer as mentors. When you need help, or even if you do not, reach out to them in order to do your best in class and get the most out of your time from a place like Loomis.
4.) What did you like most about your school?
I think I was well-prepared for a competitive college in regards to its comfort in navigating the college culture, building social networks, and presenting strong academics. It prepares you to be the best candidate, for the best schools in the country and I think this truly manifests in the way that you change and mature as an individual personally and academically.
5.) Do you have any final words of wisdom for visiting or incoming students to your school?
I think it is an interesting experience for people of color/minorities. I visit campus often to see the family that currently attends and I think there is increased diversity on campus and more support for these students. Although it is a challenging environment for minorities, but I recommend it as it an opportunity for growth and positive challenge.
Academics:
1.) Describe the academics at your school - what did you like most about it?
Loomis offers classes at a variety of levels, from the lowest to the highest course levels with small class sizes. Loomis Chaffee has diverse faculty and students that make for valuable class discussion. I think the use of roundtable discussions in most classes prepares students for college and future workplaces. There were classes that I was not as strong in, but teachers reach out to you to offer help when they realize you may need it. They are great at reading the room and students academically and personally.
Athletics:
1.) Describe the athletics at your school - what did you like most about it?
Loomis Chaffee has a range of terrific competitive sports with amazing facilities. The campus is beautiful and has many fields for all teams. The school does require everyone to be engaged in some physical activity, and there are options for those that are not participating in traditional sports. It is an amazing opportunity for students that have never been engaged on a sports team to try something new as the coaches are great, and there were excellent trainers available in case of injury. The requirement for physical exercise builds discipline and, healthy living, fosters community and friendships that are valuable to the student's social life.
Art, Music, and Theatre:
1.) Describe the arts program at your school - what did you like most about it?
I was personally not involved in music or theatre, but their performances were some highlights of my time here. They were always impressive and well-done. Students and faculty alike are very talented and come together to make amazing pieces.During my time here, I was able to engage in a variety of visual arts classes, and it was an opportunity to grow as an artist in technique and expression. The teachers I had were extremely talented in their work, as well as in teaching and allowing us to grow.
Extracurricular Opportunities:
1.) Describe the extracurriculars offered at your school - what did you like most about it?
It felt as if Loomis had it all in regard to the range of activities that they had from volunteering to sports to art and diversity clubs. You will find what you want, or you can start a club you would like to see. There are options to make activities financially accessible, although not for all of them. If you would like to start a new sport, there are means to find you gear to try out the sport and see if you would like to commit to it through the years. One of my favorite pastimes was volunteering, particularly working with younger students from nearby schools, but the options are endless.
Dorm Life:
1.) Describe the dorm life in your school - what did you like most about it?
After the first year, you get some choice in where you want to live and with whom. I always got my preference to live in the dorm of my choice and in a single. Dorm life is really important for shaping social life, so it's really important to have this choice. After check-in hours on weekdays, you are not able to leave the dorm, so you spend time either studying or hanging out with those people in your dorm. There is no late-night food access within the dorms, but you can order food up until the late-night check-in. Most people have snacks in their rooms instead.
Dining:
1.) Describe the dining arrangements at your school.
The dining halls have changed since I graduated, but they are very beautiful and provide great options. There were always alternative options such as vegetarian and gluten-free, or make your own salad or sandwich in addition to the main dishes. I enjoyed seeing faculty eat with us.Twice a week, students attended family-style dinners where they dress up and have assigned seats with other dorm members and faculty associated with the dorm. It was a really great experience for connecting with people that you otherwise wouldn't connect with. We were served at the table by other students who had that as their work-job.
Social and Town Life:
1.) Describe the school's town and surrounding area.
The town offered many services from food to small shops that offered the essentials of any student would need just a short walk away. There were bigger stores a bike ride away. There is a train station right in a town that you can walk to and from easily and allows for travel to the home. I spent a lot of time volunteering in the local area's schools, so there are different ways to engage with the town as well. Although it is not a bustling place, the town feels very safe, and it is very cute. Being able to get off campus is definitely important while at boarding school, and there are many fun options in the surrounding areas.
2.) Describe the social life at your school - what did you like most about it?
I made great friends from all around the world, which I still keep in contact with. The community is talented and everyone that is at the school is worth meeting. I met a lot of people which I would not have if I stayed in my hometown. It is a very humbling experience to learn about different lifestyles and traditions from my own. People are very kind.
Daily Schedule:
Weekday
Weekend
7:00 PM
Community activity
Loomis required all students to participate in a sport each trimester, which was a great way to get all students both involved and engaged with the school and the other students. It was a great. . .
Because we have a smaller campus than most prep schools in New England, we benefit from a strong sense of community. Everyone is a familiar face and in turn, Loomis feels more like "home". . .
Mandatory extra-curricular activities in each season, ranging from competitive athletics, theatre, bands, choirs, volunteer work, environmental clubs, etc appealing to a wide variety of interest.Dorms and academic buildings positioned around a main "quad" grass. . .
Show more reviews (

27 reviews

)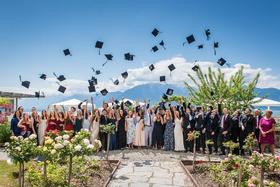 Nurturing Futures: A Journey through Boarding at Haut-Lac School in Switzerland
Nestled in the hills overlooking Lake Geneva in the French-speaking part of Switzerland lies an educational gem that embodies a unique blend of academic excellence, cultural richness and a profound sense of community. Founded over 30 years ago, Haut-Lac International Bilingual Day and Boarding School is now home to both 600 day students and a maximum of 30 boarders from around the world.
What To Wear at Your Job Interview
Navigating job interviews can be stressful, but knowing what to wear shouldn't be. Our comprehensive guide covers the essential dress code tips for men and women interviewing at boarding schools. Make your first impression count with style and professionalism.
Navigating the Modern Maze: Emerging Challenges for Boarding Schools
Explore the pressing challenges facing boarding schools, from marketing difficulties and rising insurance costs to facility maintenance and recruitment of competent trustees and teachers. This article delves into these complex issues and proposes innovative strategies to overcome them.