Reflections and Advice:
1.) What do you think makes your school unique relative to other boarding schools?
A unique aspect about Perk is the community feel about it, having such a small school population you really get to know everyone on campus, including faculty and staff. Because of that many students build bonds not with just other students but with the faculty that can last a lifetime. That's one of the many things that you wouldn't get at any other boarding school and one of the many things I miss about being a student there.Even after graduating Im still in contact with some faculty and staff at the school.
2.) What was the best thing that happened to you in boarding school?
The best thing that has happened to me at board school was meeting the people I met whether it's from my friends to even the faculty on campus, they have made such an impact on me it's amazing. An achievement I received was an award for my compassion toward others during my graduation. Before attending Perkiomen I was a very quiet person who kept to themselves but during my time there I became this outgoing person who talked to almost everyone and that something I am grateful that the school gave me the environment to do so.
3.) What might you have done differently during your boarding school experience?
Something I would have done differently when first attending Perkiomen was that my Freshman year not asking for help when I needed it because I was too scared but thankfully I grew out of that. Advice I would give to someone goes to boarding school is to get involved on campus and do things out of your comfort zone because if you don't you'll regret it.
4.) What did you like most about your school?
Overall, what I liked most about the school was the undying support and a community bond I felt while going there and that one of the top things I miss about Perkiomen.
5.) Do you have any final words of wisdom for visiting or incoming students to your school?
My final word of wisdom is one of the first things you should buy at Robbie, which was our school store is the Cookies, they are so delicious. Also, the sunsets on campus are really the most beautiful I've seen.
Academics:
1.) Describe the academics at your school - what did you like most about it?
The academics at my school can be pretty rigorous depending on the classes you take. Workload wise, you might get about 35 to 45 minutes of homework per class each night. The teachers at the school are very supportive of your academic career. After school each day we have this thing called a conference, where students are able to go to teachers to ask them questions they have about anything concerning the class. Even during exam weeks, teachers hold reviews sessions. Outside of the classrooms, a lot of the teachers are very willing to help from having students email them if they need any help. In my personal opinion there isn't a very overwhelming competitive environment, the school community just wants everyone to do their best. What I like most about the academics at the school was that during my last 3 years at the school they added three institutes which was Medical, Artificial Intelligence and the Entrepreneur institutes. Sadly, I choose not to participate in any of them which is on my regrets but from knowing students who were part of the programs they really enjoyed them.
Athletics:
1.) Describe the athletics at your school - what did you like most about it?
What I like most about the athletic program is how much effort a lot of the students put into their athletics, even though doing a sport at the school is mandatory at the school the students put effort them. They have good an amount of sports available for a school of their size. Competitiveness wise we are super competitive, especially when it comes to baseball, basketball, lacrosse and volleyball.
Art, Music, and Theatre:
1.) Describe the arts program at your school - what did you like most about it?
Personally I wasn't super heavily involved with the visual arts, music and theater program at the school but from hearing other students talk about the department they are very hardworking. Whether it's the plays they preform twice a year or the many concerts we have or even the art gallery in our preforming arts building, you can see the effort the students and faculty put into them. One of the requirements to graduate from the school is to take an art class of your picking we have classes ranging from ceramics to chorus and almost everything in between. At my time at the school I took ceramics, and it was one of my favorite classes I took there and I ended up taking it another year. The schools commitment to the arts is pretty good but I wish it was better.
Extracurricular Opportunities:
1.) Describe the extracurriculars offered at your school - what did you like most about it?
Extra-curricular opportunities there is somewhat of wide-range of activities, almost every student can find an extra-curricular that they enjoy. What I liked most about the extra-curricular was meeting different people in the extra-curricular who I wouldn't normally talk to during the school day.
Dorm Life:
1.) Describe the dorm life in your school - what did you like most about it?
What I like most about the dorm life in my school was that a lot of the people that you lived with you also had them in class, on your sports teams and various other activities, so they become sometimes family to you. Room setups are pretty standard two people to a room you have your own desk, closet, drawers and bed but you share a shower with the other people on your floor unless you live in the boys upperclass men dorm and then you share a bathroom with 3 other people. When you first become a student, its random roommate selection but after your first year you get to choose your roommate if you want or you can do random selection.
Dining:
1.) Describe the dining arrangements at your school.
Dinning at Perkiomen is pretty good, we have a good range of food options from a make your own salad bar, a sandwich line, we have the main food line and an order your own salad line. Every week the school sends out a menu of what is for breakfast, lunch, and dinner to the entire school population and it changes every week, depending if there is a holiday they do have special meals they make. If you have dietary needs the dinning hall accommodates and if you have any questions about what's in the food; they are always willing to answer them. The quality of the food is very good, the staff puts a lot of effort into the meals they serve us.We only have assigned seating on Mondays during dinner which is Formal dinner where boarding students (day students are welcome) and faculty sit down and have dinner. There is set dining hall hours its open every single day but not all hours of the day.
Social and Town Life:
1.) Describe the school's town and surrounding area.
The surrounding area of the school is slowly but surely up and coming, it's a small town so sometimes it does get a little boring at times but from my experience if you have a great group that you surround yourself with it can be fun. Since it doesn't get a little boring, the school offers weekend trips to various locations such as Chinatown in Philly, go carting and many more. What I liked most about the town was how beautiful the nature was surrounding the town.
2.) Describe the social life at your school - what did you like most about it?
What I like most about the social life at my school was that everyone on campus is super welcoming and you can find a great group a friend within your first month at school. Since Perkiomen is such a small school, you can build friendships through classes, sports and other activities.
A unique aspect about Perk is the community feel about it, having such a small school population you really get to know everyone on campus, including faculty and staff. Because of that many students build. . .
Perkiomen has three areas of institute study - Medical, Entrepreneur and Artificial Institutes. We are a boarding & day school - there is no line drawn between boarding or day students. Day students are. . .
While the amazing opportunities of the Maker Space and associated programs were not available yet during my time, Perk provided an environment where I and others were able to shape our school experience in incredible. . .
Show more reviews (

2 reviews

)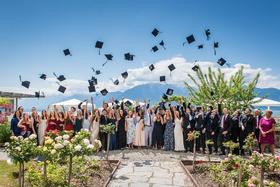 Nurturing Futures: A Journey through Boarding at Haut-Lac School in Switzerland
Nestled in the hills overlooking Lake Geneva in the French-speaking part of Switzerland lies an educational gem that embodies a unique blend of academic excellence, cultural richness and a profound sense of community. Founded over 30 years ago, Haut-Lac International Bilingual Day and Boarding School is now home to both 600 day students and a maximum of 30 boarders from around the world.
Navigating the Modern Maze: Emerging Challenges for Boarding Schools
Explore the pressing challenges facing boarding schools, from marketing difficulties and rising insurance costs to facility maintenance and recruitment of competent trustees and teachers. This article delves into these complex issues and proposes innovative strategies to overcome them.
What To Wear at Your Job Interview
Navigating job interviews can be stressful, but knowing what to wear shouldn't be. Our comprehensive guide covers the essential dress code tips for men and women interviewing at boarding schools. Make your first impression count with style and professionalism.