Reflections and Advice:
1.) What do you think makes your school unique relative to other boarding schools?
Berkshire's school motto "not just for school but for life" makes it the unique. Each year to celebrate this motto they spend one week teaching students different classes that are outside the regular curriculum to give them the opportunity to learn about things that they would not otherwise, that might interest them. This is a fantastic celebration of the school and what Berkshire stands for.Another aspect that Berkshire is unique in, is the extra help they offered to students. The KCL center is there for students who need extra help in the classroom and aids them in making them feel confident and smart. These tutors are extremely commitment and dedicated.
2.) What was the best thing that happened to you in boarding school?
Honestly, I wouldn't be the person I am today if I hadn't gone to Berkshire. I didn't even want to go to Berkshire, but it was the best thing that's ever happened to me. The relationships I formed there shaped me into who I am today and the lessons I learned in the classroom taught me to work extremely hard and if you do, you will be recognized for that work. Berkshire is honestly such an incredible place, it is so much more than a school.
3.) What might you have done differently during your boarding school experience?
When I first arrived, I wish I had been more proactive in seeking out extra help opportunities and not waiting until I wasn't doing well to reach out. Maybe take a semester off from your sports team and try something different, like theatre!
4.) What did you like most about your school?
Everything about it.
5.) Do you have any final words of wisdom for visiting or incoming students to your school?
Try something you wouldn't otherwise, you might surprise yourself. Definitely get out on the mountain, I wish I had done that more. Wake up to see the sunrise instead of worrying about getting sleep. These are the best years of your life, don't take any minute for granted.
Academics:
1.) Describe the academics at your school - what did you like most about it?
I always struggled with academics, and I thought that coming to Berkshire I would have the same experience. I could've had the same experience if it wasn't for the caring and dedicated teachers at Berkshire. What I enjoyed most about academics was that the teachers were always at your disposal if you needed extra help. They were dedicated to helping you learn, no matter what. Additionally, I loved the classes that were offered. They were incredibly unique and ones that prepped you for college level classes.
Athletics:
1.) Describe the athletics at your school - what did you like most about it?
The athletics program at Berkshire is top of the line. Not just because of the incredible athletic facilities, but because of the dedicated coaches and unmatched recruitment. It is equal parts competitive and fun and was one of my favorite parts of being at Berkshire.
Art, Music, and Theatre:
1.) Describe the arts program at your school - what did you like most about it?
I was a part of the visual arts program at Berkshire (digital art). I came into this class accidentally my freshman year and it ended up being what led me to major in in college and what I wanted to do for my career. The teachers were incredibly knowledgeable and encouraging and were always extremely positive and helpful. If It wasn't for having to that this mandatory elective, I wouldn't have discovered this passion of mine that has led me to where I am today.
Extracurricular Opportunities:
1.) Describe the extracurriculars offered at your school - what did you like most about it?
I wasn't involved in many of the extra-curricular activities/student organizations, as I was busy with being on a varsity sports team. I think maybe that's one thing Berkshire could expand on (unless they have since I have left as that was over 4 years ago).
Dorm Life:
1.) Describe the dorm life in your school - what did you like most about it?
The dorms are incredible at Berkshire. Almost all of them have been rebuilt and are incredibly beautiful. I lived in Godman for all four years because I loved the community so much and the dorm parents who lived there were incredible.
Dining:
1.) Describe the dining arrangements at your school.
The dining hall was one of my favorite social places. The diversity of food at the time I was there was good, but I believe now it is a lot better. I definitely took that for granted while I was there.
Social and Town Life:
1.) Describe the school's town and surrounding area.
Although Berkshire seems to be in the middle of nowhere, It is very close to Great Barrington which is one of the best small towns in America with a lot to offer: restaurants, stores, ice cream, coffee, etc. and Berkshire makes It easy to take van trips into town on the weekends!
2.) Describe the social life at your school - what did you like most about it?
Shawn's Place is where everyone hung out and I loved that there was one central place that everyone congregated together. Everyone at Berkshire is incredibly inclusive, and that's what made the social life so fun.
During my three years at Berkshire, I was able to take advantage of many unique opportunities that other boarding schools just did not offer. For example, I was able to attend The Island School during. . .
One unique aspect of a boarding school could be its integration of technology and innovative teaching methods. The school might have a strong focus on incorporating technology into the learning process, using interactive educational tools. . .
Every year at Berkshire School, the school holds a Pro Vita week. During this week, students get to take classes that vary from their typical classes. These classes span from learning how to cook sustainability. . .
Show more reviews (

15 reviews

)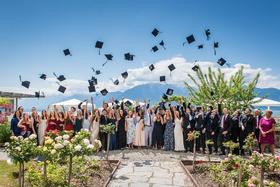 Nurturing Futures: A Journey through Boarding at Haut-Lac School in Switzerland
Nestled in the hills overlooking Lake Geneva in the French-speaking part of Switzerland lies an educational gem that embodies a unique blend of academic excellence, cultural richness and a profound sense of community. Founded over 30 years ago, Haut-Lac International Bilingual Day and Boarding School is now home to both 600 day students and a maximum of 30 boarders from around the world.
Navigating the Modern Maze: Emerging Challenges for Boarding Schools
Explore the pressing challenges facing boarding schools, from marketing difficulties and rising insurance costs to facility maintenance and recruitment of competent trustees and teachers. This article delves into these complex issues and proposes innovative strategies to overcome them.
What To Wear at Your Job Interview
Navigating job interviews can be stressful, but knowing what to wear shouldn't be. Our comprehensive guide covers the essential dress code tips for men and women interviewing at boarding schools. Make your first impression count with style and professionalism.