Reflections and Advice:
1.) What do you think makes your school unique relative to other boarding schools?
The rigorous, yet nurturing nature of the academic environment was one that really shaped my work habits even today. While courses were extremely challenging, they more than adequately prepared me for higher learning, and enabled me to gain independence at a younger age than most peers I encountered in college. I had a much stronger sense of self when I finally went off to college than most other 18-year-olds, which I credit to the Loomis environment I spent my formative years in. It was clear that teachers sincerely cared about the welfare of students and about their learning; some of these teachers I remain in contact with even today. They made a huge impression on me and were passionate about the subjects in which they taught; I remember often feeling that they were Overqualified to be teaching high school. The writing skills Loomis taught me continue to serve me well to this day. The relative isolation of "the island" created a close knit atmosphere; boarders and day students created close bonds, and it was hard to imagine a world outside.
2.) What was the best thing that happened to you in boarding school?
I felt that Loomis taught me a lot about being independent at a younger age than most. When I graduated, I didn't feel the need to go crazy like a lot of other kids in college, because I'd already been away from home before. I knew how to hold myself accountable and prioritize what was most important. This was never anything I actively worked on at Loomis, but I felt through the experience of being away from home, and in a rigorous environment, I was forced to grow up a little faster. I'm grateful for that experience. I also gained lifelong friends that I still can't imagine living more than a few blocks from.
3.) What might you have done differently during your boarding school experience?
Don't be afraid to try something new. I never participated in any arts, I wish I had.
4.) What did you like most about your school?
The campus at Loomis is extremely beautiful - more so than my college. The teachers I had were also incredible and some of them have become people I still look up to and share accomplishments with.
5.) Do you have any final words of wisdom for visiting or incoming students to your school?
When you're picking a school, know you'll be spending ALL your time there. So pick somewhere that could feel like home.
Academics:
1.) Describe the academics at your school - what did you like most about it?
The teachers were by far the biggest asset to the school. While passionate about their given subject, and caring about their students, they never failed to challenge me as a student. They empowered me to speak up in discussion and ask questions. I remember feeling that my college courses were much easier than my high school ones. The standards are incredibly high at Loomis, but it is very good preparation for the future. The workload is quite intense, but manageable, and in turn teaches time management skills.
Athletics:
1.) Describe the athletics at your school - what did you like most about it?
Bonding with teammates was certainly the most fun aspect of being part of a sports team at Loomis. Traveling to other schools on the team bus was a fun way to get to know other schools as well as each other. It was also a welcome reprieve after a day of rigorous classes. Depending on the team, sports could be pretty competitive.
Art, Music, and Theatre:
1.) Describe the arts program at your school - what did you like most about it?
While I never took advantage of any arts programs at Loomis, the drama productions were always impressive and something that everyone looked forward to attending. The student art displayed in the RAC was always impressive as well.
Extracurricular Opportunities:
1.) Describe the extracurriculars offered at your school - what did you like most about it?
You could be as involved or not involved as you'd like. If there's something you were really passionate about, you were empowered to really lean into those interests.
Dorm Life:
1.) Describe the dorm life in your school - what did you like most about it?
The best part about the dorms at Loomis was all the bonding that went on. You could begin the school year with just a few close friends in your dorm, and by the end you'd feel like all 30-40 of you were best friends. With academics being stressful at times, we'd often have "stress relief dance parties" after evening study hall. Dorm staff would usually provide a snack and/or some words of encouragement. Some nights we'd all gather around the TV to watch a show together. The dorm experience was really special.
Dining:
1.) Describe the dining arrangements at your school.
The dining hall at Loomis is one of the prettiest buildings on campus. With open seating during lunch, and most dinners, we also had more formal family style dinners twice a week. There were lots of food options, so you could always find something.
Social and Town Life:
1.) Describe the school's town and surrounding area.
With Loomis being a bit isolated from the town, we only ventured out on the weekends. The town is cute and small, with a few places to eat and a CVS nearby.
2.) Describe the social life at your school - what did you like most about it?
Everyone knew each other, so you always had someone to say hi to when walking to class. Almost every weekend there was some type of all-school activity to socialize, so you had plenty of opportunity to have fun.
Loomis required all students to participate in a sport each trimester, which was a great way to get all students both involved and engaged with the school and the other students. It was a great. . .
Because we have a smaller campus than most prep schools in New England, we benefit from a strong sense of community. Everyone is a familiar face and in turn, Loomis feels more like "home". . .
Mandatory extra-curricular activities in each season, ranging from competitive athletics, theatre, bands, choirs, volunteer work, environmental clubs, etc appealing to a wide variety of interest.Dorms and academic buildings positioned around a main "quad" grass. . .
Show more reviews (

27 reviews

)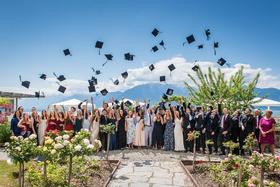 Nurturing Futures: A Journey through Boarding at Haut-Lac School in Switzerland
Nestled in the hills overlooking Lake Geneva in the French-speaking part of Switzerland lies an educational gem that embodies a unique blend of academic excellence, cultural richness and a profound sense of community. Founded over 30 years ago, Haut-Lac International Bilingual Day and Boarding School is now home to both 600 day students and a maximum of 30 boarders from around the world.
What To Wear at Your Job Interview
Navigating job interviews can be stressful, but knowing what to wear shouldn't be. Our comprehensive guide covers the essential dress code tips for men and women interviewing at boarding schools. Make your first impression count with style and professionalism.
Navigating the Modern Maze: Emerging Challenges for Boarding Schools
Explore the pressing challenges facing boarding schools, from marketing difficulties and rising insurance costs to facility maintenance and recruitment of competent trustees and teachers. This article delves into these complex issues and proposes innovative strategies to overcome them.