Reflections and Advice:
1.) What do you think makes your school unique relative to other boarding schools?
Harkness was one aspect of Exeter that is unlike any other. I loved being able to learn from and alongside my peers rather than being lectured at.
2.) What was the best thing that happened to you in boarding school?
I was able to think more deeply and challenge myself at Exeter than ever before. I also learned how to cope with academic stress in a way that prepared me for both college and the real world. Most importantly, I made some of the best friendships of my life there.
3.) What might you have done differently during your boarding school experience?
I would definitely have tried to immerse myself in more clubs and extracurricular activities. In particular, I would have taken advantage of the music lessons available. I would recommend all students going to boarding school to not be afraid to try new things and meet new people. This is the perfect opportunity to expand your horizons.
4.) What did you like most about your school?
I loved the environment at Exeter the most. Everyone was very welcoming and kind and it made me feel like I belonged.
5.) Do you have any final words of wisdom for visiting or incoming students to your school?
The chocolate croissants at Grill are amazing. Best breakfast snack for when you're late to class.
Academics:
1.) Describe the academics at your school - what did you like most about it?
Academics at Exeter were very rigorous compared to my previous high school, but I learned a lot more through Harkness. As stated before, I loved being able to learn from my peers and analyze information in depth. At many other schools, the focus is cramming as many facts as you can and overlooking the deep and meaningful implications of this information. At Exeter, I learned how to think harder.
Athletics:
1.) Describe the athletics at your school - what did you like most about it?
I wasn't a part of any athletic programs, but I loved the school spirit. A lot of my friends were on the track team and they loved it.
Art, Music, and Theatre:
1.) Describe the arts program at your school - what did you like most about it?
The Arts programs are really well taught and organized so that you can draw meaningful information from the course without it interfering with other academics. In many cases, it can actually help with other classes. I took Photography, Speechmaking, and Filmmaking during my time at Exeter and I loved all three classes because they allowed me to perfect my craft and implement what I learned in my other classes.
Extracurricular Opportunities:
1.) Describe the extracurriculars offered at your school - what did you like most about it?
There was a wide variety of extracurricular activities for everyone's different interests. I loved the openness to each club and the opportunity to try new things.
Dorm Life:
1.) Describe the dorm life in your school - what did you like most about it?
I loved my dorm because it was small and I was able to become best friends with most of my dorm mates. As a senior, I was in a single, but most dorm rooms are doubles. I believe check in for seniors was at 10 on weekdays and Sundays, and 11 on Saturdays. This was partially frustrating, but in retrospect it allowed me to do my work.
Dining:
1.) Describe the dining arrangements at your school.
We had two dining halls on opposite sides of campus. Both were open at specific times during the day for breakfast, lunch, and dinner. I liked that there was variety in our dining options and we were able to choose between the two menus. I also liked that there were really good vegetarian options in both halls. The dining halls were both free, and if you didn't like the food there, you could always go to Grill, a "restaurant" on campus, and pay for food. There were also lots of good restaurants nearby.
Social and Town Life:
1.) Describe the school's town and surrounding area.
As a person of color, I found the surrounding area a bit threatening. There was an incident where someone yelled the n-word at my friends and I while walking. Many of my friends have had the same experience. However, I felt comfortable on campus and in the immediate surrounding area.
2.) Describe the social life at your school - what did you like most about it?
Exeter had a great social scene. Even as a new senior, I had no trouble finding friends and ended up forging some friendships I'll value forever. While there were issues, students were vocal about their desire for change. I loved that everyone at Exeter did their best to make it feel like a community.
Phillips Exeter is distinct for its use of the Harkness Method and its unique athletic opportunities afforded by a robust alumni network and excellent teachers from various high-level academic positions within their fields. Harkness, a. . .
The Harkness method is one of Exeter's unique and best aspects. Teachers have very little involvement in class — homework is either reading or problem based, and nearly every class, from Math to English. . .
Exeter is the founding place of the Harkness method, in which students gather around a round table to discuss their homework and class material as a group. The idea of this method is that. . .
Show more reviews (

27 reviews

)
Mastering the Boarding School Selection Process: A 5-Step Guide
Discover the ultimate 5-step guide to choosing the perfect boarding school for your child. Explore essential factors, such as academics, campus facilities, extracurricular activities, and more. Make an informed decision to provide your child with an enriching and transformative educational experience. Read now!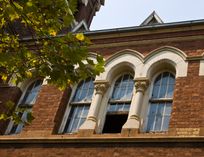 5 Founders and Their Boarding Schools
What prompts somebody to start a boarding school? The motives range from idealism to munificence right on through to capitalism. The common thread seems to be ample capital and a vision of what education can do.