Reflections and Advice:
1.) What do you think makes your school unique relative to other boarding schools?
Using the Harkness Method to learn is unique to Exeter and adopted by many other boarding schools. Through this method, my own preconceptions were challenged on a daily basis, not only in terms of what I considered being effective methods for learning, but also in terms of how I came to understand the content being taught in each class. The Harkness Method taught me to speak with confidence and conviction, but it also taught me the value of listening to my peers in a collaborative setting.
2.) What was the best thing that happened to you in boarding school?
The best thing that happened to me was that I opened my mind up to worlds that I never would have, had I stayed where I was. I have friends from around the world, ranging from Europe to Asia to the West Coast, who I still remain in contact with. I have created friendships with people who have entirely different interests, worldviews, and values, but nonetheless, we share the bond of being Exonians, and that is something that only so many people are able to proudly state. The best part about attending Exeter is that it is Exeter. It is a family that never goes away, and one that you will come across no matter where in the world you end up, as there are Exonians across the globe.
3.) What might you have done differently during your boarding school experience?
I would have joined more extracurricular activities and expanded my comfort zone a bit more. I think some activities I participated in were close to home or things I had tried before, but I definitely could have pushed the boundaries to meet more people in different spheres of interest from my own.
4.) What did you like most about your school?
I liked the fact that there were students from different national, socioeconomic, political, and religious backgrounds, just to name a few. I learned more about myself that I ever could have imagined by learning about the experiences of these other Exonians, and I hope my experience did the same for them. The opportunity to be in one location, yet meet so many amazing people from around the world, is rare, and I am grateful for that.
5.) Do you have any final words of wisdom for visiting or incoming students to your school?
Join a team or organization outside of your comfort zone! You'll meet amazing people no matter what you try and do not waste a moment! Exeter was the best three years of my life, and I miss it every day. It goes by fast and is something you want to look back on and be proud of.
Academics:
1.) Describe the academics at your school - what did you like most about it?
I particularly enjoyed how the Harkness Method allowed for students to take true command of the class, in which the teacher acted as a rudder for conversation through guiding questions and comments, rather than solidified means through which to reach point B from point A. It helped students to feel empowered and heard when they had a question or comment, and often, I would turn to peers for help in solving problems before my teacher, which showed me the value of collaboration with my fellow Etonian's.
Athletics:
1.) Describe the athletics at your school - what did you like most about it?
Our athletic programs were competitive, rigid, and expecting. I enjoy the structure and expectation that comes with being a varsity athlete. Everyone would show up to a practice or game, knowing that the competition had been training all year to beat Exeter, because we were among the very best in almost all sports. Comradery was integral to our success, and students pushed each other to be their very best on and off the field, leading to successful teams and lifelong friendships. Our facilities are second to none, and our coaching is the best in its class. I would have changed nothing about my athletic experience at Exeter.
Art, Music, and Theatre:
1.) Describe the arts program at your school - what did you like most about it?
There was a plethora of Arts opportunities available to students, ranging from instrumental lessons to dance to theatre. I did not personally participate much in the arts, but did discover a love for digital photography through a class I took at Exeter. Since then I have taken up photography on my own time and continued working with it throughout college. As an observer, I would say that our arts program is seemingly intense, and extremely gifted. I thoroughly enjoyed the student shows that regularly played and attended as many of them as I possibly could during my time at Exeter.
Extracurricular Opportunities:
1.) Describe the extracurriculars offered at your school - what did you like most about it?
I was a Head Tour Guide, Senior Dorm Proctor, Environmental Proctor, 4H member, and Relay for Life Committee member while at Exeter. While the commitment was high to be part of all these organizations, the benefits of being part of various student communities within the student body as a whole were immense, as I met students who I would not have otherwise befriended and contributed to others' experiences where I may not have otherwise had the chance. These opportunities I mention do not even scratch the surface in regard to how many student organizations exist. I had friends involved in many other groups that I wish I had the time to be a part of, but it is important to balance your time prudently. The sky is the limit with extracurricular opportunities at Phillips Exeter.
Dorm Life:
1.) Describe the dorm life in your school - what did you like most about it?
I enjoyed the sense of community within dorms and comradery amongst dorms. We would have soccer matches against other dorms, events with sister dorms, and intramural events every week or month to enhance our sense of community. Everyone knew everyone within their own dorms, and at the end of the day, it was the group you could rely on for anything you need, regardless of external friend groups. Those guys I lived with were always there for me, as I was also for them. Rooms could be set up as you liked, you could order food to your dorm from local restaurants (I'd recommend Supreme's) and as you got older in your time at Exeter, you could choose the best rooms in the dorm, or be in a hallway with all your best friends.
Dining:
1.) Describe the dining arrangements at your school.
The variety of food Exeter has to offer is beyond what I could have imagined for high school. I came from a high school that required you to either pack your own lunch or spend a lot of money on an average lunch, but Exeter offered several hot food options, food throughout the day such as sandwich/soup stations, and high quality ingredients. I would love going to the dining hall to do homework, as I could go up and get as much food as I wanted or needed.
Social and Town Life:
1.) Describe the school's town and surrounding area.
Exeter is an absolutely beautiful town, and the residents love the students. There are storefronts, restaurants, ice cream places, and pharmacies, just to name a few options. Whenever I had free time on the weekends, I would often go to Still wells for ice cream or to one of the local restaurants like Green Bean and enjoy lunch with my friends.
2.) Describe the social life at your school - what did you like most about it?
The best part about the social life at Exeter is that you are away from home, studying hard, but also enjoying that grind with your best friends. Many of my best memories are while hanging out in the library with my friends or working in the dining hall with them over a meal. You could host friends in your room at your dorm, or sit out on the green quad in the spring and enjoy the sun while playing spike ball tournaments with other friend groups. There was no shortage of activities to do with friends.
Phillips Exeter is distinct for its use of the Harkness Method and its unique athletic opportunities afforded by a robust alumni network and excellent teachers from various high-level academic positions within their fields. Harkness, a. . .
The use of the Harkness table. The discussion based, or flipped, classroom is what truly separates Exeter from all other private schools. . .
The Harkness table is used in all classrooms, facilitating discussion and exploration of subjects that allow students to take the reins on their own education. With classes averaging 12 students or fewer, every student is. . .
Show more reviews (

27 reviews

)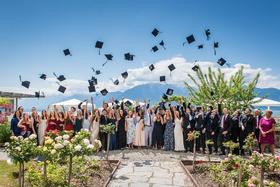 Nurturing Futures: A Journey through Boarding at Haut-Lac School in Switzerland
Nestled in the hills overlooking Lake Geneva in the French-speaking part of Switzerland lies an educational gem that embodies a unique blend of academic excellence, cultural richness and a profound sense of community. Founded over 30 years ago, Haut-Lac International Bilingual Day and Boarding School is now home to both 600 day students and a maximum of 30 boarders from around the world.
What To Wear at Your Job Interview
Navigating job interviews can be stressful, but knowing what to wear shouldn't be. Our comprehensive guide covers the essential dress code tips for men and women interviewing at boarding schools. Make your first impression count with style and professionalism.
Navigating the Modern Maze: Emerging Challenges for Boarding Schools
Explore the pressing challenges facing boarding schools, from marketing difficulties and rising insurance costs to facility maintenance and recruitment of competent trustees and teachers. This article delves into these complex issues and proposes innovative strategies to overcome them.