Reflections and Advice:
1.) What do you think makes your school unique relative to other boarding schools?
I attended CMA for 5 years and it was a fantastic experience. I made life long friendships and grew in so many different aspects of my life. Most importantly was school and discipline and it was such a great help in both areas. I would highly recommend sending your son here for it was really a great part of my life.
2.) What was the best thing that happened to you in boarding school?
The best thing that came out of attending CMA would be the fact I left with a 4.6 gpa and would be attending Clemson later. Another great thing for me was getting to start on the Varsity Football team my freshman year and being a captain in my sophomore year.
3.) What might you have done differently during your boarding school experience?
I probably would've done more extracurricular stuff not just sports.
4.) What did you like most about your school?
The people really made it what it was, from the admissions staff to the janitors everyone was always super nice and uplifting. They were also very straight forward which was extremely helpful.
5.) Do you have any final words of wisdom for visiting or incoming students to your school?
Don't follow the kids that are always doing the stupid stuff it'll just be a waste of your time in the end.
Academics:
1.) Describe the academics at your school - what did you like most about it?
I really liked how we ran on a 6 class schedule throughout the day because I never felt like I was bored in class. It felt like just enough time between class to class.
Athletics:
1.) Describe the athletics at your school - what did you like most about it?
I really loved all of my coaches because they were also your teachers the bonds you form are extremely important. Especially how much they care about you, and really believe in you. Also there are no cuts for most sports so even if you aren't very good you will still have the chance to play.
Art, Music, and Theatre:
1.) Describe the arts program at your school - what did you like most about it?
Drama is not a huge class but it exists we do put on a few things every year from the talent show to the Christmas play.
Extracurricular Opportunities:
1.) Describe the extracurriculars offered at your school - what did you like most about it?
There are a ton of programs you can get involved in after school. Ranging from robotics, chess, drill team, and community service.
Dorm Life:
1.) Describe the dorm life in your school - what did you like most about it?
Dorm life is extremely cool because it's basically like you are with your friends from when you wake to when you go to bed. You clean with everyone and do everything everyone else does. You also have your roommate who throughout the year you can switch up.
Dining:
1.) Describe the dining arrangements at your school.
The food overall is good and is only open during meal times which is breakfast lunch and dinner everyday. Every week you have around the same things but they do switch it up.
Social and Town Life:
1.) Describe the school's town and surrounding area.
The town of Camden that surrounds the school is pretty nice with plenty of restaurants and places to go when you are off campus.
2.) Describe the social life at your school - what did you like most about it?
I really enjoyed how close we all were with each other, and how easy it was to integrate yourself into friend groups.
One thing that separated Camden from any other school I've looked at or attended was the small and personal classes. My biggest class went from being 34 at a public school to 12 at Camden. . .
This school creates extreme bonds with brothers you will forever remember. Me and my brothers worked hard together, learned together, and learned the values of truth and discipline. Camden Military Academy is a life changer. . .
There is a brotherhood that can be found nowhere else. I would not trade in my experience here for anything. This has been a one in a lifetime experience. The teachers here can help the. . .
Show more reviews (

15 reviews

)
Mastering the Boarding School Selection Process: A 5-Step Guide
Discover the ultimate 5-step guide to choosing the perfect boarding school for your child. Explore essential factors, such as academics, campus facilities, extracurricular activities, and more. Make an informed decision to provide your child with an enriching and transformative educational experience. Read now!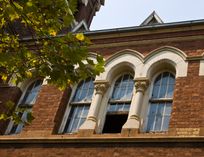 5 Founders and Their Boarding Schools
What prompts somebody to start a boarding school? The motives range from idealism to munificence right on through to capitalism. The common thread seems to be ample capital and a vision of what education can do.