Reflections and Advice:
1.) What do you think makes your school unique relative to other boarding schools?
I am of white privilege. I played pop warner football in the city of Chicago while attending private school in the area. I also played hockey. The kids on my hockey team, for the most part, were like me. Early on while playing football in the city of Chicago starting in sixth grade, the kids on my team were different than me. My second year playing football, there was a kid who scratched out his birthdate on his birth certificate in order to meet the age requirements to play on our team. It only cost $20 dollars to be enlisted in the program. My friend who changed his birth certificate age got caught. He pleaded with the coaching staff to be allowed to stay on the team. He argued that it was either football or, sadly, join a gang. After playing on the pop warner team my sixth and seventh grade years, I went off to boarding school to play both hockey and football; something that would be hard to juggle if I stayed in the city and continued my elite education. So I went to Cardigan Mountain School for boys... It was an eye opening experience. Polling around the showers, it seemed as though half the student body was on scholarship and the other half had their parents pay their tuition money. I fell in love with every aspect of the school. My football team went undefeated my 9th grade year. That year my jv hockey team lost one game -- the same is true with my varsity baseball team as a 'senior' at the school. It was the perfect mix within the student body. A Cardigan boy isn't afraid to pump the gas. We do the work. These ideals fit with my own, and I excelled. The mix of students within the community, poor or rich, shaped how we all grew as men by the time of graduation. I'm blue collar these days, but I hope to give back to the school someday, hopefully with time rather than money. The students at the school ranged from top tier academically to struggling profusely; perhaps with learning disabilities that can challenge any young kid. My best friend at the school was the worst student in our class. I was the valedictorian. We lived out our senior year as hall mates as we were positioned to live directly across from one another. Cardigan is the closest school experience that I've had that resembles what life is really like. We were prepared as graduates in ninth grade to be ready for college. I've never viewed my white privilege the same since Cardigan. I was taught to work in an atmosphere where we all had to work together no matter what is color, creed, or any other type of background defined us before we enrolled in this incredible institution. For Cardigan, we favored school...
2.) What was the best thing that happened to you in boarding school?
Cardigan made me that man I am today. Cardigan is a diverse group of young men that learn to grow up with one another despite the differences. It isn't forced, it's engaging. You find out a lot about who you are by discovering who you're surrounded by. The best thing that happened to me at Cardigan was the first time I stepped on campus because that was the start of one of the most worthwhile ventures in my entire life.
3.) What might you have done differently during your boarding school experience?
If I could do one thing different at Cardigan, it would be to make friends with all the other students faster. Everybody, from sixth to ninth grade, is your friend -- and one of the best friends you'll have in your life. To this day, I still turn to my Cardigan friends for advice on everything I do. If my friends / family from Cardigan tell me how to do something or what to do about something I'm working through in my life, I listen. These guys, no matter what year, are the reason I would be honored to fight and die for my country (I have not yet served or done this). At Cardigan you might never see the friends you made at this school ever again after graduating.. you will never forget them, nor should you.
4.) What did you like most about your school?
Cookie time is one of the best parts of Cardigan... and pizza during school theatre rehearsals. Anytime where I get extra food or special food is really a great aspect of the school. But you gotta earn it. You gotta put in your hours. Cardigan is worth every second. Cardigan offers young men a chance to truly succeed after graduating. Cardigan prepares you for college and life after college. A Cardigan kid is always prepared for anything that comes their way.
5.) Do you have any final words of wisdom for visiting or incoming students to your school?
Honestly, I can offer any new advice that I haven't already offered. Keep your head down, be friendly, and know that this whole boarding school experiment is worth the effort in the end.. I promise.
Academics:
1.) Describe the academics at your school - what did you like most about it?
Academics is top tier if you're willing to push yourself. The best part of Cardigan was the mix of students within our school. It wasn't just 'smart' rich kids. We had kids that could do basic multiplication in 9th grade. I on the other hand worked my way through advanced algebra at the same age. I was even in honors biology, where our final exam was an AP Biology test. Unfortunately, I didn't go great on that test, but it was a college level course that I was able to pass. Cardigan is prepared to teach any and all students with any background and at any level. Personally, high school was boring for me because I was already ready for college by the time I got there. Teachers range from young to old. A really cool part of the academic experience was the faculty. There were a lot of younger teachers still growing into their careers. There were a lot of older / senior ones as well. It was the perfect mix. The competition was evident in school, but especially in sports.
Athletics:
1.) Describe the athletics at your school - what did you like most about it?
Cardigan produces top tier athletes in all sports. I have six friends that I can count or remember that played professional hockey. Cardigan is a hockey powerhouse. Just recently I saw that a Cardigan kid was drafted 9th overall in the NBA draft. I think he went to the Orlando Magic. Cardigan won't hold anyone back as far as athletics is concerned. It is established in all sports. If you're not a top tier athlete, no worries, you won't be judged for it. There is no popularity at this all boy's school. You are brothers with everyone that goes there, even if you play jv or third sports. Every student is required to play sports every season. Why wouldn't you; every sport you play gives you the ability to get to know every other kid in the school. Not only that, you can learn from amazing coaches and teachers in all programs.
Art, Music, and Theatre:
1.) Describe the arts program at your school - what did you like most about it?
First off, music is a required class at Cardigan. It is just as hard as any other class. Theatre, on the other hand, is not. I missed out on being in the fall school play my first year in eighth grade (most kids start Cardigan in eighth grade and spend two years there -- if you decide to start earlier your lucky). After the fall play was over, I ended up in every play until I graduated. In 9th grade I was in a two-person act called the Odd Couple (kinda famous if you look into it or if you are all about theatre). I was paired with a student who is a true friend of mine to this day. We weren't real good buddies until they are on stage performance, but we became to have a new-found respect for one another after working so closely with one another. His name on campus was his last, Chace. He is now a multiple time Olympic sled hockey champion. Cardigan is committed to help every student have the ability to follow their passion. It is competitive and demands excellence in everything you endeavor to do.
Extracurricular Opportunities:
1.) Describe the extracurriculars offered at your school - what did you like most about it?
In the springtime, the school has a litany of available clubs to offer. It is a requirement to sign up for these clubs. Every club I attended was extremely fun and engaging. If it is your intention to give back, Cardigan is more than all about community service and service for others. Cardigan demands the world from their students, but, and you realize this right as you graduate, if you put the work in you get the world in return.
Dorm Life:
1.) Describe the dorm life in your school - what did you like most about it?
Dorm life is what makes boarding school so worthwhile. Kids who don't go to boarding school don't get the opportunity to live in dorms until college. Dorm life at Cardigan pairs you with a roommate and at least 10 other kids in one hallway. You will never forget the kids in your dorm. I can name, and have a story, for every single kid I've ever lived with at Cardigan. The thing about Cardigan is that every kid is going through growing pains. It's like I always used to say to the kids on my floor complaining about how hard things were for them.. 'we're all going through the same thing'. Not only that, but you're all going through it together. When you enroll in Cardigan, you're enrolling into a new family that you get the opportunity to grow up with.
Dining:
1.) Describe the dining arrangements at your school.
Cardigan boys do not complain about the food they eat. They have about 20-30 minutes to scarf down what comes out of the kitchen. They are responsible for waiting tables and working in the kitchen to clean the old meal and prepare for the next meal. I would never complain about the food I'm being served. If you don't want to eat the main course, do what I did, fill up a bowl of peas and pour ranch dressing on top. It's no big deal if you want to skip a meal because you don't like what's being served -- there's always the salad bar. grilled cheese and tomato soup day comes often and is something every Cardigan boy enjoys as there is a chance to set the eating record with your assigned table!
Social and Town Life:
1.) Describe the school's town and surrounding area.
Cardigan is an all boys' school in Canaan, New Hampshire. Cardigan is a community in and of itself... besides volunteer efforts in the town, there is not much life outside of what goes on at the school. Once you're at Cardigan you're not really going anywhere else. Why would you want to? Free time is just time to play kill the carrier or stick ball or pond hockey. Your family is at Cardigan. Why go away from your family. Canaan New Hampshire is a beautiful area and is in the Live Free or Die state. This philosophy gets ingrained in every students' values.
2.) Describe the social life at your school - what did you like most about it?
Socializing at Cardigan is really easy. Not only do you get to know everybody in your class, your portfolio extends in sports as well. It doesn't stop there. Through assigned dining tables to clubs and dorm life, you know all 200ish kids on campus and all faculty quite quickly. Everybody is worth getting to know. Everybody is part of the community you're in and is worth getting to know on every level, including faculty / and dorm parents.
Cardigan is very small with a size of about a little over two hundred boys. One that that makes it unique is the very tight-knit community and by the spring term, you know everyone's name. . .
I am of white privilege. I played pop warner football in the city of Chicago while attending private school in the area. I also played hockey. The kids on my hockey team, for the most. . .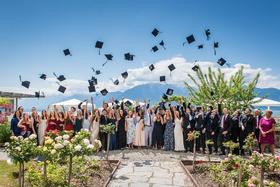 Nurturing Futures: A Journey through Boarding at Haut-Lac School in Switzerland
Nestled in the hills overlooking Lake Geneva in the French-speaking part of Switzerland lies an educational gem that embodies a unique blend of academic excellence, cultural richness and a profound sense of community. Founded over 30 years ago, Haut-Lac International Bilingual Day and Boarding School is now home to both 600 day students and a maximum of 30 boarders from around the world.
What To Wear at Your Job Interview
Navigating job interviews can be stressful, but knowing what to wear shouldn't be. Our comprehensive guide covers the essential dress code tips for men and women interviewing at boarding schools. Make your first impression count with style and professionalism.
Navigating the Modern Maze: Emerging Challenges for Boarding Schools
Explore the pressing challenges facing boarding schools, from marketing difficulties and rising insurance costs to facility maintenance and recruitment of competent trustees and teachers. This article delves into these complex issues and proposes innovative strategies to overcome them.