Reflections and Advice:
1.) What do you think makes your school unique relative to other boarding schools?
I am the parent of two Dublin boarding students and I can't say enough about this school. Dublin's Head of School is an amazing leader, transparent, action oriented and able to think outside of the box. As an example of this type of thinking, outside classrooms were set up for COVID teaching and a fire pit added for outside student gatherings. A special tent for seniors to gather was also set up. All classes met in person, with students who were unable to travel learning remotely. The beautiful campus is solar powered, and it continues to be updated with the new kitchen and dining hall being the latest improvements. Faculty and admin are responsive and truly care about the growth of students. We have had many special requests met with an openness that is hard to find at other schools (we have another child at a larger boarding school and that has been a different experience).
2.) What was the best thing that happened to you in boarding school?
Boarding school was definitely difficult, at first, for both of my children. There is an amount of homesickness, learning new routines, and meeting new people that sets one off balance in the beginning. The school is very aware of this and does a very good job acclimating new students. Ultimately, my child who has graduated thinks attending Dublin was the best decision ever. Growth opportunities for leadership roles, strong academics and Work Gang were instrumental to the positive experiences. Learning to love the outdoors was an added bonus. He was definitely ready for college, although leaving Dublin was very difficult, which speaks to his love of the school. For my current child, the school has been amazing at accommodating some of her special requests, like allowing her to take horseback riding lessons outside of the typical spring sport season. While it has taken her a little longer to acclimate than most, she couldn't have done it without the support offered by the school.
3.) What might you have done differently during your boarding school experience?
Our advice is to reach out to teachers, coaches, and admin when you need help. They will provide it.
4.) What did you like most about your school?
My children have loved almost everything about Dublin. The outdoor setting could not be more beautiful and the school takes full advantage of it. The Learning Skills program is top-notch and really helped our children become successful students. The personal relationships with the tutors were also special to our children and provided us with one more adult with eyes on our children.
5.) Do you have any final words of wisdom for visiting or incoming students to your school?
Slopeside dorm is the newest dorm and has single rooms.
Academics:
1.) Describe the academics at your school - what did you like most about it?
Humanities are particularly strong. The statewide Scholastic Writing Program bestows many awards on Dublin students and one of our children fondly participated in it 3 out of 4 years. AP English classes are rigorous and taught well. The learning process is valued more than grades and awards, however. The Independent Study program is well-supported and there is a depth of study required. Teachers are available to support students when needed. Math and science programming continues to grow and expand. The workload has been considered by both or our children to be manageable but, of course, the AP courses are more demanding.
Athletics:
1.) Describe the athletics at your school - what did you like most about it?
While the ski programs are particularly strong, all the sports offered are about learning sportsmanship and community. There is space for all levels of athletes to participate. Coaches are supportive and well-liked. Sailing has been a standout for us, Ultimate a fun spring sport with lots of camaraderie, and one of our children is enjoying the horseback riding lessons at a local barn.
Art, Music, and Theatre:
1.) Describe the arts program at your school - what did you like most about it?
The art program is another standout at Dublin, but our children haven't participated as much in this area. There are always plays and dance performances offered throughout the year for the student body and parents to attend. Students definitely apply to, and are accepted at, art colleges.
Extracurricular Opportunities:
1.) Describe the extracurriculars offered at your school - what did you like most about it?
Work Gang, although at first blush might appear to be a drag to an outside student observer, has been one of the best opportunities at Dublin. Both of my children have found it to be a highlight. The student body is divided into teams and every Sat. a team is assigned to Work Gang (so a student is an on duty about once per month). It is an opportunity to get outside and work with your hands, building trails, chopping wood, making maple syrup, helping out community members, etc. and learning the value of commitment, hard work and community.One of my children started an Archery Club, and the school was very supportive of it. Because of the nature of it, teacher supervision is provided during club time.
Dorm Life:
1.) Describe the dorm life in your school - what did you like most about it?
There are definitely dorms that are nicer than others, but the majority of them are updated, with a new one just finished in the past year. There is a lot of support offered by Proctors, when needed. One of my children had an outstanding proctor the first year who always made sure there was someone to sit with during meal times, support with homesickness, etc. Then my child became a Proctor and the leadership opportunity was invaluable.
Dining:
1.) Describe the dining arrangements at your school.
There is a brand new kitchen and dining hall that were finished in the past month. The food has not been a favorite of my students and is probably the one area they might complain. There are refrigerators and microwaves in the common areas of each of the dorms.
Social and Town Life:
1.) Describe the school's town and surrounding area.
The town is very small. The Dublin General Store (the "DG") is just down the road and a popular place for sandwiches and snacks. The school buses students, as desired, to the local grocery store, CVS, Walmart or Target each week.
2.) Describe the social life at your school - what did you like most about it?
There has been a place for each of my children to find solid friendships within the student body. The Coffee House with musical performances on select weekends is a favorite, movies and some weekend activities are also enjoyable. Winterfest is also a blast, and Mountain Day always highly anticipated. Yoga and archery are current weekend favorites. My children have found that they need the weekend downtime to reset because they are so busy with academics and sports during the week. There are opportunities to be active or relax, as needed.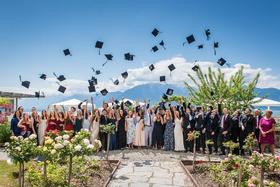 Nurturing Futures: A Journey through Boarding at Haut-Lac School in Switzerland
Nestled in the hills overlooking Lake Geneva in the French-speaking part of Switzerland lies an educational gem that embodies a unique blend of academic excellence, cultural richness and a profound sense of community. Founded over 30 years ago, Haut-Lac International Bilingual Day and Boarding School is now home to both 600 day students and a maximum of 30 boarders from around the world.
What To Wear at Your Job Interview
Navigating job interviews can be stressful, but knowing what to wear shouldn't be. Our comprehensive guide covers the essential dress code tips for men and women interviewing at boarding schools. Make your first impression count with style and professionalism.
Navigating the Modern Maze: Emerging Challenges for Boarding Schools
Explore the pressing challenges facing boarding schools, from marketing difficulties and rising insurance costs to facility maintenance and recruitment of competent trustees and teachers. This article delves into these complex issues and proposes innovative strategies to overcome them.