Reflections and Advice:
1.) What do you think makes your school unique relative to other boarding schools?
This school allows you to make lifelong family and the memories made here are with you forever. This school makes you grow up and become and man in the time you are here and allow to grow as an individual. You get to grow in the areas you need and excel in the aspects you are strong.
2.) What was the best thing that happened to you in boarding school?
The best thing that happened to me was the ability to go away and change myself for the better without distractions. Coming to Camden Military Academy allowed me a fresh start and a chance to right myself before it was too late. I came here not on the best terms with my parents and I was not making the best choices for myself. While being here, I grew close to my family and now, I think, I make better choices for myself.
3.) What might you have done differently during your boarding school experience?
I would never have done anything differently. Everything that happened here at Camden has enabled me to grow into an independent man. The advice I would give is go into it with a good and open mindset. Don't come here with a negative attitude or that is what you will get. And also enjoy your time here because it is the only chance to do these things in your life again.
4.) What did you like most about your school?
I loved the family created and memories made here. I would never trade the experience I have made here and the lessons I have made here will help me through life.
5.) Do you have any final words of wisdom for visiting or incoming students to your school?
My final words will be to never forget your time here and don't let this opportunity slip away. This is a once in a lifetime opportunity to better yourself and grow as an individual before real life.
Academics:
1.) Describe the academics at your school - what did you like most about it?
The academics here at Camden, allows you to be nurtured in a controlled environment. The teachers truly care about teaching you and will take time out of their day to help their students. The environment of the classroom is very competitive if you decide you want to be an achiever in the classroom. A lot of resources are given to you and available to you if you wish to use them. They set up every possibility for you to be successful.
Athletics:
1.) Describe the athletics at your school - what did you like most about it?
Everyone here is required to play a sport here at Camden. There is a ton of sports that you can choose to play and the teams that we play against are good competition. The coaches truly care about giving you the best knowledge they can and they have individual places for each sport. They have tennis courts, Football fields, basketball courts, weight rooms, and even a golf course the golf players go. The friends on the teams that you make become brothers and are truly there when you need it.
Extracurricular Opportunities:
Dorm Life:
1.) Describe the dorm life in your school - what did you like most about it?
The dorms are set up so you get one room mate and each of you get a bed, desk, and place to put your military clothes. They are relatively nice and it becomes basically your second home. Your room mate will become one of your best friends. The atmosphere of your barracks are different for every company, but each barracks are special.
Dining:
1.) Describe the dining arrangements at your school.
Every day, there are three meals. The meals are above average and there is always enough food to fill you up. The dining hall staff are some of the nicest people you will ever meet and they will accommodate anyone for any reason, such as, Muslims, Jewish, and even prepare things for cadets doing Ramadan. They serve different meals everyday also, so its a variety.
Social and Town Life:
2.) Describe the social life at your school - what did you like most about it?
The people here at Camden become a brotherhood and you will never make friends that you have here anywhere else. The people in your company become your second family and the things the older kids will teach you are like that of older brothers. The friends you make will be there for every area of life an d whenever you need them, they will be there.
Daily Schedule:
Weekday
Weekend
One thing that separated Camden from any other school I've looked at or attended was the small and personal classes. My biggest class went from being 34 at a public school to 12 at Camden. . .
This school creates extreme bonds with brothers you will forever remember. Me and my brothers worked hard together, learned together, and learned the values of truth and discipline. Camden Military Academy is a life changer. . .
There is a brotherhood that can be found nowhere else. I would not trade in my experience here for anything. This has been a one in a lifetime experience. The teachers here can help the. . .
Show more reviews (

15 reviews

)
Mastering the Boarding School Selection Process: A 5-Step Guide
Discover the ultimate 5-step guide to choosing the perfect boarding school for your child. Explore essential factors, such as academics, campus facilities, extracurricular activities, and more. Make an informed decision to provide your child with an enriching and transformative educational experience. Read now!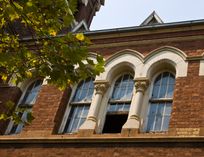 5 Founders and Their Boarding Schools
What prompts somebody to start a boarding school? The motives range from idealism to munificence right on through to capitalism. The common thread seems to be ample capital and a vision of what education can do.