Reflections and Advice:
1.) What do you think makes your school unique relative to other boarding schools?
The school had an excellent campus that was different from every other one, the scenic environment gave us that extra bit of motivation in the morning. The teaching method was really great, the fact that our classes were never too big gave the teachers opportunities to work with individual students and measure their improvement accurately rather than being in a big class of 25 where some people miss out
2.) What was the best thing that happened to you in boarding school?
The school changed who I was. I used to be a problem child and I came out an awarded graduate. They offered opportunity and were patient with me, making sure that I was learning for learnings sake and not just studying to pass exams and I must say that has helped me greatly in my adult life
3.) What might you have done differently during your boarding school experience?
I think I would have thrown myself out there earlier, taken advantage of all the opportunities before the senior year came around Boarding school is fun, it's an experience I would recommend everyone tries because of the independence you learn.... its worth it
4.) What did you like most about your school?
I liked that the atmosphere, no matter how cold, was always warm everybody was cautious enough to be kind to everybody and I made so many friends that I'm still in contact will to this day
5.) Do you have any final words of wisdom for visiting or incoming students to your school?
Check out the fitness room, its where I spent a lot of my time
Academics:
1.) Describe the academics at your school - what did you like most about it?
I must say, The professors were very well educated, we would ask hard questions and get them answered in less than a day depending on how difficult it was. We were encouraged to think broadly and ask all the questions that came to mind The workload at times was a bit overbearing but the school offered facilities to facilitate this, and so it became a bit easier The school is quite competitive but like in a good way, there were so many smart minds in one campus, competition made school life a little more fun
Athletics:
1.) Describe the athletics at your school - what did you like most about it?
For me, as someone who is quite athletic, the athletics program was rigorous and I liked it that way, especially the individual clubs The facilities offered were better than a lot of schools and I'm very privileged to have gotten them, There's literally a fitness room on campus The coaches were great Our school was better than most, we won most of our matches
Art, Music, and Theatre:
1.) Describe the arts program at your school - what did you like most about it?
I wasn't really an Arts kid, but I will tell you, the arts program according to my friends was fantastic
Extracurricular Opportunities:
1.) Describe the extracurriculars offered at your school - what did you like most about it?
I was quite involved in extra-cucs (as we called them) There was an insane amount of clubs offered and each of them more informative as the last
Dorm Life:
1.) Describe the dorm life in your school - what did you like most about it?
I wasnt a boarder
Dining:
1.) Describe the dining arrangements at your school.
Carried my own lunch to school The food looked amazing though, they catered to all dietary preferences, Vegan, vegetarians and Pesketerians too The cafeteria was open at all eating hours and the seating enabled us to communicate with other year groups as well, so we weren't just isolated in our own
Social and Town Life:
1.) Describe the school's town and surrounding area.
The shops, restaurants and the view I feel like all the describing I could do wouldn't be able to accurately depict how the town life was, its better seen in person
2.) Describe the social life at your school - what did you like most about it?
I had many friends and acquaintances, everybody knew everybody and everybody was friends with everybody No one was left out, It was almost like a little village in school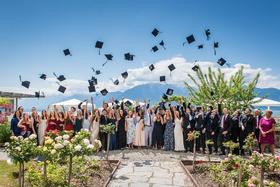 Nurturing Futures: A Journey through Boarding at Haut-Lac School in Switzerland
Nestled in the hills overlooking Lake Geneva in the French-speaking part of Switzerland lies an educational gem that embodies a unique blend of academic excellence, cultural richness and a profound sense of community. Founded over 30 years ago, Haut-Lac International Bilingual Day and Boarding School is now home to both 600 day students and a maximum of 30 boarders from around the world.
What To Wear at Your Job Interview
Navigating job interviews can be stressful, but knowing what to wear shouldn't be. Our comprehensive guide covers the essential dress code tips for men and women interviewing at boarding schools. Make your first impression count with style and professionalism.
Navigating the Modern Maze: Emerging Challenges for Boarding Schools
Explore the pressing challenges facing boarding schools, from marketing difficulties and rising insurance costs to facility maintenance and recruitment of competent trustees and teachers. This article delves into these complex issues and proposes innovative strategies to overcome them.