Reflections and Advice:
1.) What do you think makes your school unique relative to other boarding schools?
In my experience Merrick Preparatory School (MPS) had exceptional teachers as they devote their time solely focusing on student's success in their classes whether be it a certain concept in a class or basically have issues completing their homework/assignments. They're almost available at any time and they might offer tutoring if needed. The school also offer so much volunteering opportunities and they're looking out for any volunteering options from the community for the students to do their part. I completed 40+ hours of volunteering in only two years and their were a lot more that I personally didn't participate in.
2.) What was the best thing that happened to you in boarding school?
I have grown in every way possible academically, I got much smarter and much hardworking and productive than I used to be. I became much less judgmental and accepting to all people from all backgrounds. I grew more healthy due to the healthy food offer and nearly everyday exercising or doing some kind of sports. I also grew in independence where I was once dependent on my family I understood and had a taste of independence during my time at MPS.
3.) What might you have done differently during your boarding school experience?
I'm a very introverted person that lacks confidence a little bit and somewhat pessimistic. I would recommend to everyone to speak up more and mingle with their colleagues and build relationships with people especially those who come from different backgrounds these are once in a lifetime experiences. I highly recommend staying in touch with your friends and colleagues as well as the school even after graduation.
4.) What did you like most about your school?
In all honesty being to small and the help is available almost at all times.
5.) Do you have any final words of wisdom for visiting or incoming students to your school?
Nothing of a great value that I haven't said, mingle, try talking to people and step out of your comfort zone and of course work hard. You have to be the first to know what's in the snacks menu today because the cookies are so good.
Academics:
1.) Describe the academics at your school - what did you like most about it?
I honestly like the classes in general and how the teachers present the content in the best way possible their are a lot of classes that I particularly didn't have much interest in but ended up loving for how they were presented. I like how most of the work is based off of real life examples and applications namely the labs in all Science classes are very interesting, fun and helpful when it comes to understanding certain concepts. Case studies in leadership management class are very insightful and help us learn more about theories of management and what's the advantages and disadvantages of all kinds of management styles. The workload in most of the classes are simply fair although there were times where I was very stressed and felt like I was given a lot more work than I should have, but now I realize that it's only fair to prepare students for University.
Athletics:
1.) Describe the athletics at your school - what did you like most about it?
I like the diversity of sports available such as soccer, basketball, softball, hockey, slack line and ping pong. As someone who isn't very good at sports I loved how a lot of people just like I am, are participating in these activities and enjoying it despite the struggle to be good. The focus in these activities is for everyone to have fun and get better regardless of their skill. None of the sport activities were mandatory I think. Which in my opinion is good so that students that are playing are not doing it by force.
Art, Music, and Theatre:
1.) Describe the arts program at your school - what did you like most about it?
If I am remembering correctly the only class that require some artistic vision is media studies class where students had to make movie trailers, music videos, and posters. There wasn't any art based classes offered other than media studies , but their were a few extra curricular activities that require some artistic skill such as the yearbook club and arts and crafts club where students design the Christmas parade car.
Extracurricular Opportunities:
1.) Describe the extracurriculars offered at your school - what did you like most about it?
Volunteering opportunities are plentiful and diverse. In my experience I cleaned up after the Merrickville Jazz festival and cleaned up the streets of Merrickville. I went to a ranch and did a 3 hours worth of ranching which I personally loved. I guarded the doors to an event in Brockville. I sold lottery tickets for Syrian refugees. There a lot of volunteering opportunities offered by the school and I can't recall most of them. Extracurricular opportunities are very diverse from volunteering opportunities such as planning leadership day and some are sport based such as soccer and basketball. There are extracurriculars that are unique such as baking with the kitchen staff and slack line. There is also book club which if I went back in time I will definitely take.
Dorm Life:
1.) Describe the dorm life in your school - what did you like most about it?
First of all I love how big and comfortable the room was. I'm a fan of having two people from different cultures and background to share a room. The room set up is up to the students to shape however they like but it's more than what I personally had in mind. There is a strict no food in room policy which is for the greater good, but not for everyone. There are quite some frustrations in my experience regarding wifi policy and strict schedule. The wifi can only be accessed during the day for only academic websites which means no communication with my family or doing something else just to pass time when I am done with my work. I also hate the fact that the wifi closes after lights out sometimes I would be working on something or trying to finish an assignment but I couldn't because there is no internet. I had to find sneaky and rule breaking ways to get access to internet after lights out.
Dining:
1.) Describe the dining arrangements at your school.
The school offer food according to schedule which is at certain times like lunch and dinner and breakfast, and a little snack in between. The school takes good care for students with specific dietary regimes. The food offered is as diverse as it needs to be and seats are assigned so people could mingle and be involved with all cultures break all boundaries between specific groups.
Social and Town Life:
1.) Describe the school's town and surrounding area.
I loved Merrickville for how beautiful and calm and has little to no distractions which in my opinion is very good for a school to be in. I also like how small the town is so it would be easier to meet people and familiarize myself with the community and make friends if possible. The people of Merrickville are very friendly and welcoming of new faces and are eager to learn about cultures from all over the world.
2.) Describe the social life at your school - what did you like most about it?
I liked how small the school was it was around 50 students in total which is honestly a big reason to my success. We all knew each others name and we all say hi to each other as opposed to a big school where that's not possible. Everyone their was at least a distant friend.
There are so many aspects of Merrick Prep School (MPS) that makes it unique, but if I was to mention two aspects, they will be the following: Aspect 1: Small class sizes By having small class. . .
Our school is located in a small city and is a small school but the school still organizes trips and outings for us. They have transportation and prepare anything we need. We have a say. . .
Merrick is a home to students from all over the world. This makes it unique because students with different cultures and backgrounds work together during the academic year and learn new things whilst working. . .
Show more reviews (

6 reviews

)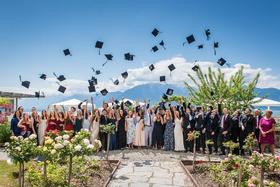 Nurturing Futures: A Journey through Boarding at Haut-Lac School in Switzerland
Nestled in the hills overlooking Lake Geneva in the French-speaking part of Switzerland lies an educational gem that embodies a unique blend of academic excellence, cultural richness and a profound sense of community. Founded over 30 years ago, Haut-Lac International Bilingual Day and Boarding School is now home to both 600 day students and a maximum of 30 boarders from around the world.
What To Wear at Your Job Interview
Navigating job interviews can be stressful, but knowing what to wear shouldn't be. Our comprehensive guide covers the essential dress code tips for men and women interviewing at boarding schools. Make your first impression count with style and professionalism.
Navigating the Modern Maze: Emerging Challenges for Boarding Schools
Explore the pressing challenges facing boarding schools, from marketing difficulties and rising insurance costs to facility maintenance and recruitment of competent trustees and teachers. This article delves into these complex issues and proposes innovative strategies to overcome them.