Reflections and Advice:
1.) What do you think makes your school unique relative to other boarding schools?
One aspect that makes Delphian unique is that you actually gain the ability to apply the subjects you learn. Many times kids learn about math or science and how to apply it for that unit, and then are never able to remember how to apply it later on. Here you can learn from a course or class and go on to apply it later and continue to build up your knowledge. Another thing that sets Delphian apart is that there are no cliques and it is very easy to make friends and join different groups.
2.) What was the best thing that happened to you in boarding school?
The best thing to happen was trying to become friends with everybody, and not having any preconceived notions about it. Because of this I was able to really branch out and become a part of different groups without hesitation. I am also thankful I took on more responsibilities. This helped me see I was capable of a lot and could get things done when I wanted to get them done. When I first got to Delphian, I was barely involved in many groups and didn't want to stand out, but now at the end of my time here I am not afraid to go after what I want. And I'm not afraid to make some noise.
3.) What might you have done differently during your boarding school experience?
I would have brought less stuff with me from my room at home. It seemed like a good idea to bring my favorite books or keepsakes or what have yous, but I found they just took up space and didn't serve a purpose for me at least. For first time boarding students it's not a bad idea to bring some things from home, but just not too many because the storage space isn't endless.
4.) What did you like most about your school?
I loved the different people that go here and the staff members. Everybody is so nice and wants the best for you that it's hard not to fall in love with the school.
5.) Do you have any final words of wisdom for visiting or incoming students to your school?
Hmmm, I would say to not be afraid of trying new things. I had never been in choir before and kind of thought it was for nerds, but then I joined and loved it so much I did it all 4 years of high school. There are plenty of new experiences to to try, so just go for it.
Academics:
1.) Describe the academics at your school - what did you like most about it?
Everybody gets to learn at their own pace. If one student is really good at science and another not so much they could both learn the same materials, or more, without hindering each other. This was an aspect I really liked and took advantage of to truly understand certain subjects. Everybody also gets to study in one big classroom. There are different classes but there are no walls separating each of them. I thought this was also really cool aspect to studying.
Athletics:
1.) Describe the athletics at your school - what did you like most about it?
I really liked the bonds I built with my teammates. We learned to work together in tough conditions that helped us do well in games and tournaments. The coaches are also very dedicated to the team want to help improve you as well.
Art, Music, and Theatre:
1.) Describe the arts program at your school - what did you like most about it?
We have a really strong arts program. Our choir has gone to states many times and just this year placed third overall. There are many different outlets for art in art classes, music classes, and choir. All the instructors are very interested and willing in helping the students achieve their goals without pushing another goal onto them. I like the beautiful pieces that can be created.
Extracurricular Opportunities:
1.) Describe the extracurriculars offered at your school - what did you like most about it?
Extracurriculars are a big part of Delphian, and they are a nice balance all the academics done during the day. They give you an outlet to achieve different goals and see what you're capable of. I got a lot better about working out and doing it correctly so that I could work toward my own fitness goal.
Dorm Life:
1.) Describe the dorm life in your school - what did you like most about it?
Dorm life is very close here. You get to interact and become close with all your dorm members and are able to make close bonds that will carry with you in that year and beyond. I really liked becoming close with others in my dorm and being able maintain that relationship throughout the next years.If there are any problems it's not a problem to switch roommates or live in a different room, and campus life does a good job trying to pair people that would be good together.
Dining:
1.) Describe the dining arrangements at your school.
The dining is usually pretty good. There can be times when the main meal is not the greatest, but there are always salad and sandwich options available. The dining room also provides well for different dietary restrictions.
Social and Town Life:
1.) Describe the school's town and surrounding area.
The town around Delphian is interesting. You get a good balance of life at the school and people in the town whenever there are community service trips.
2.) Describe the social life at your school - what did you like most about it?
I liked that there was never really any groups that excluded you. You're always welcome to sit with whoever and people are pretty good about including others in conversation. This was what helped me come out of my shell because as I got to know people and get a feel for the school it was easier to talk to people, mainly because they were willing to talk to me.
What made my school different from other boarding schools was that I was able to move through my program at my own pace. I didn't have to worry about catching up with my class because. . .
The fact that we study for real world application rather than just trying to spit things back out on an exam. This makes the education 10 times more valuable than any other school I have. . .
Here at the Delphian School, all the exams are done one-on-one, where the examiner will ensure that all the student's questions regarding the subject they just studied are solved and answered to satisfaction.The Delphian. . .
Show more reviews (

21 reviews

)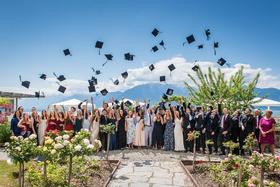 Nurturing Futures: A Journey through Boarding at Haut-Lac School in Switzerland
Nestled in the hills overlooking Lake Geneva in the French-speaking part of Switzerland lies an educational gem that embodies a unique blend of academic excellence, cultural richness and a profound sense of community. Founded over 30 years ago, Haut-Lac International Bilingual Day and Boarding School is now home to both 600 day students and a maximum of 30 boarders from around the world.
What To Wear at Your Job Interview
Navigating job interviews can be stressful, but knowing what to wear shouldn't be. Our comprehensive guide covers the essential dress code tips for men and women interviewing at boarding schools. Make your first impression count with style and professionalism.
Navigating the Modern Maze: Emerging Challenges for Boarding Schools
Explore the pressing challenges facing boarding schools, from marketing difficulties and rising insurance costs to facility maintenance and recruitment of competent trustees and teachers. This article delves into these complex issues and proposes innovative strategies to overcome them.