Reflections and Advice:
1.) What do you think makes your school unique relative to other boarding schools?
The most important I feel safe at the boarding school and campus very tight security 24/7. The academics are top of the line and all of my teachers have been excellent and always willing to help if necessary. The Baseball program and coaches are great from workouts to the knowledge shared to us has helped me become a much better athlete then I was when I first began. The fitness is outstanding I came to IMG at 126lbs I am now going into my 3rd year at 191lbs of pure muscle. The mental sports program has helped me so much I am and will be forever grateful to IMG.
2.) What was the best thing that happened to you in boarding school?
I learned from prior alumni that graduated and were drafted who I became very close with they were amazing mentors for me I also met some terrific athletes not only in baseball we are like family The coaches and teachers have made me better physically mentally and have taught me so much I still have more to learn I appreciate them all I Love my School I am so happy To be here
3.) What might you have done differently during your boarding school experience?
The only thing I would have done different my first couple of months when I started was to be more organized.
4.) What did you like most about your school?
I like everything about IMG especially how safe it is. Most of all I love the baseball program, coaches staff the workouts offense and defense health, mental class and the gym and my teachers and everything
5.) Do you have any final words of wisdom for visiting or incoming students to your school?
I love the south dorm and I really like all the Gatorade we get to have it's really good and ice cold oh and I love when we get our custom glove gear bats sunglasses I can't wait for school to start to put on the new gear
Academics:
1.) Describe the academics at your school - what did you like most about it?
I liked all my classes the teachers are very educated and always take extra time with me if I do not understand something.
Athletics:
1.) Describe the athletics at your school - what did you like most about it?
The pitching The Offense and Defense speed and lift I love it all the coaches are excellent and have definitely made me a better player mentally and physically I am so grateful.
Art, Music, and Theatre:
1.) Describe the arts program at your school - what did you like most about it?
I took the arts program it was so much fun and I learned so much the teacher made the class very interesting.
Extracurricular Opportunities:
1.) Describe the extracurriculars offered at your school - what did you like most about it?
Baseball
Dorm Life:
1.) Describe the dorm life in your school - what did you like most about it?
It is safe clean and the kids are well behaved there is a lot of staff onsite and safety staff
Dining:
1.) Describe the dining arrangements at your school.
The dining is great all the times that breakfast lunch and dinner is served accommodates everyone
Social and Town Life:
1.) Describe the school's town and surrounding area.
The surrounding shops restaurants supermarkets barbers dentist eye doctor and beaches
2.) Describe the social life at your school - what did you like most about it?
I am a sociable person everyone is nice and we watch baseball and football games around the pool which has a huge tv it's great
IMG is exceptionally well organized, efficiently run and super clean. The facilities are absolutely top notch and the one your post great experience that my son had was excellent. Nice dorm rooms, good food options. . .
The campus at IMG is set up in a way that allows students to excel in the classroom in addition to outside of the classroom specific to their chosen sport. . .
The athletic program is very unique to IMG. The focus on college and applications is also unique. . .
Show more reviews (

3 reviews

)
Mastering the Boarding School Selection Process: A 5-Step Guide
Discover the ultimate 5-step guide to choosing the perfect boarding school for your child. Explore essential factors, such as academics, campus facilities, extracurricular activities, and more. Make an informed decision to provide your child with an enriching and transformative educational experience. Read now!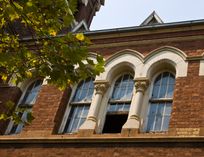 5 Founders and Their Boarding Schools
What prompts somebody to start a boarding school? The motives range from idealism to munificence right on through to capitalism. The common thread seems to be ample capital and a vision of what education can do.