Reflections and Advice:
1.) What do you think makes your school unique relative to other boarding schools?
Northfield Mount Hermon changed my life. I don't think that too many other boarding schools can claim that. I really grew up there--it was my home away from home. The atmosphere was fun, supportive, and liberal. I felt like I really GREW UP there. Generally, we called teachers by their first names, and when I needed help with an assignment, feedback on my progress, or even just to chat about a topic we had discussed in class, one could meet them over coffee, for lunch, or even for a home-cooked dinner at their house or apartment. It seems like the entire school community is rooting for you; everyone--even your fellow students--take an active interest in your success.
2.) What was the best thing that happened to you in boarding school?
I can't think of the "best thing that happened to me at boarding school," but I can say that I came out of it with a lot of great friends, a lot of fun times, and (dare I say it) as an exceptionally well adjusted human being. I learned a lot, not just in classes, but about life: how to respect other people, do good things, and think analytically about events and interactions. As the motto says "the Head, the Heart, and the Hand"
3.) What might you have done differently during your boarding school experience?
Throw away any assumptions you have about who you are, and start focusing on who you want to be. Anything that happened in your entire life up to this point can be tossed aside, and you can start again.
4.) What did you like most about your school?
Everything. I love you NMH!
5.) Do you have any final words of wisdom for visiting or incoming students to your school?
Go hang out on the farm. Get a workjob there. Play with the horses! You're almost always guaranteed to come away with some delicious apples, fresh cider, maple syrup or raspberries!If you drink cider in the dining halls towards the end of the season (November/December) sometimes the kegs have fermented.Skinnydipping in the Connecticut river was always a favorite activity, but you can jump into shadow lake too. It's not that gross.Go to the Northfield Campus and explore. I know it will be closed by the time you get to NMH, but go over there anyway. Sit on roundtop and chill with DL Moody, check out the nice meadows and babbling streams. Roll down Chapel hill. Play frisbee on Siberia. Peek in the window's of the birthplace or that little hut in the middle of the lawn near the admissions office. It's a fun place to be.
Academics:
1.) Describe the academics at your school - what did you like most about it?
Academics can be described as no less than intensely intellectual. Some teachers have more of a conservative bent, but generally academics lean to the left. Be prepared to have Howard Zinn's "People's History of the United States" as your primary US History textbook, and read tons of amazing minority authors in English--not just the dead white guys. I don't know how it will be when the campuses are consolidated in fall of 2005, but there was a broad range of classes to choose from. Elective courses were fascinating and eclectic, with topics such as "Dante's Inferno" and "Topics in Moral Philosophy and Ethics." The environment was supportive rather than competitive, and teachers are usually willing to allow you to rewrite and revise your assignments. I don't remember being overwhelmed by the workload, but I do remember always having something to do.
Athletics:
1.) Describe the athletics at your school - what did you like most about it?
There are tons of sports to choose from at NMH including the varsity Ultimate Frisbee team, which is among the best in the nation. The teams are generally more fun than competitive, though there are some exceptions (the crew team always seems to do very well for themselves, and so does swimming). In my entire 4 years at NMH the girls Waterpolo team won 2 games, but we had a reputation for being a fun and friendly team to play. There is however, always room for a competitive spirit and the coaches are great, so really a team is what you make of it. If you want to be a seriosly competitive athlete, there are opportunities.
Art, Music, and Theatre:
1.) Describe the arts program at your school - what did you like most about it?
I wasn't really an art or theater person, but the music program is amazing, and the choir director Shelia Heffornon, can make beautiful sounds come out of the most random bunches of kids. It's tons of fun to sing with the Choir or a select group (Select Women's Ensemble or the NMH Singers), but Shelia doesn't settle for mediocrity. Be prepared for choir rehersals that last all day when preparing for Sacred Concert, one of the biggest musical events of the year. Christmas Vespers was always my favorite concert--the event is steeped in tradition and held in both of the campuses beautiful chapels. There's a big interest and committment to arts at NMH.
Extracurricular Opportunities:
1.) Describe the extracurriculars offered at your school - what did you like most about it?
There are lots of different clubs and student orgs, and if there's not one that you like, there are plenty of opportunities to start them. Volunteer opportuinities are plentiful, such as Big Brother, Big Sister, but the school also has mandatory volunteer work called "work job," which requires you to work 4 hours a week in the school community-- washing dishes in the dining hall is a common job-- but as you progress through your 4 years your options get better. Picking apples on the farm was always my favorite job.
Dorm Life:
1.) Describe the dorm life in your school - what did you like most about it?
I was a day student, so if you're a day student and worried about day student/boarder relations... well... don't! You're assigned a dorm with a room (or two) that day students can call their own. It's where you sleep if you need to spend the night, stash your stuff between classes, or keep a change of clothes in case yours get wet and muddy while you're outside playing in the rain. Generally people stay in the same house all four years, but it is possible to change houses at the end of each semester. Usually each dorm head has a little box (called the "dorm store") that you can raid until dorm closing, and if you live in a dorm with a dining hall, usually the staff leaves the desert out all night :-D
Dining:
1.) Describe the dining arrangements at your school.
Food=delicious. You don't get food this good in college. Great desserts. Good vegetarian options. No sit down dinners (wOOt!). There used to be lots of small dining halls to choose from, but now that they're closing one of the campuses, I guess there will only be one...
Social and Town Life:
1.) Describe the school's town and surrounding area.
Northfield is pretty isolated. On the weekends you can take day trips into Brattleboro, VT or Northampton, MA, but other than that... there's nothing but a few little cafes and Mim's market.
2.) Describe the social life at your school - what did you like most about it?
It's big. But not so big that you don't know most people at least by reputation if not in person. What I liked most about NMH was that it wasn't especially clique oriented. You can walk into a dining hall and feel pretty comfortable at just about any table (a phenomenon NMH people call "table hopping"). People are also aren't very judgemental. It's a great place to reinvent yourself, to figure out who you are and what you stand for.
Daily Schedule:
Weekday
10:45 AM
Break, eat lunch, go to work job, etc, etc, etc.
Weekend
11:30 AM
Be at the Gym to suit up
3:00 PM
Out of the Gym-- the rest of the day Party! Maybe go to a dance, hang out with friends, or take the bus to Northampton
One of the unique aspects of attending NMH is the Work Job Program. It is a true equalizer and ensures that every member of the community contributes to and appreciates the work involved in operating. . .
NMH allows students to dive into the community and passions. The college like scheduled of four classes allowed me to seamlessly transition into college academics. Also NMH has a four hour per week work program. . .
Northfield Mount Hermon School helped me become the man I am today.The best thing about NMH was its sense of community. I like to think that I knew almost everyone there, while everyone knew me. . .
Show more reviews (

12 reviews

)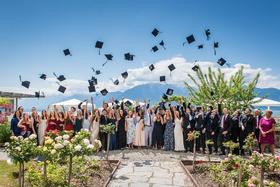 Nurturing Futures: A Journey through Boarding at Haut-Lac School in Switzerland
Nestled in the hills overlooking Lake Geneva in the French-speaking part of Switzerland lies an educational gem that embodies a unique blend of academic excellence, cultural richness and a profound sense of community. Founded over 30 years ago, Haut-Lac International Bilingual Day and Boarding School is now home to both 600 day students and a maximum of 30 boarders from around the world.
What To Wear at Your Job Interview
Navigating job interviews can be stressful, but knowing what to wear shouldn't be. Our comprehensive guide covers the essential dress code tips for men and women interviewing at boarding schools. Make your first impression count with style and professionalism.
Navigating the Modern Maze: Emerging Challenges for Boarding Schools
Explore the pressing challenges facing boarding schools, from marketing difficulties and rising insurance costs to facility maintenance and recruitment of competent trustees and teachers. This article delves into these complex issues and proposes innovative strategies to overcome them.