Reflections and Advice:
1.) What do you think makes your school unique relative to other boarding schools?
The fact that the student body population is small- 400 kids or so, and most of the students and teachers live on the property give it a real at-home feeling. Kids come from all over the US and world and manage to make Avon Old Farms their own community. Teachers are available for 2 hours after dinner for one on one or small group help sessions.
2.) What was the best thing that happened to you in boarding school?
It was a great experience. For one thing, I noticed in college I was well ahead of peers my freshman year just because I knew what to do and how to act away from home. They taught me how to study and utilize my time wisely. We had our own hockey rink at our school which was a nice bonus coming from California. I became captain of 2 sports, won a community service award for habitat with humanity, made many friends along the way who you only knew a short while, but since it was every day - classroom, lunch room, sports field, you really bonded and felt a part of something special at Avon. I am now working on a Masters Degree and am teaching 1st grade in CA and owe much of it to AOF.
3.) What might you have done differently during your boarding school experience?
My first week I expected it to be like a hotel with pillows, soap, blankets, etc.; you need to provide all of this for yourself, and if you're from the west coast pack warm because the winters get cold. Meet a few friends early because its hard being away from home especially at 15-16 yrs old, but after a few weeks you wont want to leave. Join a club and take in all the help they're willing to give.
4.) What did you like most about your school?
I liked how they made you feel like you belong and important. I liked how everyone gets into a college or university that suits them, many even to ivy league and other prestigious schools, as long a they work hard. Effort goes a long way at Avon. They are strict but it will ultimately mold you into a man and prepare you for college and life .
5.) Do you have any final words of wisdom for visiting or incoming students to your school?
Don't walk in there with too big a chip on your shoulder when you are new. There are a lot of smart kids and great athletes and people from some well known families even. Do your best and have fun there.
Academics:
1.) Describe the academics at your school - what did you like most about it?
The academics were challenging. I remember they offer many AP and honors classes. My largest class was 12, my smallest was 4, and the average was about 8 or so. They really prepare you for the SAT exams as well as for the college entrance experience. They guide you through the process of choosing the best college or University for you. I liked that the teachers there lived on campus and helped out. You see them all the time, and some are even your coach. The classes are challenging, but they help each child along the way due to the small class sizes.
Athletics:
1.) Describe the athletics at your school - what did you like most about it?
The athletics program is one of the top in the nation. Especially for sports such as ice hockey and lacrosse, they are usually right up there in the New England finals. Many athletes go on to play for top notch Division 1 schools, and some even get to the professional level (Brian Leetch- NY Rangers/ Toronto Maple Leafs) is the most famous that comes to mind. There are different levels so that anyone who wants to play a certain sport can, against other schools with teams in their skill level. There usually is practice M, T, TH, FR, with games on Wed. and Sat., and an off day Sunday.
Art, Music, and Theatre:
1.) Describe the arts program at your school - what did you like most about it?
I was not too involved, but I do remember it was an alternative for those who did not want to play sports. Often times, these groups would pair up with other local all-girls schools to put on performances at our schools or in the community.
Extracurricular Opportunities:
1.) Describe the extracurriculars offered at your school - what did you like most about it?
Every weekend there was a lot planned through Social Affairs. Dances with all-girl schools, trips to the mall, tickets to sporting events, movies or amusement parks. They had a radio club, Nimrod Club which was like an outdoors club who had their own cabin in the woods, school government, religious clubs as people came from all over the world. Some groups were small and some were large, but the faculty member in charge was very dedicated.
Dorm Life:
1.) Describe the dorm life in your school - what did you like most about it?
There were 4 main dorms in the quad and a few more throughout the school. One was only for freshman and one was only for seniors. The school is old and the dorms are old. Each has a bed, desk and closet. They are not too big. The doubles were there if a roommate was wanted. Some rooms were larger but saved for the dorm monitors. Your grade would determine how you choose your room for next year. Freshman would get stuck with a longer walk to the classes - cafeteria etc as their dorms was a little further down. After study hall, the snack bar house would be open for about 45 minutes till about 10.
Dining:
1.) Describe the dining arrangements at your school.
Coat and tie had to be worn at meals. Everyone would stand in the refectory until the headmaster ran the bell, then a prayer was aid, and you can sit. Waiters- usually freshman or sophomores, would bring in carts of food and then dessert. Usually there was 2 choices for lunch and 2 for dinner. Sometime the food was great sometimes just ok. Breakfast was less crowded, so you basically tell the chef what you want and he makes it. You could always order pizza or Chinese food. Two teachers would sit at the head of the tables and about 6 or 8 students on each side of the long wooden tables.
Social and Town Life:
1.) Describe the school's town and surrounding area.
If you lived on the dorms you would really only leave for road trips during the week, or else on weekends. The town is small and you really don't have time to go around town during the week. On the weekends there is local restaurant hangouts, movie theaters and malls. Usually you would have to rely on the school buses to drop you off and pick you up; you could not - at that time - drive with fellow non-boarding students.
2.) Describe the social life at your school - what did you like most about it?
I remember in 2 years there were no fights. People from almost every state an many countries all co-existed in one community. Faculty and their families made you feel welcome in their homes almost any time day or night. Being an all boys school, there was a brotherly bond that united us all and made us concentrate more on school and sports with less distractions. Because many kids were far from home, they made you feel at home.
Daily Schedule:
Weekday
7:00 AM
Optional Breakfast
3:00 PM
Athletic/ Extracurricular Practice
Weekend
8:00 AM
Saturday Classes if necessary.
1:00 PM
Travel- Get ready for athletic game
6:00 PM
Dances/ Movies/ ETC
Morning meeting every morning at 7:45 am really brought the community together and started each day off right. Also mandatory lunches, they gave you assigned seating which give you the opportunity to meet new people. . .
The all-boys atmosphere provides a working atmosphere similar to a giant team of students banding together to tackle their education. It establishes trust amongst the student body and allows the same kind of trust to. . .
The physical campus is probably the most unique thing about it. There is nowhere that looks or feels like Avon and it instills the community with a sense of togetherness in ways that are often. . .
Show more reviews (

3 reviews

)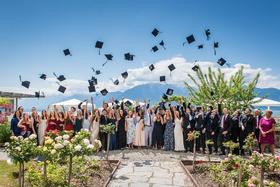 Nurturing Futures: A Journey through Boarding at Haut-Lac School in Switzerland
Nestled in the hills overlooking Lake Geneva in the French-speaking part of Switzerland lies an educational gem that embodies a unique blend of academic excellence, cultural richness and a profound sense of community. Founded over 30 years ago, Haut-Lac International Bilingual Day and Boarding School is now home to both 600 day students and a maximum of 30 boarders from around the world.
What To Wear at Your Job Interview
Navigating job interviews can be stressful, but knowing what to wear shouldn't be. Our comprehensive guide covers the essential dress code tips for men and women interviewing at boarding schools. Make your first impression count with style and professionalism.
Navigating the Modern Maze: Emerging Challenges for Boarding Schools
Explore the pressing challenges facing boarding schools, from marketing difficulties and rising insurance costs to facility maintenance and recruitment of competent trustees and teachers. This article delves into these complex issues and proposes innovative strategies to overcome them.