Reflections and Advice:
1.) What do you think makes your school unique relative to other boarding schools?
I feel the most unique asset that Oldfields offered that I loved dearly was the way that education was presented in the classroom. The teachers were available during and after school hours and invited you into their living spaces, even those that lived off campus. I enjoyed the friendships I made and still have today. The atmosphere is one that is safe, serene and even with the change of time still has buildings that remain a link to the rich history of the school. The graduation ceremony includes all the young ladies of the school and not just the graduating class. It has to still be one of the most beautiful graduation ceremonies - at least on the east coast!
2.) What was the best thing that happened to you in boarding school?
The experience I had Oldfields were some of my greatest times I had not only in the classroom but out of the classroom as well. The friendships I made then are stronger now. I hate to admit it but I loved my boarding school experience more than I did my college experience because of the atmosphere of the school, the beauty I was surrounded by and the teachers! My favorite memories are of May Program (something I hope they never due away with!) May Program occur in May for the entire month. The seniors move into a dorm together, there are overseas trips offered and two week courses offered on campus. It is a time that allows the student to experience something she might not have the chance to do at any point during the regular school year or in life. For example I went to England, Ireland and Wales sophomore year, Spain my junior year, and did a two week course of Washington, DC area and visited places even though I grew up near by I hadn't ever been to and then the second half of May program senior year I went with Mr. Creamer to Yosemite National Park to do photography. I think that was the best trip I could I have ever done! It was the best way to end my three years at Oldfields!
3.) What might you have done differently during your boarding school experience?
I hate to say, but my three years were wonderful. I would have done it all over again if I had the chance too! Every one of my friends from Oldfields says the same thing!
4.) What did you like most about your school?
The campus and the teachers! The friendships one has to do but the campus is so warm and inviting.
5.) Do you have any final words of wisdom for visiting or incoming students to your school?
If you are a young lady looking for a unique school experience - Oldfields should be on your list and your first choice!
Academics:
1.) Describe the academics at your school - what did you like most about it?
I loved the small classroom size and being able to have the chance to work with a teacher before, after or on weekends if I was having trouble. I enjoyed being able to have some freedom in choosing classes to fulfill requirements like Child Development and Psychology. I do think, even though it was the toughest class I took, the challenge of getting into the class and then taking it was a really great reward - AP American History with Mr. Deeks. He is still a teacher I try to keep in touch with even after I have long since been away and graduated from college. I liked also having a track system where if I was excelling in one subject I could be in a more advanced class and if I was struggling in another subject I could be in class more suited to me.
Athletics:
1.) Describe the athletics at your school - what did you like most about it?
I liked to be able to ride horses but not having to compete. I enjoyed being able to continue with my dance (jazz, ballet and tap) as a sport. My one season of third squad soccer was to test out the sport and I had a blast even if it was in the winter! I also managed to play one season, senior year, on the JV badminton team which was a great because I was just learning the sport! I know taking athletics was a requirement (every season when I attend OS but you could choose the sport).
Art, Music, and Theatre:
1.) Describe the arts program at your school - what did you like most about it?
I loved more than I think of any classes in the arts - photography class with Mr. Creamer! He opened my eyes into an artistic side of me I didn't know was hidden there. I had never really thought about photography but I took one class my last semester of high school (an art class was a requirement to graduate) and I was hooked! I also enjoyed three years of Singers and performing every year at the winter holidays!
Extracurricular Opportunities:
1.) Describe the extracurriculars offered at your school - what did you like most about it?
There are numerous options and I am sure more today then when I attended between Fall 1994 and Spring 1997. I really liked being able to have a job, two in fact - library and computer proctor. The Global Awareness Club allowed me to learn about other cultures, foods and customs that were more extensive and on a theme. Volunteer Club was great because I got to go help out in a Maryland Food Bank and road side cleanups! One of my favorite activities senior year was being chosen to be an art editor for the Tidbit literary magazine instead of just having my work published like the years before.
Dorm Life:
1.) Describe the dorm life in your school - what did you like most about it?
Dorm life was so awesome! Like others, I did have some roommate problems but I loved trying to get into a dorm with all my friends. I also like the having the option to have a single my senior year which allowed for some privacy. The dorm parents were always so nice and cheerful! Mr. and Mrs. Deeks held X-Files night in their house so the unofficial X-Files club could watch the show! The winter holiday party was for each dorm was held in the home of one of the dorm parents. Dorm life became like a family and a support group when you had a bad day. At the end of the year you could select your roommate for the following year and your dorm room. The dorms are locked at night - you can get out but not in due to an emergency - so you are safe.
Dining:
1.) Describe the dining arrangements at your school.
The dining hall has changed to a buffet with a salad bar with more variety where as when I attended they made the meals, you went through a line and told them what you wanted like in a cafeteria. The food was home style. The dining hall had arranged seating that rotated weekly for dinners and on Friday night through Sunday night you could sit wherever and you didn't have to eat in the dinning hall but you did have to check in with the teacher on duty. Dinners Monday night through Thursday night you had to be there. Breakfast and lunch you did not. Sunday Brunch was always my favorite meal!
Social and Town Life:
1.) Describe the school's town and surrounding area.
There isn't a town surrounding the school. You are in the country side, though the area is building up some. There is a nature trail that is located where an old railway line uses to be. The trail you can walk to and was wonderful to have when the weather was nice. You are 45 minutes or so from Baltimore and 1 1/2 hours for Washington DC Metro area.
2.) Describe the social life at your school - what did you like most about it?
I am not sure how it is now, but socially there was a lot of opportunity to go and do things with friends. Concerts, theater productions, musicals, NYC and Broadway shows like Rent when it first opened and a mall trip every Saturday morning after breakfast. There were trips to see movies. I liked having these activates because it allowed for a social scene off campus. I also enjoyed the mixers with other day and boarding schools - it allowed for a chance to see friends from other schools and to make new friends.
Daily Schedule:
Weekday
10:30 AM
Morning Meeting (Required for the entire school)
Weekend
9:30 AM
Breakfast and check in with teacher on duty
1:00 PM
Hang out in the TV room
3:30 PM
Clean up and get ready for the night activity
4:00 PM
Catch up with friends
5:00 PM
Grab dinner and check in with teacher on duty
5:30 PM
Go to the movies, theater show, or mixer
I would say that the two most prominent thing that make Oldfields unique is May Program. May Program is a learning opportunity for all students whether that be at Oldfields, in the United States, or. . .
One aspect that O.S has that no other school is how our school is split into Green or White Teams. These team all year have a friendly competition that not only helps you make friends. . .
I don't know what other boarding schools are like, but the teachers and coaches at Oldfields cared about me learning, growing, and being happy in a way I never could have imagined. I was surrounded. . .
Show more reviews (

9 reviews

)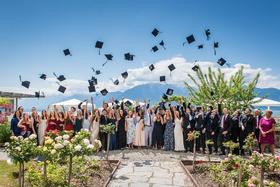 Nurturing Futures: A Journey through Boarding at Haut-Lac School in Switzerland
Nestled in the hills overlooking Lake Geneva in the French-speaking part of Switzerland lies an educational gem that embodies a unique blend of academic excellence, cultural richness and a profound sense of community. Founded over 30 years ago, Haut-Lac International Bilingual Day and Boarding School is now home to both 600 day students and a maximum of 30 boarders from around the world.
Navigating the Modern Maze: Emerging Challenges for Boarding Schools
Explore the pressing challenges facing boarding schools, from marketing difficulties and rising insurance costs to facility maintenance and recruitment of competent trustees and teachers. This article delves into these complex issues and proposes innovative strategies to overcome them.
What To Wear at Your Job Interview
Navigating job interviews can be stressful, but knowing what to wear shouldn't be. Our comprehensive guide covers the essential dress code tips for men and women interviewing at boarding schools. Make your first impression count with style and professionalism.