Reflections and Advice:
1.) What do you think makes your school unique relative to other boarding schools?
One thing that definitely sets Culver apart from other boarding schools is its 1800-acre, lake-front campus, complete with ice arena and riding stables. If there was ever an activity that you even THOUGHT about doing, there is an opportunity to try it at Culver. The campus happens to be set in a rather rural area, but there are plenty of opportunities to venture out on shopping trips to South Bend, Indianapolis and Chicago. And if there is an event nearby that you would like to attend and feel that others could benefit from, you can probably get a bus and a chaperone quite easily. As a student, you are on an Honor System, where students are self-governed and decide the fate of their own colleagues.
2.) What was the best thing that happened to you in boarding school?
Going to Culver allowed me to experience things that no one from my home town ever did. I was able to participate in the 1997 Presidential Inaugural Parade (Clinton's 2nd), meet people from all over the world and, most importantly, I lived among people who were always striving to be the best: something that is not too common among public school students. I was constantly being motivated (in a non-competitive way) to do more, see more and be more. I got a small taste of what was out there for me and it sparked a drive to achieve those things. Most of the people that I went to middle school with are still living in the same town and never left.
3.) What might you have done differently during your boarding school experience?
I probably would have participated in some of the community service that was available. It would have been nice to go on a trip for a few days to help someone build a new house.
4.) What did you like most about your school?
Culver has something for everyone and it is easy to get involved, whether you're a seasoned vet or just getting started.
5.) Do you have any final words of wisdom for visiting or incoming students to your school?
Take a walk along the lake, visit the horses at the stables and have a burger at the Shack. Girls should try to live in Benson or Lyndon, right on the lake.
Academics:
1.) Describe the academics at your school - what did you like most about it?
Culver has a wide array of classes to meet the needs of any student. Whether you are way ahead or way behind in a subject, if you need to learn it, they will teach it. Culver offers a huge selection of Advanced Placement courses that thoroughly prepare you for the exams, which are conveniently administered on campus. And for the parents, there is a counselor assigned to every dorm/organization who will let you know the moment your son or daughter's grades begin to slip. Believe me kids, this is a good thing. For those interested, there is also an opportunity to graduate with honors in almost any subject, including Math, a foreign language, Science or Art.
Athletics:
1.) Describe the athletics at your school - what did you like most about it?
If you're really into sports and want to be the best athlete possible, Culver is the place to be. The school has a huge endowment, so there is plenty of money for everything, including 2 state-of-the-art hockey rinks. Historically, the school has not been much of an athletic "power house," but most of the programs have become quite competitive in the last few years. There is not much going on in rural, northern Indiana, but they will certainly bus you wherever you need to go to find the competition. I went to the Women's International Interscholastic Polo Tournament at Cornell University in during my sophomore and junior years.
Art, Music, and Theatre:
1.) Describe the arts program at your school - what did you like most about it?
If theater is your thing, you're in luck. The auditorium has a sophisticated sound and lighting system that allows for the utmost in creativity. There is at least one student production each semester, and a major professional production is performed each year. Also, the Music & Arts department offers a wide range of classes to help you hone your skills on pottery, water colors, singing or playing the guitar.
Extracurricular Opportunities:
1.) Describe the extracurriculars offered at your school - what did you like most about it?
There are a billion organizations to join, whether you are interested in politics, religion, culture or community service (always a spring break trip with Habitat for Humanity building houses).
Dorm Life:
1.) Describe the dorm life in your school - what did you like most about it?
The girls I lived with became a part of my family. We were able to choose our own rooms and roommates (with priority given to seniors). You can also choose whether or not to bunk your beds.
Dining:
1.) Describe the dining arrangements at your school.
There was always a variety of things to eat, with the nutritional information available. My favorite was Taco Salad, with sour cream and salsa. Mmm.
Social and Town Life:
1.) Describe the school's town and surrounding area.
The town of Culver is quaint. You can easily navigate the streets to get what you need from CVS or go the movies or out to eat. You never had to worry about getting lost or being bothered by any seedy characters.
2.) Describe the social life at your school - what did you like most about it?
As high schools go, Culver is small. And since you actually live there, everyone knows everyone. Even if you never have a class or extracurricular activity with a certain person, you will know each other's names and circles of friends.
Daily Schedule:
Weekday
6:30 AM
The cannon blasts and the flag goes up. Time to get up!
7:00 AM
Breakfast (Mandatory - unless you're in the spring of your senior year)
3:00 PM
Practice for sports
7:30 PM
CCQ begins - mandatory study time (optional for seniors and juniors on honor roll)
9:45 PM
Closing - everyone must be in their dorms
Weekend
9:00 AM
1st religious service (Protestant and Catholic services alternate by semester)
10:00 AM
2nd religious service (One or the other is mandatory)
11:00 AM
Full Inspection of living quarters
There is a vast international student acceptance which allows you to learn other cultures. Is also a very good school because it teaches you the importance of manners and routines (this is because is a. . .
One unique aspect of Culver is the requirement of a senior service project for graduation. Personally, I made the most out of this opportunity and took a trip to Morocco to give aid to the. . .
Culver's leadership development programs make it unique among boarding schools. Students are required to enroll in leadership development classes and participate in the leadership system. For boys this takes the form of the military system. . .
Show more reviews (

18 reviews

)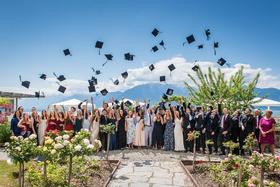 Nurturing Futures: A Journey through Boarding at Haut-Lac School in Switzerland
Nestled in the hills overlooking Lake Geneva in the French-speaking part of Switzerland lies an educational gem that embodies a unique blend of academic excellence, cultural richness and a profound sense of community. Founded over 30 years ago, Haut-Lac International Bilingual Day and Boarding School is now home to both 600 day students and a maximum of 30 boarders from around the world.
What To Wear at Your Job Interview
Navigating job interviews can be stressful, but knowing what to wear shouldn't be. Our comprehensive guide covers the essential dress code tips for men and women interviewing at boarding schools. Make your first impression count with style and professionalism.
Navigating the Modern Maze: Emerging Challenges for Boarding Schools
Explore the pressing challenges facing boarding schools, from marketing difficulties and rising insurance costs to facility maintenance and recruitment of competent trustees and teachers. This article delves into these complex issues and proposes innovative strategies to overcome them.