Reflections and Advice:
1.) What do you think makes your school unique relative to other boarding schools?
HPA is nestled in the verdant green hills of Waimea, on the Big Island of Hawaii. The atmosphere of the school personifies the Hawaiian word Ohana, which means Family. Most people leave high school and it becomes truly a thing of the past. People don't leave their hearts in San Francisco. They leave them at HPA. And they keep going back. There is a frisson at HPA, an excitement that makes learning, friendship and living a truly unique experience. The school's curriculum is on par with some of the most prestigious schools in the US. While these schools may boast history and excellence, they cannot offer the unique experience that HPA offers on top of excellence. Besides the top-notch teaching: Learn a new sub-culture of the US that will stick with you for the rest of your life. Learn a new way to respect each other. Learn how important teamwork is. Most of all, even if you are not excellent at everything, belonging to the HPA family makes you feel as if you are. HPA builds the whole person intellect, emotions, empathy and physical strength.
2.) What was the best thing that happened to you in boarding school?
My independence and self confidence blossomed at HPA. After that experience, I had no doubt I would be good at whatever I tried. I definitely did not have that prior to attending HPA, and I've ended up living an extremely fulfilling life thanks to the self awareness I built at HPA.
3.) What might you have done differently during your boarding school experience?
Nothing. I'd love to do it all over again. And I will, vicariously, when I send my two kids to high school at HPA.
4.) What did you like most about your school?
The people I met at HPA are the best thing about HPA. The experiences I had there, which couldn't have happened without the Ohana, are a close second.
5.) Do you have any final words of wisdom for visiting or incoming students to your school?
Hike to Anna's pond. Hike up to the rain forest and pick Maile (it's a wonderful smelling vine used in lei's, not a drug!) Stand on brand new, just born earth while it is still warm (volcano). Take astronomy the most powerful telescopes on the planet are sitting up in the snow on Mauna Kea and you get to check them out.Take marine biology and go diving.
Academics:
1.) Describe the academics at your school - what did you like most about it?
The academics at HPA are rigorous and first class. The AP classes challenge your brain. I have never worked harder at a school than at HPA.I learned more at HPA than I learned in college. More importantly, I retained it!What other school can offer Marine Biology - and truly deliver it?!
Athletics:
1.) Describe the athletics at your school - what did you like most about it?
The athletics program is well-rounded and well attended everyone in the school must participate in a sport. While for some this was difficult, because of the Ohana concept at HPA, nobody gets benched, everybody plays and it raises self esteem immensely. REALLY jealous about the pool facilities. We had to be bused over to the other side of the island where it was cold and rainy to swim in an unheated pool. I guess it built character. This new swimming facility is world class. Besides the organized athletics, the Big Island of Hawaii is an outdoor paradise. Hiking, camping, beaches, natural wonders (volcanoes erupting before your eyes), it is truly an amazing place.
Art, Music, and Theatre:
1.) Describe the arts program at your school - what did you like most about it?
I became involved in the alumni program at the school a few years ago and am amazed at the opportunities in art (I was an art major and want to go back to HPA!), music and theater.
Extracurricular Opportunities:
1.) Describe the extracurriculars offered at your school - what did you like most about it?
I think HPA offers everything a college prep school offers and much more Japanese. Scuba. Geology. Community outreach programs. Yearly Class Olympics. Horse & polo facilities. The most amazing spot on earth with 24 of the 25 ecosystems in the world.
Dorm Life:
1.) Describe the dorm life in your school - what did you like most about it?
I loved living at school. What 16 year old wouldn't want to live in Hawaii 3000 miles away from their parents?! I loved that my friends were right there, all the time. No phat phone bill, just walk down the hall for a chat. My roommate from HPA and I now live a few hours from each other, and I am working with her on her new venture, a woman's magazine.
Dining:
1.) Describe the dining arrangements at your school.
It is very different today than "back in the day" when I attended. Things are much more relaxed (we had coat & tie) - and the food is MUCH better, with a selection of healthy options.
Social and Town Life:
1.) Describe the school's town and surrounding area.
When I went to HPA, there was one small grocery store, no traffic lights and not much going on. Now there's a theater, major shopping centers, great culinary restaurants. Waimea/Kamuela has become an affluent community and a destination on the island. I think one aspect of HPA that was very important was the relationship between the day students and the boarders. You could get away with a friend who was a day student on weekends, if their parents invited you to stay with them. This really pulled you into the culture of Hawaii, and put you in family-away-from-home situations.
2.) Describe the social life at your school - what did you like most about it?
HPA has a very cohesive, family environment. The class sizes are small, so you really know everyone, not just people from your year. The students were not clique-oriented, either. Everyone was very friendly and involved, interesting, from different cultures. You want to be cool at HPA? Get good grades, put on a big smile, and wear flip flops. The teachers that live on campus and act as dorm parents are really good at coming up with weekend activities and such, acting as guidance counselors and role models. I have kept in touch with more of my friends from HPA than I have from any other walk of life, even college. I think that is a simple telling testimonial: HPA has built an unprecedented environment that students not only don't want to leave, but they go back to - even if it's just e-mailing their pals regularly. I know of no other person who has any wish to see or go back to visit their high school. Most people I know are of the opinion that high school was a regrettable chore and is best forgotten. I don't know anyone who attended HPA that feels that way.
HPA Campus is set up in a unique natural surrounding. HPA does a lot of volunteer work. HPA has a lot of good and nice teachers. They help you where they can. . .
The boarding and day community were both very diverse, inclusive, and welcoming. They encouraged a lot of socializing and bonding that effectively made the school feel like family. The events that were held such as. . .
The campus location in Hawaii is very unique, and I think that this is a big plus for people coming to study outside of the state. Although I personally went home the majority of weekends. . .
Show more reviews (

4 reviews

)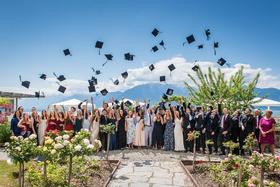 Nurturing Futures: A Journey through Boarding at Haut-Lac School in Switzerland
Nestled in the hills overlooking Lake Geneva in the French-speaking part of Switzerland lies an educational gem that embodies a unique blend of academic excellence, cultural richness and a profound sense of community. Founded over 30 years ago, Haut-Lac International Bilingual Day and Boarding School is now home to both 600 day students and a maximum of 30 boarders from around the world.
Navigating the Modern Maze: Emerging Challenges for Boarding Schools
Explore the pressing challenges facing boarding schools, from marketing difficulties and rising insurance costs to facility maintenance and recruitment of competent trustees and teachers. This article delves into these complex issues and proposes innovative strategies to overcome them.
What To Wear at Your Job Interview
Navigating job interviews can be stressful, but knowing what to wear shouldn't be. Our comprehensive guide covers the essential dress code tips for men and women interviewing at boarding schools. Make your first impression count with style and professionalism.