Reflections and Advice:
1.) What do you think makes your school unique relative to other boarding schools?
The school encourage its students to think outside the box. Classes are not big, so teacher/student interaction is great. The natural location of its campus offers students a variety of extracurricular activities and science project ideas.
2.) What was the best thing that happened to you in boarding school?
I learned to appreciate nature. All the things i got to do at CRMS you cannot experience else where. Truly a wonderful experience.
3.) What might you have done differently during your boarding school experience?
Since all new students are required to go through a 10 day Outward Bound style hiking trip, I wish I would have conditioned myself better. I had an asthma attack on the peak of the Continental divide, lucky for me, the teacher & senior student that came along in our group knew what to do. I was up and going in no time.
4.) What did you like most about your school?
The amazing selection of outdoor activities! The great friendships i made, The great teachers, it's great surroundings.
5.) Do you have any final words of wisdom for visiting or incoming students to your school?
Visit campus with an open mind, sit in one of the classes and have lunch. You will see what everyday life on campus is all about.
Academics:
1.) Describe the academics at your school - what did you like most about it?
All teachers encourages you to think outside the box, to actively participate in the class rooms. The class rooms are not all the same, some are bigger than others depending on which building its at. Help outside the class rooms are always available & the student counselor will always be there to guide you. You will always be busy with homework here.
Athletics:
1.) Describe the athletics at your school - what did you like most about it?
CRMS athletics offers a variety of choices depending on the season, Fall offers soccer, softball, mountain biking, kayaking, etc.. The school really emphasizes of good health and awarness. When I attended, the sports were not competitive, except for all winter sports like skiing and snowboarding.
Art, Music, and Theatre:
1.) Describe the arts program at your school - what did you like most about it?
The school would have 2 plays through out the year, and frequently invites musical guests to perform in the barn. Students are required to attend all performances on Sundays after dinner. There is an Adobe building that is the art center, located on the far edge of campus. It provides excellent art supplies, tools, and a fantastic view of Mount Sopris. Art is not limited to drawings and painting, but CRMS also offers pottery, metal shop, and jewelry making.
Extracurricular Opportunities:
1.) Describe the extracurriculars offered at your school - what did you like most about it?
I was in the year book both my junior and senior year. The students would volunteer doing community works twice a year.
Dorm Life:
1.) Describe the dorm life in your school - what did you like most about it?
Dorm life can be very interesting. Some of the dorms are bigger than others, so some rooms are a loft like design, while some others are just cookie cutter style rooms. Bathrooms are shared & can take a while to get used to. All dorm residents do chores to keep the building clean & presentable. There is a dorm check every night, and rooms get inspected for cleanliness once a week. all the dorms didn't have a kitchenette when i attended, so students usually bring a small fridge & toaster to keep in the room.
Dining:
1.) Describe the dining arrangements at your school.
The kitchen is open for breakfast, lunch, and dinner of weekdays and Brunch and dinner on weekends. The food was nothing to write home about when I attended. The food is served buffet style and a salad bar is also available. I found that getting kitchen duty is a great way to make your own good food.
Social and Town Life:
1.) Describe the school's town and surrounding area.
The town of Carbondale is very small, with very limited things to do. There are a few restaurants and a few shops, mostly a bicycle and a resale shop. Then there is Glenwood Springs, which has some nice shops, the natural hot springs pool, and a few fast food places. Aspen has everything. Shops, good restaurants, great skiing, an airport!
2.) Describe the social life at your school - what did you like most about it?
Its hard not to be social at CRMS. Since the school is small, everyone knows everyone. Since the location of the campus is a bit remote, students tend to do outdoor activities while hanging out, like going rock climbing, playing hackey sack, or just plain hiking.
Daily Schedule:
Weekday
Weekend
One especially unique part of CRMS are our mandatory after-school activities-- twice a week, you have a Work Crew (internal community service), and twice a week you have an Active (intramural or team sports). Students. . .
One aspect that CRMS has is that we are a very outdoors school. This means that twice a year we have trips into the wilderness based on the type of sport your interested in. This. . .
The atmosphere that CRMS has is one that values outdoor education as much as indoor education. We get outside in the wilderness more than any other school that I know of. . .
Show more reviews (

5 reviews

)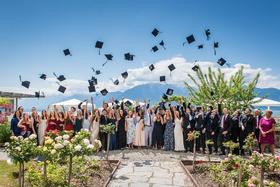 Nurturing Futures: A Journey through Boarding at Haut-Lac School in Switzerland
Nestled in the hills overlooking Lake Geneva in the French-speaking part of Switzerland lies an educational gem that embodies a unique blend of academic excellence, cultural richness and a profound sense of community. Founded over 30 years ago, Haut-Lac International Bilingual Day and Boarding School is now home to both 600 day students and a maximum of 30 boarders from around the world.
What To Wear at Your Job Interview
Navigating job interviews can be stressful, but knowing what to wear shouldn't be. Our comprehensive guide covers the essential dress code tips for men and women interviewing at boarding schools. Make your first impression count with style and professionalism.
Navigating the Modern Maze: Emerging Challenges for Boarding Schools
Explore the pressing challenges facing boarding schools, from marketing difficulties and rising insurance costs to facility maintenance and recruitment of competent trustees and teachers. This article delves into these complex issues and proposes innovative strategies to overcome them.