Reflections and Advice:
1.) What do you think makes your school unique relative to other boarding schools?
Westtown School is an incredibly special place to live and learn. Aside from being academically rigorous and preparing you for the college experience, Westtown is also a lot of fun. There is a real sense of community, and not one that you just buy into when you arrive on campus, it is one that you help to craft. Everyone participates in Westtown's Work Program, which sounds daunting but really helps to foster a sense of ownership and pride.
2.) What was the best thing that happened to you in boarding school?
The best thing that happened to me in boarding school was discovering a true sense of self. I came to college with a unique understanding of who I am and what is important to me and I credit a lot of that to Westtown. It is such a supportive and nurturing place that I really got a chance to figure out my values and my interests.
3.) What might you have done differently during your boarding school experience?
I wouldn't do anything differently. I would tell students just entering boarding school to be open to the experience, to get involved in the community and really figure out what they are passionate about. Boarding schools let students grow up in a very different way than day schools. Take advantage of the unique opportunities that you are receiving.
4.) What did you like most about your school?
At the end of the day the thing I liked the most were the people. My teachers, mentors and friends impacted me in ways I am still learning to appreciate and recognize.
5.) Do you have any final words of wisdom for visiting or incoming students to your school?
If you find yourself at Westtown I would totally recommend going to the Belfry (food/hangout place) and getting the frozen sugar-cookie dough. It is amazing.
Academics:
1.) Describe the academics at your school - what did you like most about it?
The academics at Westtown are really rigorous without being overwhelming or creating a super competitive atmosphere. Teachers are really invested in your success. I was always impressed with how eager and willing my teachers were to help in areas that I was struggling with, even if it meant putting in extra time with me or finding me additional resources. There is also a lot of freedom to create your own schedule that caters to your personal academic interests. I discovered my junior year that I really like biology, so my senior year, even though I could have stopped taking science, I took another year of it. Coming from a public school, I was really used of large classes and limited personal attention. At Westtown I discovered subjects that I never thought I was good at (like German) and never realized I was interested in (like biology). The small classes really allow students and teachers to interact. Teachers come to know your writing style, and can help you work on specific problem areas. They recognize your trouble with polynomial equasions and can help pinpoint what to work on. They identify which tense you have trouble with in German and give really good, personalized advice. It is an incredibly valuable resource.
Athletics:
1.) Describe the athletics at your school - what did you like most about it?
I loved the athletics program at Westtown. I played field hockey every fall, did dance or yoga in the winters and did a cross training program in the spring. I really enjoyed being on a team that was competitive in a constructive, healthy way. The emphasis was always on good sportsmanship and playing for love of the game. Winning was great, and we did it a lot, but the pressure to succeed was never overwhelming. Coaches pushed me to be my best, and as long as I performed with integrity and heart, they were always proud of me, even if I fumbled, fouled or lost the game.
Art, Music, and Theatre:
1.) Describe the arts program at your school - what did you like most about it?
The arts programs at Westtown are really diverse. I was part of a crew that painted sets for the theater productions. I was also part of the orchestra and a wind ensemble. But the thing I loved the most about the arts program was the ceramics class that I took my senior year. I have always enjoyed making pottery, and I am now studying Greek Bronze Age archeology and so an understanding of pottery is pretty helpful, but the classes at Westtown were a way to learn, relax and be creative. It was fantastic.
Extracurricular Opportunities:
1.) Describe the extracurriculars offered at your school - what did you like most about it?
There are tons of different clubs and organizations at Westtown that students get involved in. I listed above the groups that I participated in, and there were always more that I wished that I could be a part of. One of the most fantastic things about the extra-curricular program at Westtown is that the time when the clubs and organizations meet is built into the academic day schedule, so you don't have to come to school early or stay late. The same goes for the arts. It makes a big difference not to have to choose between academics and extra-curriculars.
Dorm Life:
1.) Describe the dorm life in your school - what did you like most about it?
Living on dorm is so much fun. It is an incredible bonding experience and it also really prepares you for college. By the time I moved into my dorm room freshman year I was so used of sharing my personal space and living with someone who might be on a different sleep/studying schedule than me that it wasn't a huge adjustment. I can't stress enough how awesome it is to already be comfortable living with other people. Another great thing is that you have all of your friends, study-buddies and teammates right next door. It really helps to build a sense of community. If you are new, they pair you with a roommate for your first year. After that you get to pick your roommate and room (based off of a lottery process). The rooms have skybeds, which are kind of like lofts across the ceiling which give you a lot more space on the floor for desks and dressers (which are provided for you).
Dining:
1.) Describe the dining arrangements at your school.
Any type of mass produced food is just that, mass produced. But Westtown's food is not any worse than what you will find at any boarding school or college. In fact, the bagels are great, they will make you any kind of eggs you want in the morning and there is always orange juice. I know I am talking a lot about breakfast but that is only because it was always my favorite meal. At lunch there is always a salad bar as well something hot on the bar and something delivered to each table and dinner is always a surprise. It is not as bad as you are imagining, and while it might not compete with mom, it is actually pretty good.
Social and Town Life:
1.) Describe the school's town and surrounding area.
Westtown is close to West Chester and you can go there to the movies, to go shopping, out to Indian food or to get hot wings. It is a lot of fun, but Westtown has such a huge, great campus that I honesty stayed on it most of the time.
2.) Describe the social life at your school - what did you like most about it?
The best part of the social life at Westtown was definitely the people. I made my best friends at Westtown. They know me better than anyone else in the world because I really came into my own there. There is plenty of time to hang out and watch movies, go running and goof off. I also found that while everyone was really committed to doing well academically, socially people were supportive and helpful.
Daily Schedule:
Weekday
3:30 PM
Field hockey practice starts
5:30 PM
Field hockey practice ends
Weekend
2:00 PM
Field hockey off campus
8:00 PM
Hang out with my boyfriend
Westtown has a beautiful campus. It was beautiful and especially safe to walk around any time of day. Also the style of teaching is very hands on and has small classes, usually with. . .
Small Quaker school, tight group, not so much focused on strong academics as much as creating good individuals in society.. . .
Extremely beautiful campus. It is a Quaker boarding school with wonderful teachers. They require a senior project where students can travel the world. Also encourages volunteer work and has a campus farm. . .
Show more reviews (

41 reviews

)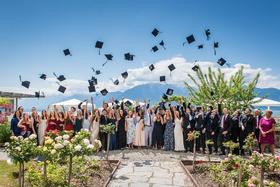 Nurturing Futures: A Journey through Boarding at Haut-Lac School in Switzerland
Nestled in the hills overlooking Lake Geneva in the French-speaking part of Switzerland lies an educational gem that embodies a unique blend of academic excellence, cultural richness and a profound sense of community. Founded over 30 years ago, Haut-Lac International Bilingual Day and Boarding School is now home to both 600 day students and a maximum of 30 boarders from around the world.
What To Wear at Your Job Interview
Navigating job interviews can be stressful, but knowing what to wear shouldn't be. Our comprehensive guide covers the essential dress code tips for men and women interviewing at boarding schools. Make your first impression count with style and professionalism.
Navigating the Modern Maze: Emerging Challenges for Boarding Schools
Explore the pressing challenges facing boarding schools, from marketing difficulties and rising insurance costs to facility maintenance and recruitment of competent trustees and teachers. This article delves into these complex issues and proposes innovative strategies to overcome them.