Reflections and Advice:
1.) What do you think makes your school unique relative to other boarding schools?
The Delphian School is completely tailor-made to the student. It's the type of school that makes sure the student understands everything before studying the next aspect of his curriculum. For example, each individual course of study is laid out so that the student studies at HIS OWN PACE. This means that if a student is naturally gifted in math, then he can be done with all his math for high school in one month! Conversely, if a student needs more help with a subject (that would normally not be handled as "the class needs to move ahead"), then at The Delphian School he takes the time necessary to fully handle the problems.Furthermore, the school has an incredible, literally incredible, co-curricular program, wherein the student participates in various student government jobs so he can get the idea of working at a job with other people. The students are started off with just doing a job, and then are gradually moved up to higher responsibilities of charge. For example, the students then move up to being in-charge of a student working. Then move to be in charge of a whole area of activity. Then move to be in charge of 20 other students who are themselves in charge of others.Basically, the school sets students up for life, and I know, with 100% confidence, that the rest of the alumni would agree with me.
2.) What was the best thing that happened to you in boarding school?
The best thing that happened to me is that I grew up into a person that I always dreamed of being.I always wanted to be able to lead others effectively and efficiently, and I always wanted to make a big change in the surrounding environment.At the school, there are actually Leadership courses where one learns the true basics of leading others and how to be a part of a group. I gained so much from there.I also always had an interest in the arts, and the school completely encouraged me to develop these interests into passions. I actually have a job as a writer right now, and I know that I wouldn't have gotten that job (without having yet gone to college) if I didn't go to the Delphian School.
3.) What might you have done differently during your boarding school experience?
I wouldn't have put too much importance on things that I was always going to have time for. I wish I put more time learning new things rather than just hanging out with friends.Don't get me wrong, my friends are great, but I wish I would have pursued more activities at the school.
4.) What did you like most about your school?
I liked how precise the technology they use in teaching others.
5.) Do you have any final words of wisdom for visiting or incoming students to your school?
Find a best friend and be his/her roommate for all the years.Don't get too caught up in whatever apparent drama there is. It will all go away within a month.
Academics:
1.) Describe the academics at your school - what did you like most about it?
The academics were amazing at the Delphian School.I liked that the studies were all at my own pace. I, personally, had some trouble with Chemistry throughout my time at the Delphian School. Now, if I had been doing Chemistry at a typical school, then my confusions on the subject would not have been corrected. But at the Delphian School, my trouble spots were handled. All the studies are at one's own pace, so I was able to go as fast as I could, and as slow as I needed to so I could understand something.The other thing that I LOVED about the Delphian School was that whenever I took an examination on something, I would always correct what I got wrong. At my old school, this wasn't the case. I would take an exam, get the score and move on. At the Delphian School, even if I got 98%, then I would correct what I got wrong so that I knew it in the future. That way I would have a 100% certainty on ALL SUBJECTS.
Athletics:
1.) Describe the athletics at your school - what did you like most about it?
The sports were one of my favorite parts at the school.I participated in all three sports (soccer, basketball, baseball) all four years of my high school career.The teamwork that you have from sports is amazing! You make friends for life, literally.I never played soccer before I went to Delphi, and now I love the sport. We made it to the State playoffs twice while I was on the team, and my senior year I was team captain!
Art, Music, and Theatre:
1.) Describe the arts program at your school - what did you like most about it?
The theater program is what made me want to become an actor.The training that you get in the theater is so valid and sane that you have no choice but to become a better singer or actor.I joined choir, and I was always in plays at the school. I loved both of these. The school, whether it tries to or not, is heavily into the arts and the artistic ability at the school is so impressive that you become better at art just by being around it.
Extracurricular Opportunities:
1.) Describe the extracurriculars offered at your school - what did you like most about it?
I played sports, sang in the choir, acted in the school plays, participated in student government and much, much more.The main thing that I loved about the co-curricular activities was that every single one of them were geared towards me learning something new. Whether that was physical or how to lead or just how to sing better, it was all with the purpose of making me better at something.
Dorm Life:
1.) Describe the dorm life in your school - what did you like most about it?
Dorm life was awesome!The dorms become very close with one another, as they constantly around each other. My best friend for life, in fact, was my roommate for the majority of the time there.The dorm life includes the basics: closet space, bed, drawers, etc. and it's very easy to live with someone that you want to.
Dining:
1.) Describe the dining arrangements at your school.
The dining arrangements were fairly routine. The food was fine. It was cafeteria style.
Social and Town Life:
1.) Describe the school's town and surrounding area.
The school is great in one regard because it is totally secluded from any big-city life. I enjoyed this a lot because it was a perfect atmosphere just to be educated.We took several trips into a bigger town 15-20 minutes away, which was always fun.There are also a lot of out-of-school activities, such as tutoring projects or sports games, that are nice because the Oregon lands are actually pretty nice.
2.) Describe the social life at your school - what did you like most about it?
One of the things that I always tell others about the school was that it was the perfect size.The amount of students is not high, and for that reason you know everybody in the school. I found this to be really nice because there were no animosities between others, and if there happened to be one, then it was handled quickly.The amount of "fights" that happen at the school is actually quite amazing, because the fact is that they never happen. It just doesn't happen.Pretty much everyone is friends with each other. Of course, you have your closer friends, but just knowing everyone makes it easier to get along with others.
Daily Schedule:
Weekday
Weekend
12:00 AM
Break - Free time
What made my school different from other boarding schools was that I was able to move through my program at my own pace. I didn't have to worry about catching up with my class because. . .
The fact that we study for real world application rather than just trying to spit things back out on an exam. This makes the education 10 times more valuable than any other school I have. . .
Here at the Delphian School, all the exams are done one-on-one, where the examiner will ensure that all the student's questions regarding the subject they just studied are solved and answered to satisfaction.The Delphian. . .
Show more reviews (

21 reviews

)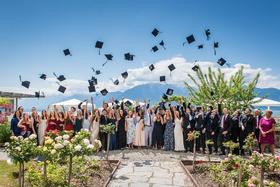 Nurturing Futures: A Journey through Boarding at Haut-Lac School in Switzerland
Nestled in the hills overlooking Lake Geneva in the French-speaking part of Switzerland lies an educational gem that embodies a unique blend of academic excellence, cultural richness and a profound sense of community. Founded over 30 years ago, Haut-Lac International Bilingual Day and Boarding School is now home to both 600 day students and a maximum of 30 boarders from around the world.
What To Wear at Your Job Interview
Navigating job interviews can be stressful, but knowing what to wear shouldn't be. Our comprehensive guide covers the essential dress code tips for men and women interviewing at boarding schools. Make your first impression count with style and professionalism.
Navigating the Modern Maze: Emerging Challenges for Boarding Schools
Explore the pressing challenges facing boarding schools, from marketing difficulties and rising insurance costs to facility maintenance and recruitment of competent trustees and teachers. This article delves into these complex issues and proposes innovative strategies to overcome them.