Reflections and Advice:
1.) What do you think makes your school unique relative to other boarding schools?
I feel that The Delphian School has many positive aspects that make it different from other schools. Students study independently and at their own pace. Students at The Delphian School are not only responsible for their own education, but for the success of the entire school. Students are all given duties ranging from working behind the counter in the rec room to being in charge of a dorm or running the weekend student activities (such as dances, ski trips and sports activities). Students at The Delphian School learn not only academics, but also responsibility and how to be a part of a successful group.The Delphian School also has a very beautiful eight hundred acre campus. It is located on top of a hill overlooking Oregon's Willamette Valley.
2.) What was the best thing that happened to you in boarding school?
I really grew up as a person at The Delphian School and I believe every student does in order to graduate. I learned how to be responsible for myself and my own actions as well as how to be a responsible member of a successful group. I feel very fortunate to have been able to experience this.
3.) What might you have done differently during your boarding school experience?
I would have embraced the student body right off the bat. It took me a while to really understand the attitude that the student body had as far as being responsible and getting along with one another in order to make it a great environment. I think that a lot of kids that went to public school, like myself, are sort of puzzled when they first arrive and see the responsibility and ethics level the student body has. I think that the best way for students to succeed here and to get moving right away, is to understand this and be willing to have this high level of responsibility and ethics. Not everyone who goes there does, but the few who don't do not stay for very long or they learn to grow up pretty fast.
4.) What did you like most about your school?
The sense of responsibility the students have both for their academics and for their life outside of class. The fact that the faculty really gives this to them by trusting the students and guiding them. The new students learn a lot from the students that have been there for a while and it is really a great environment.
5.) Do you have any final words of wisdom for visiting or incoming students to your school?
The pretzels with cheese in the rec room are delicious. At least they were when I was there. Try it out.
Academics:
1.) Describe the academics at your school - what did you like most about it?
The two main factors that I feel made The Delphian School unique were independent study and the "form" system. At The Delphian School, every student studies independently and at their own pace with the help of a supervisor. This is done with the use of courses/checksheets, a list of steps that one must complete. Instead of moving up through a new grade each year, students at The Delphian School have to finish and understand all of the courses, reading materials and seminars required for that form in order to move up to the next level. Since each student studies independently, nothing slows them down except themselves. As soon as a student moves through and shows they have achieved the product of a form, they graduate to the next form.
Athletics:
1.) Describe the athletics at your school - what did you like most about it?
Despite being a small school, The Delphian School had a good athletics program while I was there. The sports teams available were soccer, volleyball, basketball, softball and baseball. The coaching staff was great and the equipment and facilities were always good. The soccer and volleyball teams are always very successful. My senior year (2005) was the 16th year in a row that the varsity soccer team made it to districts and we had made it to states numerous times as well. I think my favorite part about the athletics program was the coaching staff and being a part of a successful team.
Art, Music, and Theatre:
1.) Describe the arts program at your school - what did you like most about it?
The arts, music and theater programs at The Delphian School are very good. Some of the classes/programs students can participate in are ceramics, A/V Class, art class, music class, guitar class, choir, jazz band, photography, and the drama program. The personnel and facilities are good. The school has a very nice photo lab and a great A/V lab, both of which have been completely redone within the last five years. There is a full ceramics studio with several pottery wheels and kilns. The drama department holds two full plays each year (one at Thanksgiving and one at the end of the school year) and the choir frequently participates and does well in competitions. The school places a lot of importance in the arts and it is apparent with the great facilities and teaching staff. I really liked the facilities and staff the school provided for students to gain experience in the various arts.
Extracurricular Opportunities:
1.) Describe the extracurriculars offered at your school - what did you like most about it?
At The Delphian School, extracurricular activities are very important. The student council is responsible for a lot of the school's activities such as running the dorms, running cleaning crews, running study halls, running the weekend activities, running the rec room, etc. Students grow a lot here and take responsibility not only for themselves but for the entire student body. I think that this is what I like the most about the extra-curricular area, the fact that the students run and take responsibility for everything that goes on.
Dorm Life:
1.) Describe the dorm life in your school - what did you like most about it?
The dorms are nice. The boys and girls have their own separate dorms and bathrooms. Members of the opposite sex are not allowed to enter the other sex's dorms or bathrooms. The dorms are all student run (dorm/bathroom captains are assigned to each dorm/bathroom as student council positions) and are run very well. There is a "dorm check" and a "lights out" each night in the dorms where all students are required to be in their dorms and ready for bed. The students are required to have their rooms clean each morning (this is checked by the dorm captain) and take turns participating in the nightly bathroom crew.
Dining:
1.) Describe the dining arrangements at your school.
The food is served cafeteria style and is good. It improved a lot during the time I was at the school, and I have heard that it has gotten even better. The meals served vary each day although there is always a cereal bar available at breakfast and a salad bar available at lunch and dinner.During the week, breakfast is served each morning before class from 7:30-8:30, lunch is served from 12:00-1:00 and dinner is served from 5:00-6:30. On the weekends, brunch is served from 10:00-11:00 and dinner is served from 5:00-6:00. There is a snack room where students can make toast, grab an apple or banana or buy something from the vending machine when the dining room is not open. There is also a snack bar in the rec room where students can go in the evening to buy purchase food such as personal pizzas, ramen and other snacks.
Social and Town Life:
1.) Describe the school's town and surrounding area.
There is a small town called Sheridan at the foot of the hill the school is located on. Portland is about an hour and a half away, Salem is about forty-five minutes away and the city of McMinnville is about thirty minutes away. Students rarely spend time in Sheridan outside of community service days or sports games against the Sheridan public schools. Sometimes students will go into Sheridan with a faculty member to get dinner at one of the restaurants, but Sheridan doesn't offer much outside of the three or four restaurants and the two grocery stores. Some weekend activities include shopping or movie trips in which students get to go spend time in either McMinnville, Salem or Portland.
2.) Describe the social life at your school - what did you like most about it?
Social life at The Delphian School was very different from the social life I experienced and heard about in public schools and even other private schools. The student body is relatively tight-knit and supportive of one another. Problems within the student body were usually resolved quickly and a lot of the time they were resolved by the student council or other members of the student body. Students always stay very busy with their academics as well as their duties outside of class (student council, sports teams, choir, etc). It takes A LOT of work to graduate from The Delphian School and since practically all of the students are working towards that, they don't create or put up with situations that are going to get in their way. I think that my favorite part about the social life at The Delphian School was the student body as a whole and the students' sense of responsibility both for themselves as individuals as well as for the student body as a whole. I have never experienced or heard of anything quite like it anywhere else.
Daily Schedule:
Weekday
Weekend
9:00 AM
Wake up, take a shower, get dressed
10:30 AM
Usually on the weekend I would spend time studying whatever I needed to catch up on, preparing for a seminar, finishing up a book, etc.
11:00 PM
If I wasn't studying, I would spend time with friends, playing music, playing sports, going on the internet, etc.
7:00 PM
Continuation of the above
What made my school different from other boarding schools was that I was able to move through my program at my own pace. I didn't have to worry about catching up with my class because. . .
The fact that we study for real world application rather than just trying to spit things back out on an exam. This makes the education 10 times more valuable than any other school I have. . .
Here at the Delphian School, all the exams are done one-on-one, where the examiner will ensure that all the student's questions regarding the subject they just studied are solved and answered to satisfaction.The Delphian. . .
Show more reviews (

21 reviews

)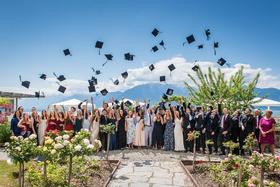 Nurturing Futures: A Journey through Boarding at Haut-Lac School in Switzerland
Nestled in the hills overlooking Lake Geneva in the French-speaking part of Switzerland lies an educational gem that embodies a unique blend of academic excellence, cultural richness and a profound sense of community. Founded over 30 years ago, Haut-Lac International Bilingual Day and Boarding School is now home to both 600 day students and a maximum of 30 boarders from around the world.
What To Wear at Your Job Interview
Navigating job interviews can be stressful, but knowing what to wear shouldn't be. Our comprehensive guide covers the essential dress code tips for men and women interviewing at boarding schools. Make your first impression count with style and professionalism.
Navigating the Modern Maze: Emerging Challenges for Boarding Schools
Explore the pressing challenges facing boarding schools, from marketing difficulties and rising insurance costs to facility maintenance and recruitment of competent trustees and teachers. This article delves into these complex issues and proposes innovative strategies to overcome them.