Reflections and Advice:
1.) What do you think makes your school unique relative to other boarding schools?
I think that one of the most unique things about St. Andrew's is the size. St. Andrew's has about 270 students. Every student will interact with all other 269 students at least once during the year. Since it is such a small community, everyone knows everyone. The school does its best to enhance the community. Required sit down meals every day at an assigned table force the students to get to know other students in different grades, and the students get to know all of the teachers because each teacher is assigned to a table as well. There is also a school meeting every week and two chapel services, which are some other times that the whole community comes together.
2.) What was the best thing that happened to you in boarding school?
I met my best friends. I do not think I will ever make friends like these. We met the very first week of freshman year, and we haven't separated since.
3.) What might you have done differently during your boarding school experience?
I wouldn't have changed a thing.
4.) What would you never want to change about your school?
I think the size of St. Andrew's is what makes it so special. I think that if St. Andrew's became larger, it would be a completely different school.
5.) What things could be improved about your school?
The hardest thing about St. Andrew's is the remoteness of Middletown. It was hard to find ways to entertain yourself after a while. By senior year, the weekends became somewhat boring.
6.) Do you have any final words of wisdom for visiting or incoming students to your school?
ask about the "front lawn"
Academics:
1.) What did you like best about your school's academics?
There was always a close relationship between the student and the teacher. The teachers were always around for extra help and they truly cared about your performance.
2.) What did you like least about the academics in your school?
I think that one of the only cons to going to a small school is the limitations it presents. Because there are so few students, St. Andrew's is unable to provide an immense class selection although the amount of classes offered has increased in the past couple of years.
Athletics:
1.) What did you like best about your school's athletics?
Everything. There is a place on every team for anyone who wants to join. There are no cuts and our trainer is amazing. There are very few coaches that don't teach. This helps because most often you have already developed a relationship with the coach before you have even joined the team.
2.) What did you like least about the athletics in your school?
Since Middletown is a slightly remote area, it was hard to find great competition in some sports.
Art, Music, and Theatre:
1.) What did you like best about your school's art program?
There were many options especially for those who aren't very artistically inclined.
2.) What did you like least about your school's art program?
quality of the facilities (new art center is in progress)
Extracurricular Opportunities:
1.) What did you like most about the extracurricular activities offered at your school?
There are many oppotunities in almost anything you are interested in. Also during my career at St. Andrew's, many students created their own clubs. The community is very welcoming towards any new ideas.
2.) What did you like least about the extracurricular activities offered at your school?
I felt that with the workload and my athletics it was hard to find time for other activities.
Dorm Life:
1.) What was the best thing about dorm life in your school?
The school was open to letting you choose whom you wanted to live with, not just roommates but also dormmates. The progression of the rules from freshman year to senior year is very effective. The freshman have lights out and enforced study hall, whereas the seniors are allowed to choose their own schedule.
2.) What did you like least about dorm life?
Boys are never allowed to visit and there is no internet.
Dining:
1.) What was the best thing about your dining arrangements?
As I mentioned earlier, I found the required sit down meals very enjoyable.
2.) What did you like least about your dining arrangements?
Breakfast was required.
Social and Town Life:
1.) How welcome did you feel by the other students when you first arrived at the school
The community is very inviting especially because it is so small. On the first day you are assigned a big sister/brother and they give you a tour of the school.
2.) Describe the level of diversity and integration of students in your school:
Diversity is always a main priority for the school. They are very intent on keeping the school diversified. There is no separation at all.
3.) Describe typical fun activities you did on a weekend:
Occasionally there are school functions such as dances, but most often there are dinner trips and movie trips that the students participate in. When it is warm outside, many of the students go canoeing or swimming since the campus is located right next to a large pond.
4.) What was the town like?
MIddletown is slowly growing, although right now it doesn't offer the students much. There are many trips into town, and on the weekends there are trips to further towns for things like the movies and the mall.
Daily Schedule:
Weekday
7:15 AM
Sign in at Breakfast
9:30 AM
Free Period (time spent hanging out with friends/checking email)
10:15 AM
Break (check mail w/ friends)
12:00 AM
Sit down lunch (required)
1:30 AM
A-Period (time for bands to practice/free time)
St. Andrews not only has the most incredible ethos but uses that ethos among the student body to do good. The small student population allows no one to slip under the cracks, and it's the. . .
I think that the small student body and close knit community of St. Andrew's makes it very unique. With a student body of only about 300 students, you know everyone's name and they know yours. . .
St. Andrew's is such a unique place, and it would be impossible to choose just one thing that separates St. Andrew's from any other boarding school. The most obvious difference is probably that St. . .
Show more reviews (

10 reviews

)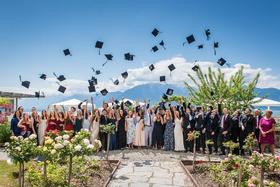 Nurturing Futures: A Journey through Boarding at Haut-Lac School in Switzerland
Nestled in the hills overlooking Lake Geneva in the French-speaking part of Switzerland lies an educational gem that embodies a unique blend of academic excellence, cultural richness and a profound sense of community. Founded over 30 years ago, Haut-Lac International Bilingual Day and Boarding School is now home to both 600 day students and a maximum of 30 boarders from around the world.
What To Wear at Your Job Interview
Navigating job interviews can be stressful, but knowing what to wear shouldn't be. Our comprehensive guide covers the essential dress code tips for men and women interviewing at boarding schools. Make your first impression count with style and professionalism.
Navigating the Modern Maze: Emerging Challenges for Boarding Schools
Explore the pressing challenges facing boarding schools, from marketing difficulties and rising insurance costs to facility maintenance and recruitment of competent trustees and teachers. This article delves into these complex issues and proposes innovative strategies to overcome them.